News
Ghost Rider, The Walking Dead, and creative ownership in comics
When an artist or writer creates a successful character who gets the credit? CJ spotlights ongoing battles between creators and publishers, and among creators themselves...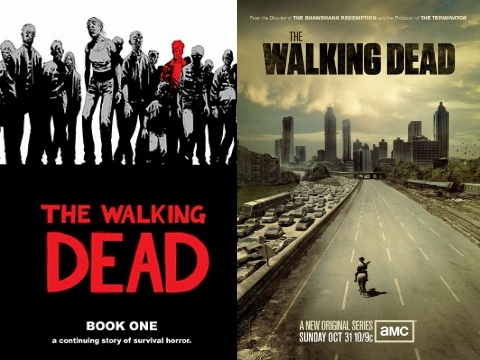 Comics is one of those difficult media where giving someone the title of Executive Vice-Co-Assistant Consultative Producer doesn't satisfy. Legal rights battles are frequent, hard fought, and make or break careers and lives.
While many people don't take the medium very seriously, it is not a frivolous matter if a project you've invested yourself in is taken away from you as though you never had any involvement in the first place. Like anyone else comics creators pride themselves on their work and should earn a living from it.
The controversy of creator ownership in recent years that has been most recognised outside of comics is the Before Watchmen situation between DC Comics and British writer Alan Moore. It's hard to put across the severity of the situation of other, less revered creators without resorting to the ecological analogy of charismatic megafauna. To start, think of Moore as Keiko the killer whale from Free Willy.
Comics as a creator-driven ecosystem 
So you've got a good, clear image of a cetacean with out-of-control facial hair. Now imagine comics greats like Jack Kirby and Steve Gerber as cod, and Ghost Rider artist Gary Friedrich and original The Walking Dead artist Tony Moore as newts. It's goofy but it makes sense. While a lot of his support may be outside comics, Moore himself is inescapably part of an industry plagued with disputes over creator recognition.
Ghost Rider artist Friedrich must not feel like he's part of comics at the moment. Marvel has successfully counter-sued Friedrich over the Ghost Rider copyright in what seems like a staggeringly Faustian manner. The comics publisher is expecting the relatively little known comics professional – who makes a living off of convention sketches of a character he purportedly invented – to pay them $17,000 and surrender his claim to identify himself as the character's originator. Friedrich has 90 days to appeal.
As ever in a collaborative medium like comics, it's not that simple. Artist Ty Templeton and Marvel's Forbush Man neatly summarised the debate that's arisen over Friedrich's clash with the House of Ideas.
The broader issue for the comics industry is one of supplementary income. If Before Watchmen was the tip of the creator-rights iceberg, the Ghost Rider case could set a precedent and create a rights-deluge to cripple professional independence and convention earnings. Want to go to Comic Con and bother an artist for a paid sketch of a Marvel character? Ah, sorry, but he or she would only be able to give you something they had the right to draw.
Some artists like American Vampire's Sean Murphy have declared they'll be abiding by this as a legal practice in good faith towards the big publishers. That's admirable, but very limiting for struggling artists. Lines are being drawn, no pun intended, among comics' professional opinions.
Creator vs creator
Comics is an industry full of sensational adjectives. It was certainly astonishing to see Bleeding Cool report how F.E.A.R. Agent creator Rick Remender – also the current writer of Marvel's popular Uncanny X-Force and Venom titles – admonished Invincible co-creator Cory Walker on Twitter in January. The writer and artist, both well known for their creator-owned work, got into quite the dispute over an Image book they collaborated on, Strange Girl.
Despite Remender's immediately strange argument – regular artistic duties on a character taking precedence over initial design work when deciding who gets a creator credit – his ire disguised the interesting point that creation is an ongoing process. Artist Eric Nyugen pencilled Strange Girl after Walker left early in the project – how much credit should Nyugen receive for an ongoing comic?
Well, that question is illuminated by another falling out that could receive much wider attention soon; Alan isn't the only Moore looking for recognition in comics right now. Remender and Walker's discussion began over a row developing between Remender's designer on the new Venom, Tony Moore, and Walker's co-creator on Invincible, Robert Kirkman. Moore was the first artist on The Walking Dead from writer Kirkman.
As you'll be aware, The Walking Dead is now a household name thanks to the TV adaptation. Moore is credited in the show's opening sequence alongside Kirkman and long-serving UK artist Charlie Adlard, but apparently hasn't received royalties. Kirkman's lawyers are fighting back with cannibalistic zest. Moore and Kirkman were childhood friends.
To see prominent comics professionals turning on each other outside of the Marvel and DC arenas is truly disappointing. 2012 is the 20th anniversary of Image Comics: supposedly the dream of creator-owned comics manifested before us. When you realise that Image co-founder Jim Lee is now Co-Publisher at DC Comics, and riding roughshod over the wishes of one of the company's biggest cash-cows with the Before Watchmen series, the picture becomes clearer.
Yesterday's talents struggling to be recognised like Lee and Kirkman are now leading lights in the industry. The moral to take away for aspiring comics professionals? When it comes to creator-rights look after yourself. No matter how many fans you attract in your career, you'll have to compromise to be recognised and paid for your earlier work.
Always sign your work
Alan Moore has learnt the hard way, but with considerably more comfort than others. Before Watchmen was a 'graphic novel' it was a 12-issue comic book limited series. That work is not elevated above the superhero genre as much as some people would like to convince us.
The charismatic creators of comics need your support, but not by boycotts of high-profile books. They need mainstream media attention similar to Before Watchmen's exclusive stories with many media agencies, New 52's announcement, or the Death of Spider-Man storyline and Miles Morales reveal last year.
If you disagree with the treatment of Alan Moore by DC then consider the cases of writers and artists who haven't had anywhere near the mass media exposure and literary championing that Watchmen has, and most likely never will. Gary Friedrich and Tony Moore are only the latest talented professionals to be affected by the murky waters of comic book publishing.
Luckily, less known but still influential professionals like Gary Friedrich are being championed by some modern talents like 30 Days of Night creator Steve Niles. When fans see Joss Whedon's Avengers movie this April and pick up the tie-in ongoing Avengers Assemble series from Marvel, it wouldn't hurt to spread the word about Jack Kirby's involvement.
Rorschach and friends don't deserve to be considered any more or less of a cause than Superman, Ghost Rider or Howard the Duck, although it's worth noting that Moore's recognition is particularly huge for what he's always been – a comics writer. Think of characters that have made the world a much more colourful and imaginative place thanks to people like Kirby, Steve Gerber, Gary Friedrich, Rick Remender, Cory Walker and Tony Moore. Remember Superman and Superboy creators Jerry Siegel and Joe Shuster.
Most of all, bear in mind the faces and personalities behind the masks of one of our most extravagant mediums. They might disagree on some things but where would comics be without them?
Read our articles about Before Watchmen here.
Follow Den Of Geek on Twitter right here. And be our Facebook chum here.