News
Marvel's Ghost Rider Relaunch Trailer Arrives
Johnny Blaze will reign as the King of Hell in a new Ghost Rider series from Marvel.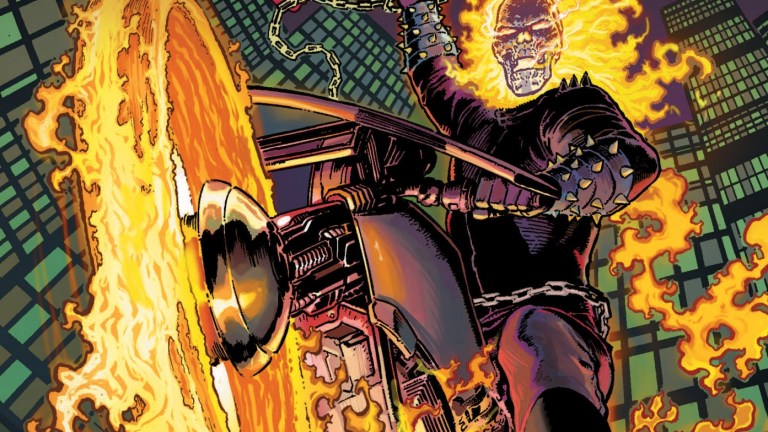 In the recent Damnation storyline, Johnny Blaze got a win so big that it would have worked as his final chapter if Marvel storytelling wasn't contingent on stories never actually ending. As Ghost Rider, he not only defeated Mephisto on the demon's home turf, but he's also taken him off the board and now rules Hell in his place. Yeah, Ghost Rider is the King of Hell. That's pretty much the top prize when your whole deal is punishing sinners and being metal beyond belief.
So now we get to see where leadership brings him and his brother Danny Ketch in Ghost Rider #1, written by Ed Brisson with art by Aaron Kuder. Wearing the crown, Johnny spends his days playing warden to a realm of demons and evil men, doing what he can to keep everyone in line and away from the exits.
read more: Ghost Rider TV Series Coming to Hulu, Gabriel Luna to Star
As for Danny? His life kind of sucks, but he'd still rather have that than be stuck being bonded with the Spirit of Vengeance. It looks like he doesn't have much choice as he's forced into working as the Ghost Rider under his big brother's orders.
Here's the official synopsis from Marvel:
"Following his shocking accession, Johnny Blaze is now the king of the underworld! What challenges does a hero face when he presides over the worst humanity — and inhumanity — has to offer? While Blaze acts as demonic warden down below, fellow Ghost Rider Danny Ketch is tasked with collecting souls above. How does Ketch cope with being forced to serve in a role he despises?"
Brisson, CB Cebulski, and Chris Robinson go into more detail in this trailer…
"One thing we're really diving into is what this really means to [the Ghost Riders'] lives," Ed Brisson said.
read more: The Weird History of Ghost Rider
"What is the Spirit of Vengeance? Where does it come from? Why does it possess certain people and not others?…What's the mythos of the Ghost Rider character? Those are the questions that we're going to answer in this series for fans, finally," said C.B. Cebulski. 
Poor Robbie Reyes. The guy just became a member of the Avengers and he's still being overshadowed by his namesake.
Ghost Rider #1 hits on Oct. 2.