News
Get Ready For The Year of Venom From Marvel
The Era of Venom Begins with a crossover between the Marvel Legacy renumbered Amazing Spider-Man and Venom in Venom Inc.!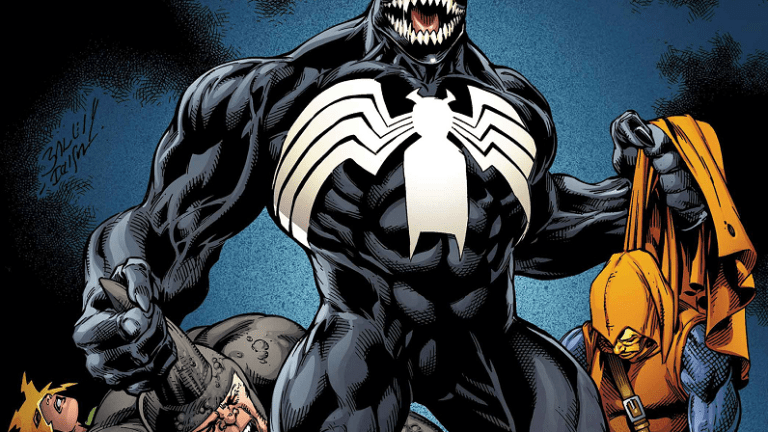 There's a Venom movie starring Tom Hardy crawling into theatres in 2018, but that's just the tip of the iceberg as far as everyone's favorite brain eating symbiote is concerned. Coming hot on the heels of the Venomverse event, Marvel will present "Venom Inc." a crossover that will appear in the pages of Amazing Spider-Man and Venom. At the Spider-Man and His Amazing Friends panel at New York Comic Con, Marvel teased what fans can expect from this upcoming Venom-centric event.
Before spilling the details on "Venom Inc.," Spider-Man group editor Nick Lowe backed things up and showed fans that before the story begins, Eddie Brock will go tongue to toe with Kraven the Hunter in the pages of Venom. But that's only the start! After the battle with Kraven, the villainous Shriek will return. Shriek was Carnage's killer girlfriend in the classic "Maximum Carnage" storyline of the '90s. And speaking of "Maximum Carnage," the artist of that beloved story, Mark Bagley, will return to Venom #155. Joining Bagley will be ongoing Venom writer Mike Costa.B
"We have a story called Venom Inc.," Lowe teased. "It's going to cross Amazing Spider-Man and Venom together."
Amazing Spider-Man writer Dan Slott added, "You're going to get Eddie Brock, Flash Thompson, and Spider-Man along with some Venom-y characters you haven't seen in a while." Joining Slott and Costa will be artist Ryan Stegman on the Venom Inc. Alpha issue and the Amazing Spider-Man issues while Gerardo Sandoval will draw the Venom issues. As the art was shown, Lowe and company teased some Amazing Spider-Man cover art that featured Peter Parker wearing a symbiote mask. Uh-oh.
The Venom crossover goodness doesn't end with "Venom Inc." as Eddie Brock will also cross paths with the X-Men in January's X-Men Blue annual. Marvel teased that this team up will begin when "The X–Men drag Venom off into space… It all begins when something Venom related happens to Cyclops' space pirate father Corsair and the X-Men need Venom's help." The meeting of X-Men and Venom will also feature the Marvel Universe proper debut of the villains of Venomverse, the Poison, in a story entitled "Poison X" by writer Cullen Bunn and artist Edgar Salazar.
If that's all not enough for the Venom faithful, Venom will also feature prominently in the first Marvel Legacy arc in Spider-Gwen by Jason Latour and Robbi Rodriquez. So as Venom fans get ready for Tom Hardy to merge with the symbiote, they will have plenty of brain eating, slobbering action to keep them occupied as the Era of Venom begins!
Read the full Den of Geek NYCC Special Edition Magazine right here!