News
Free Comic Book Day round-up
The first Saturday in May is when we get some complimentary comics. CJ flicks through what's on offer...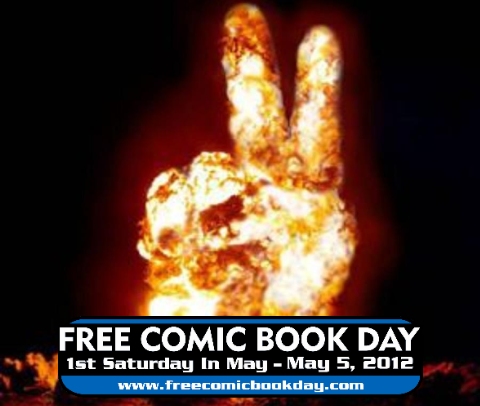 There's nothing like comics, and there's definitely no substitute for getting them free.
We're not talking reprehensible illegal downloading of scans that get books cancelled. Oh no, this May 5th you'll be able to take home comics from some of the best and brightest out there right now, all on the house at participating comic book shops.
Sponsored by the likes of Marvel, DC Comics, Image, IDW, Dark Horse, Boom! Studios, Archie, Oni Press, Bongo, Red 5, Archaia and Fantagraphics, it's not hard to find something among the free comics that you'll enjoy. Some stores even have writers and artists signing books on the day, so look out for those.
The priceless books are split into two shiny batches based on publisher sponsorship: golden and silver. This year's gold comics are a mix of big-name superheroes, classic movies, toys and video games. Even some Peanuts that'll cost you, well, peanuts.
Marvel kick off their Age of Ultron event with Avengers #12.1. DC follows up its huge relaunch effort with The New 52 #1.
Image celebrates a landmark twentieth birthday in Image 20. IDW prepare for a long-awaited return in Transformers: Regeneration One #80.5. Dark Horse get their sci-pirate on with a Star Wars/Serenity flipbook.
Boom! go back and forward in Peanuts/Adventure Time. Archaia are putting out a classy hardcover with Mouse Guard, Labyrinth and More. That's not all there is.
Even broader is the range of Free Comic Book Day's silver books. Pick up everything from The Smurfs and Moomins to Sonic the Hedgehog or a Buffy/The Guild flipbook.
There's also an Overstreet Comic Book Marketplace special with interviews and articles on some of the world's premier horror comics, and an entire issue teasing the exciting return of 1990s publisher Valiant.
2012 is Free Comic Book Day's tenth anniversary and is associated with April's The Avengers/Avengers Assemble. The event began in 2002 and is now one of the biggest days of the year for the industry. It acts as an outreach to new readers and a thank you to longtime fans.
Everybody gets at least one free comic, so stop by a comics shop on May 5th!
Follow Den Of Geek on Twitter right here. And be our Facebook chum here.