News
Fox at Comic-Con: First Looks at Deadpool, X-Men: Apocalypse
Fox panel closes out Hall H with Marvel movies and more!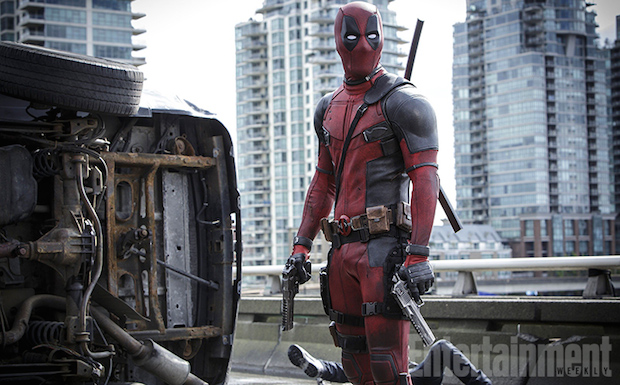 20th Century Fox ended the wild festivities at Comic-Con's Hall H on Saturday (July 11) with a two-hour-plus extravaganza that began unassumingly with the Maze Runner sequel and built to a grand finale that featured the casts of Fox's entire mini-Marvel universe taking a group photo.
Here are the highlights:
The Maze Runner: The Scorch Trials premiered a new trailer, with director Wes Ball, author James Dashner, star Dylan O'Brien and others present. A second, exclusive clip gave us a look at the creepy zombie-like mutants known as the Cranks. One thing is certain: this movie looks nothing like its predecessor. This film is set in a larger, even scarier world of ruined cities and haunted underground labyrinths, with what looks like a much more epic tone and an extra helping of action. We liked The Maze Runner so we're looking forward to this one.
James Dashner said that seeing his books adapted for the screen has been the highlight of his career (no EL James, this guy), while new cast member Giancarlo Esposito was super-excited to be there — he gave a pitch for the movie and for Dylan O'Brien that garnered him a round of applause just for his sheer enthusiasm.
Victor Frankenstein: Daniel Radcliffe (Igor), James McAvoy (Victor Frankenstein) and director Paul McGuigan were on hand to preview this Max Landis (Chronicle)-scripted take on the classic story. The trailer — seen for the first time anywhere — seems surprisingly faithful to the story at first (with the exception of Igor, who was not in Mary Shelley's novel) but turns quickly toward a lot of explosions and a more action-flavored tone in its second half. "We want to give the name of Frankenstein back to the doctor," said McAvoy on the panel, referring to the way that the name has come to be associated with his creation.
Also interesting from the trailer was the fact that this version of Igor is not the bent, half-savage assistant we've seen in previous films, but rather an intelligent and formidable presence of his own who is Victor's equal in many ways. Victor apparently rescues Igor from "subhuman" treatment at the beginning of the film when he recognizes the same love for science that he has — although Igor eventually doubts his master's plan of reanimating dead tissue. McGuigan described the movie as a "love story" between the two men — which initiated a barrage of double entendres from McAvoy and Radcliffe that pretty much carried through the rest of their short panel. "If you've ever wanted to see Daniel Radcliffe abused and embarrassed by me, this is the film," said McAvoy, wearing a cap to disguise his shaved "Professor X" head.
Fantastic Four: The final trailer debuted and I have to say, I am getting more and more won over by what I'm seeing. Yes, the tone is still dark, the colors muted, but there's some real sci-fi and even little flashes of the cosmic here and there, plus a bit more of Doctor Doom (Toby Kebbell) and what looks like a very Doom-esque plan to subjugate the world. The footage felt like a lot of what he had seen before, although there was an additional opening sequence showing Reed Richards and Ben Grimm as children, with Reed conducting his first experiment in building a would-be teleportation device.
Kebbell and the Four — Miles Teller (Reed), Kate Mara (Sue), Michael B. Jordan (Johnny) and Jamie Bell (Ben) — were joined on the panel by producer/writer Simon Kinberg and director Josh Trank. While Trank has been the subject of some controversy over his rumored behavior on set, all that was avoided here. Instead he revealed that his willingness to make Fantastic Four came out of a desire to revisit some of the same themes he tackled in Chronicle, only on a bigger canvas. He also said that he was more familiar with the characters from the Marvel Encyclopedia rather than reading the comics, since he spent his allowance money on going to movies instead of the comic book store.
Teller seemed to suggest that he was up for playing Spider-Man at one point and that when that job passed him by, he assumed his chance at being in a superhero movie was over. Mara said she wanted to do the movie because she loved the "family aspect" of this story, adding, "I loved Josh's take on it." Jordan said that playing Johnny Storm was "like living out a childhood dream," adding, "We were very thoughtful about respecting the legacy and knowing what the fans would want from this film."
Deadpool: This might have been the highlight of the panel. After a brief clip showing Deadpool in a big leather chair, trying and failing to smoke a pipe through his mask and asking, "Why the fuck did Fox sew my lips shut?" Ryan Reynolds, director Tim Miller and cast members Morena Baccarin (Vanessa), TJ Miller (Weasel), Ed Skrein (Ajax), Gina Carano (Angel Dust) and Brianna Hildebrand (Negasonic Teenage Warhead) came up for a raunchy and potty-mouthed panel that captured what is hopefully the anarchic tone of the movie. Speaking of which, the trailer was pure gold: after a relatively somber opening in which Wade Wilson (Reynolds) and his girlfriend (Baccarin) get the news that he's got cancer all over his body, he's offered the chance by a shadowy organization to undergo a procedure that will cure him and give him superpowers.
Next time we see Wade, he's in full costume, sitting on an overpass and drawing a sketch of himself blowing away a bad guy — which he then does in a new version of the famous test footage that got leaked online last year and initiated the production of this movie in the first place. From there it's a blur of action, violence, gore, lots of filthy language and Deadpool's trademark breaking of the fourth wall. And it's fun as hell. The crowd loved it so much they demanded it be shown again. The coarse language carried over to the panel, with TJ Miller exclaiming, "You're gonna fuckin' love this movie!" and Tim Miller dropping the F-bomb repeatedly as he described his joy at being left alone by the studio to make the movie they wanted to make.
X-Men: Apocalypse: After a clip montage that started with Hugh Jackman's Wolverine screen test as well as footage of him being offered the role by director Bryan Singer 16 years ago, Jackman himself came onstage to thank the fans for essentially giving him his career. Singer came out next and introduced the entire X-Men: Apocalypse cast, with Jackman exiting stage left — a symbolic passing of the torch, perhaps.
Singer and host Chris Hardwick introduced each cast members — Michael Fassbender, Jennifer Lawrence, James McAvoy, Nicholas Hoult, Oscar Isaac, Olivia Munn, Sophie Turner, etc., etc. and unspooled an unofficial trailer very much like the one that ran two years ago for X-Men: Days of Future Past. Set 10 years after that film — at a time when the world has accepted mutants — the trailer centers around the idea that some humans see the mutants as gods, which opens the door for the ancient mutant Apocalypse (Isaac) to arrive. The trailer opens with Jean Gray (Turner) having a vision of worldwide destruction, telling Professor Xavier (McAvoy), "I could feel all this death."
Apocalypse, who seems to want to wipe non-mutant humanity off the face of the Earth, rallies Magneto, Jubilee, a young Storm, Angel and Psylocke to his side. Are all but one of them the Four Horsemen? Isaac looks amazing as Apocalypse, a classic blue vision right out of the comics, and the trailer indicates that all the mutants' allegiances will be tested by Apocalypse. "Everything they've built will fall and from the ashes of the world, we will build a better one," says En Sabah Nur, standing in a hall, while Magneto turns around and asks in horror, "Who the fuck are you?"  "I've never felt power like this before," indicates McAvoy's Professor X as his eyes turn black under Cerebro's helmet. The final shot is Charles Xavier in the wheelchair, with suit on and his head now bald, assuming the classic image of the Professor we all know so well.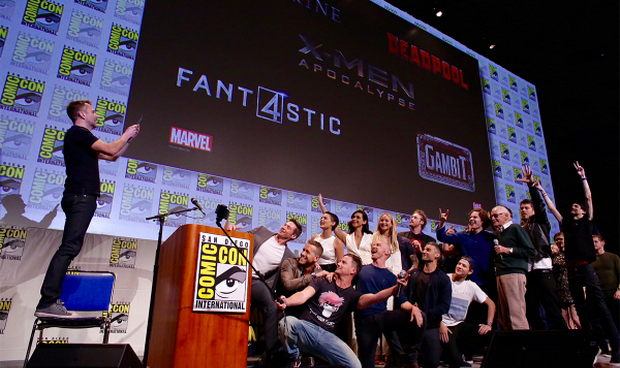 To wrap up the panel, Hardwick had the casts of all the Fox/Marvel films — Fantastic Four, Wolverine 3 (just Jackman), Deadpool and X-Men: Apocalypse — assemble on stage for one photo with Stan Lee among them as well. Taking the photo? Channing Tatum, there to represent Gambit. It was a rousing finale to a long day in Hall H…
We further broke down the trailers in our SDCC podcast: