News
First Look at Deadpool Kills the Marvel Universe Again
Hey, you thought making another Civil War comic was unnecessary? You ain't seen nothing yet.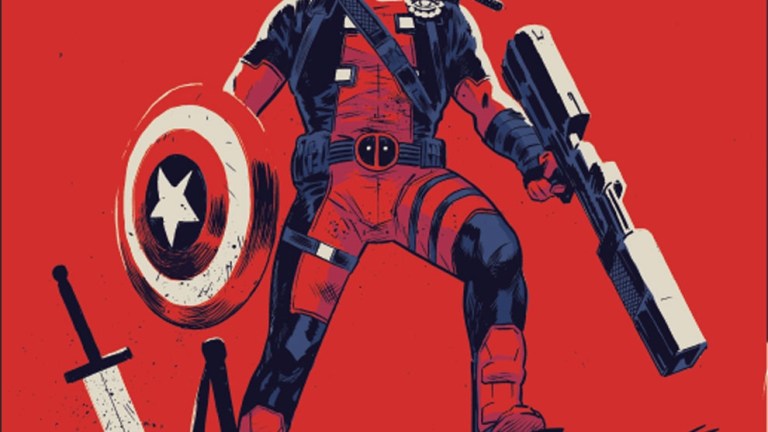 Several years ago, Marvel released a miniseries called Deadpool Kills the Marvel Universe. Written by Cullen Bunn, who is always writing a Deadpool miniseries at any given moment, it was…mediocre at best. The story depicted an alternate universe where that world's Deadpool became a nihilist and dedicated himself to killing all the heroes and villains in order to unmake reality. Bunn followed it up with Deadpool Killustrated, where our demented protagonist went after characters from literary classics. This culminated in Deadpool Kills Deadpool, a story that seemed to exist purely to kill off the Deadpool Corps.
Remember Deadpool Corps? Lady Deadpool? Kidpool? That flying zombie head? Anyone?
Anyway, Bunn gradually became a better writer over time and the landscape of Marvel itself has changed a lot since those comics came out. Heroes are either accompanied by extra versions of themselves or replaced with altered takes. I mean, we went from having Wolverine to having his daughter as a replacement, an older version of himself from an alternate future, and Sabretooth being a Wolverine stand-in. Deadpool himself went from being a side-character from the X-Men corner of Marvel to an Avenger who pals around with Spider-Man on a regular basis.
Cullen Bunn will be back in the saddle, this time with Dalibor Talajic on art, as he writes Deadpool Kills the Marvel Universe Again. This time it's another universe and yet another Deadpool (though with the same taste in red diaper tights as his predecessor) who has lost his marbles. Due to what appears to be a run-in with MODOK, he goes on a killing spree and we get to see an All-New All-Different bloodbath.
Deadpool Kills the Marvel Universe Again will be released in July. Check out some of the covers and interior art below.
[gallery:4]
Your first look at the new series by Cullen Bunn and Dalibor Talajic

New York, NY—June 6, 2017—If you're Deadpool and you kill the entire Marvel Universe, why not eat some chimichangas…and then kill all over again? Proving there's nothing like revenge, the superstar team of Cullen Bunn (X-Men Blue, Venomverse) and Dalibor Talajic (Deadpool Kills The Marvel Universe, Redwolf) reunite to bring you Deadpool Kills The Marvel Universe Again, and the Merc with the Mouth has never been more ready to return to that katana.

"This is not a sequel to the original story," warns series writer Cullen Bunn. "This is an all new murderous rampage. The Marvel Universe has changed a great deal since the first series. So, of course, Deadpool had to up his game and change his tactics."

How so? "Deadpool is pulling out all the stops on this killing spree," continues Bunn. "In the second issue of the original series, he killed Spider-Man. In the second issue of this series, he goes after the entire Spider-Man family. And that's not all. Good ol' Wade is approaching these kills in all new ways, and he's going after huge targets. How does Deadpool kill an entire pantheon of mythic beings? You'll find out in the first issue. And that's just the beginning of the carnage."

Of course, if you're Wade Wilson, it doesn't mean things are going to be easy – especially when you're on a mission to kill the X-Men, the Avengers, Gwenpool, Spider-Man, and more! You're not going to want to miss this all-new five-issue series, Deadpool Kills The Marvel Universe Again, hitting comic shops this July!

Deadpool Kills The Marvel Universe AGAIN #1 (of 5) (MAY17089)

Written by CULLEN BUNNArt by DALIBOR TALAJICCover by DAVE JOHNSONVariant Cover by JAY FOSGITT (MAY170822)Variant Cover by PEPE LARRAZ (MAY170821)Variant Cover by MICHAEL WALSH (MAY170820)
Gavin Jasper is always creeped out when they draw Deadpool with normal eyes peeking out of the mask. Follow Gavin on Twitter!