News
First Look at Avengers & X-Men: Axis #1
Rick Remender's Axis event is on the horizon and we have some awesome covers and Adam Kubert art to throw at you!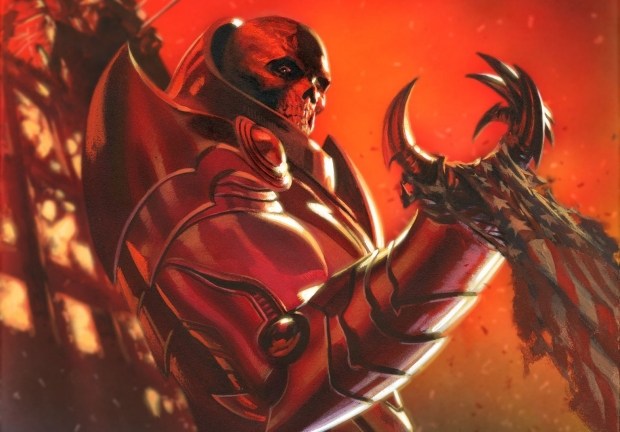 Much like Infinity was built out of Jonathan Hickman's Avengers and New Avengers run, Marvel's next big event, Axis, is a continuation of what Rick Remender's been working on with his high-profile stories, such as Uncanny X-Force, Uncanny Avengers, and Captain America. While the full details of the 9-issue series are unknown, we do know a few facts.
For one, the main villain is Red Onslaught, the Red Skull after having stolen the brain of Charles Xavier. He's added Xavier's powers to himself, making him incredibly powerful and unstoppable. He faced the Uncanny Avengers, but got away scot-free. Now he's making his move on a grander scale.
We also know that alignments are going to shift, almost like an Earth 3-type of story in the Marvel Universe. We're going to see different sides of heroes and villains, including the very idea of Carnage of all people going on a road to redemption. Carnage! The hell is going on here?!?
Characters like Apocalypse, Loki, and Deadpool are wildcards in the story. Apocalypse has been a major part in Remender's Uncanny X-Force run, with his latest clone form being taught to be a good person in hopes of ending his endless streak of evil and resurrection. Loki has recently learned that he'll supposedly revert to pure evil in time with his superiors insisting on making sure it happens no matter how hard he tries to be heroic. Then there's Deadpool, who recently discovered some interesting facets of his personality when he made an inward journey. There's a peaceful and virtuous part of him, but there's also a vicious and bloodthirsty part of him trying to get out.
There's also the question of what Magneto's going to be up to during all of this. Lately, he's been playing the part of violent vigilante – much like a mutant Punisher – with his series going out of its way to point out that he's just as bad as those he's up against. Not to mention, the last time Magneto and Red Skull co-starred in a major villain team-up story, back in the days of Acts of Vengeance, we got one of the most defining moments of conflict between the two characters.
We have a neat little preview of Avengers and X-Men: Axis #1 down below with plenty of Adam Kubert art to keep you happy. There's also a video that will get you up to date on what's what with this ridiculous story.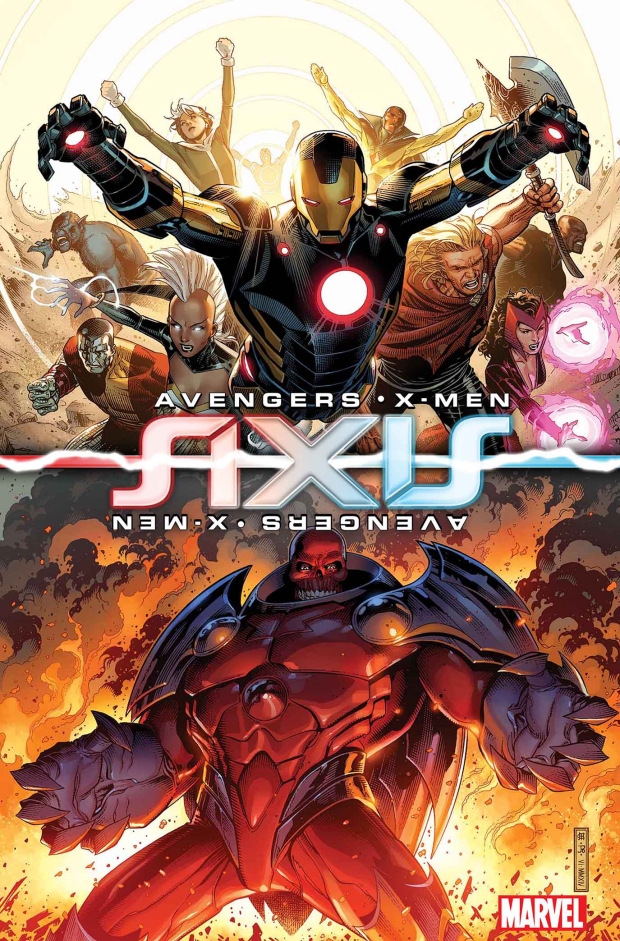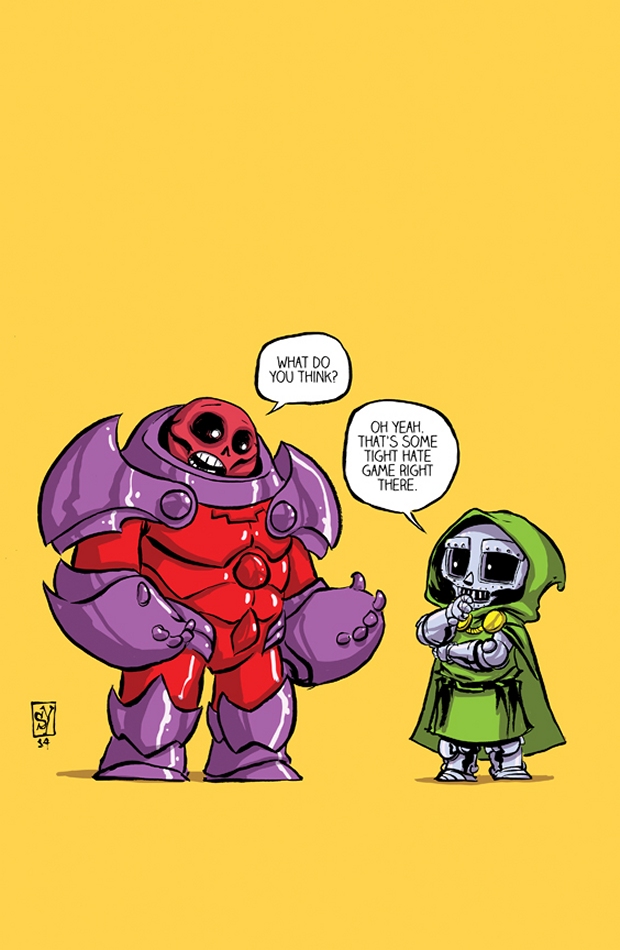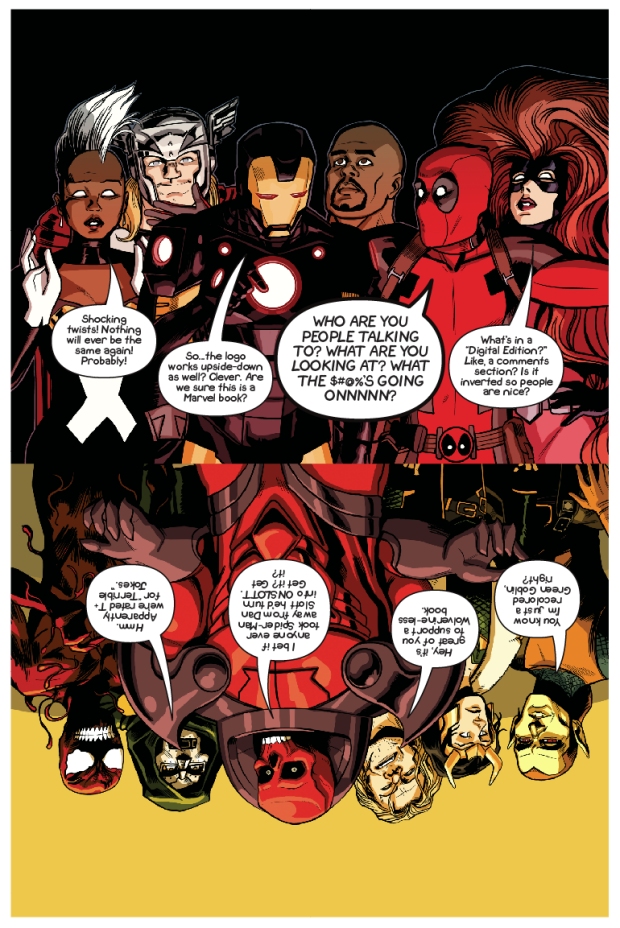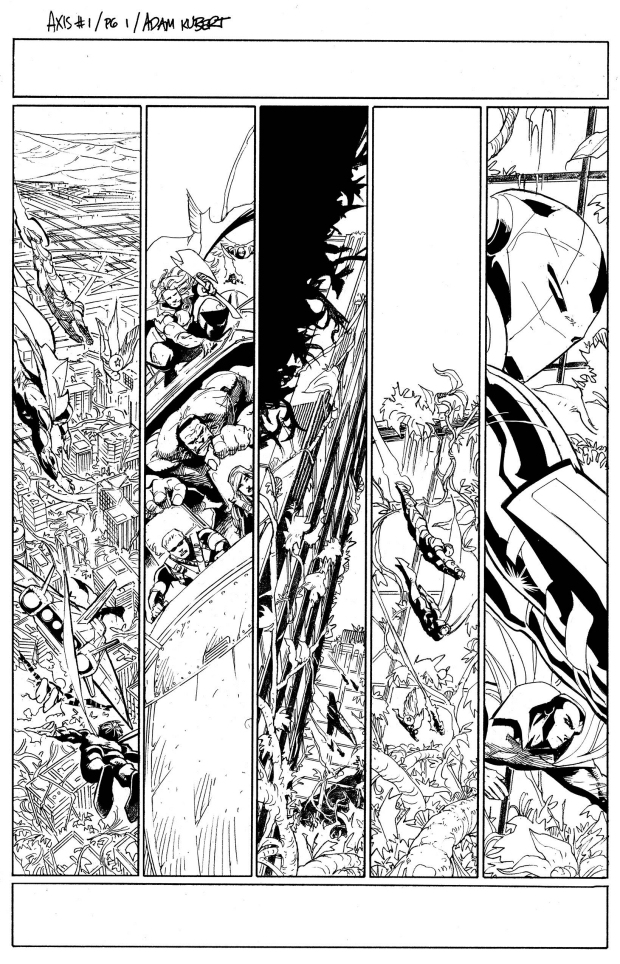 Presenting Your Exclusive First Look Inside AVENGERS & X-MEN: AXIS #1!

This October, the Marvel Universe prepares for the biggest battle its ever faced, and today Marvel is proud to present your very first look inside the highly anticipated AVENGERS & X-MEN: AXIS #1! Blockbuster writer Rick Remender is joined by the star-studded artist line up of Adam Kubert, Leinil Yu, Terry Dodson and Jim Cheung for an epic conflict that will require the Avengers and the X-Men to stand together like never before!

From the ashes of Avengers vs. X-Men, rises a new threat. the Red Skull – a monstrous force of evil, now possesses the extraordinary mutant gifts of the late Charles Xavier. Exploiting the powers of the world's most powerful telepath, he has amassed an army and broadcasts his message of hate across the globe. Residing in the once proud Mutant nation of Genosha, he has enslaved thousands of mutants in his bid for world domination.

"This is the big one," says Marvel Editor-in-Chief Axel Alonso. "Super hero comics at their biggest and boldest. With the powers of Charles Xavier, the Red Skull is the biggest, baddest villain in the Marvel Universe. Rick's story is massive and will touch all corners of the Marvel Universe in new and interesting ways."

All that stands in the Red Skull's path is the fragile alliance of Avengers and X-Men. Even united, they may not be enough to stem the coming darkness. Earth's last hope hinges on these fractured squads fighting as one. But as the Age if Inversion looms upon us – have they already lost?

There's a fine line between good & evil. Find out how thin as the battle commences in AVENGERS & X-MEN: AXIS #1!

Plus, before Avengers & X-Men: AXIS kicks off, follow the events leading up to the blockbuster comic event of the year with Avengers & X-Men: AXIS – The Story So Far. Relive the war between Avengers and X-Men over the Phoenix Force, the Avengers Unity Squad's first battle with the Red Skull in the pages of Uncanny Avengers and more.

For more on Avengers & X-Men:AXIS, please visit www.marvel.com. Join the conversation on Twitter with hashtag #MarvelAXIS and don't forget to follow us at @Marvel!

AVENGERS & X-MEN: AXIS #1 (AUG140718)AVENGERS & X-MEN: AXIS LAUNCH PARTY OPT IN (AUG140723)

Written by RICK REMENDERArt by ADAM KUBERTCover by JIM CHEUNG

Inversion Variant by GABRIELE DELL'OTTO (AUG140721)Deadpool Party Variant by CHIP ZDARSKY (AUG140724)Young Variant by SKOTTIE YOUNG (AUG140719)Variant Cover by Milo Manara (AUG140720)

Young Guns Variant by Mahmud Asrar, Nick Bradshaw, Dave Marquez,Sara Pichelli, Valerio Schiti & Ryan Stegman (AUG140722)FOC – 09/01/14, On Sale 10/08/14