News
Female Furies #1 Channels Jack Kirby in New Ways
Heggra has rarely looked better in the new Female Furies book from DC Comics. Check out an exclusive first look.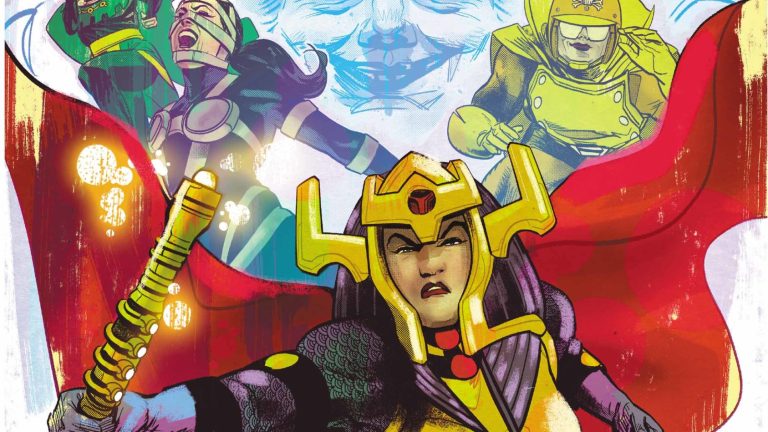 I'm on the record as loving Shade the Changing Girl/Woman, writer Cecil Castellucci's last comic with artist Marley Zarcone at DC. It was beautifully weird, earnest and heartfelt and real, which is a ridiculous way to describe a book about an alien insanity vest that reanimates a dead teenager with the brain of an alien bird and learns to make friends. It was a wire to wire terrific comic that I've already gone back and reread. 
I should have known that Adriana Melo was going to impress, too. She has been a quality artist since her time on Birds of Prey. And her work on Plastic Man with Gail Simone was really good. But I did not expect to get a good Kirby impression out of her!
Look at page 2 – everything on this page except for Granny's eyes in the top panel is very Jack Kirby. The angles, Heggra's eyebrows and rictus, even the silouhette panel feels like it could have been cribbed from the King's '70s series. The outfit is actually perfectly lifted from that book. I'm still trying to pinpoint why this stood out so strongly to me, but I think it's how she's inking herself. I think it's a lot heavier than her usual inks, and that's part of where that resemblance is coming from.
Here's how DC describes the issue:
FEMALE FURIES #1 written by CECIL CASTELLUCCIart by ADRIANA MELOcover by MITCH GERADSvariant cover by FRANCESCO MATTINAAll their lives the Female Furies have been raised to be the meanest, most cunning and most ruthless fighting force on all of Apokolips. So why are Granny Goodness' girls left behind every time the men go to war? With the might of New Genesis hanging over the planet, and the Forever People making mincemeat out of Darkseid's army, Granny thinks it's about time that changed.And so, Big Barda, Aurelie, Mad Harriet, Lashina, Bernadeth and Stompa set out to beat the boys at their own game. Little do they know the game is rigged—and one accidental murder could spell disaster for them all!FEMALE FURIES is an exciting new miniseries starring some of Jack Kirby's coolest Fourth World characters by the writer of SHADE, THE CHANGING GIRL and the artist of PLASTIC MAN!
I assume I don't have to explain how good the Gerads cover is, right? Either way, this looks like a solid book cover to cover and you should check it out.