News
Farmhand TV Series in the Works at AMC
Rob Guillory's Image Comics horror series, Farmhand, is getting a show at AMC.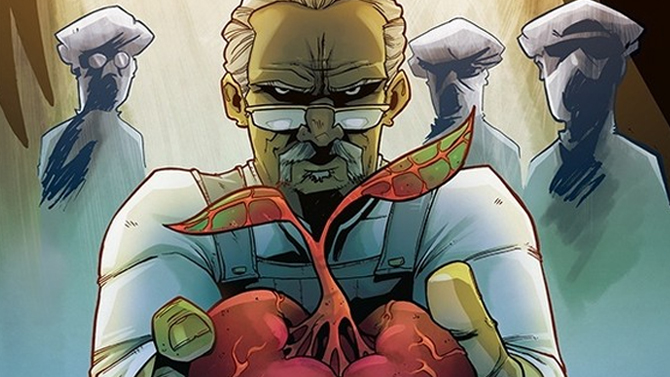 Farmhand is one of the more conceptually macabre printed offerings from Image Comics, the company that famously published (note the past tense,) The Walking Dead. Pertinently, it appears that the comic series, the brainchild of writer/artist Rob Guillory, is set to become the next Image-adapted series to manifest as a television show on cable network AMC.
Indeed, AMC has announced its Farmhand adaptation as one of two new serial TV projects, with the other being a split personality drama called Of Two Minds, from writer Morgan Dover-Pearl. Both shows will be written and developed by LaToya Morgan, who recently served as a writer and co-executive producer on the network's recently-concluded post-apocalyptic martial arts series, Into the Badlands. Guillory has taken his excitement over the project to Twitter.
Image's Farmhand, launched with its first issue back in July 2018, with Rob Guillory serving as writer and artist, partnered in the latter capacity with Taylor Wells. The story centers on Jedidiah Jenkins, who may be a simple farmer, but has embarked on a most bizarre agricultural venture (and no, we're not talking about the kind containing THC), that being organically grown human organs! Specifically, Jedidiah has managed to perfect the art of growing fast-healing, "plug-and-play" human organs. While Jed's home-grown transplants have brought healing to many, something strange is in his soil, representing an ominous sign for the legacy of his family farm.
Further Reading: Into the Badlands: How The Widow Stole The Show
Morgan, who has a multi-year overall deal with the network has been granted purview over the shows as part of the network's program to cull more diversity in its shows, called The AMC Scripted Inclusion Initiative. The program will also see Morgan supervising and mentoring emerging writers, designed to broaden the spectrum of voices regarding the channel's scripted content. As Morgan explains of the initiative in a statement:
"What has always been important to me as a creator is not just the kinds of stories that get told, but who gets the opportunity to be storytellers. With this initiative I wanted more writers of color and women to have seats at the creative table and AMC has been a great champion. These projects by Morgan and Rob, as well as a few others we are developing, are as unique, moving, and powerful as the voices behind them."
Sarah Barnett, president of the entertainment networks group at AMC Networks, also chimes in on the project, lauding:
"The question of who gets to tell stories in television is a critical one, and a key thing I'm focused on is inclusivity, finding diverse writers, creators and talent on both sides of the camera so that we can better reflect the lives and experiences of our audiences. These projects both have incredible promise: they come from smart writers and have a totally original point of view."
We'll keep you updated on AMC's Farmhand as things develop!
Read and download the Den of Geek SDCC 2019 Special Edition Magazine right here!
Joseph Baxter is a contributor for Den of Geek and Syfy Wire. You can find his work here. Follow him on Twitter @josbaxter.