News
Exclusive: Robotech Comic Interior Artist and Cover Revealed
The new Robotech comic features a variant cover by Mike Dialynas and we've got it right here.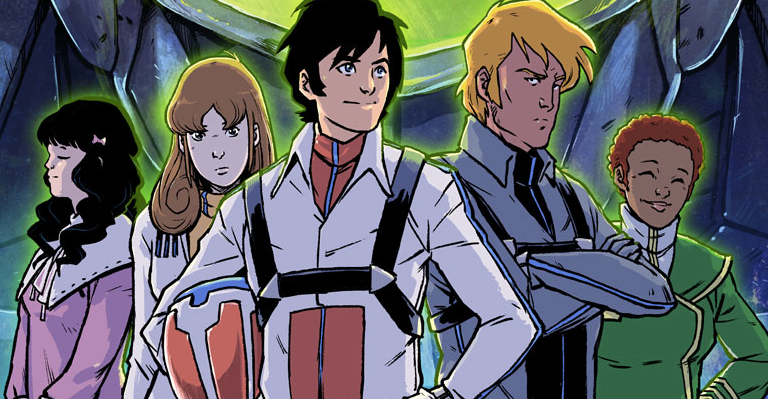 The Robotech comic from Titan Comics has slowly been ramping up and we've got an exclusive look at one of the covers, drawn by Mike Dialynas, which you can see below. 
It's interesting to note that it says the comic is "suggested for mature readers." Does that speak to the content being harder and edgier? Robotech comics certainly were never just for kids back in the day.
The cover also reveals that Marco Turini will be the interior artist on the comic, joining Brian Wood as writer. It'll be interesting to see how Turini's art compares to past Robotech artists and the unique style he'll bring to the Robotech universe. 
Over the last few months we've gotten other looks at the upcoming comic, including a cover by classic Robotech comic artists the Waltrips. Other variants have included covers styled after the original Robotech action figures and one by Stanley "Artgerm" Lau. 
When speaking about the Robotech comic back in February, President of Animation at Harmony Gold, Tommy Yune teased that the comic will surprise fans.
"It starts with the universe that is familiar. We start from the beginning with the SDF-1. We want to have all the fans come in on the ground floor and watch the Robotech universe unfold and throw in some twists and turns that they aren't going to expect."
Check that cover out here…
Everything about this cover is amazing. All the characters have so much personality here. Rick especially looks really pleased to be in comic book form again. Minmei also seems delighted to be a star again. Dare I say it's her time to be a star? (See what I did there?)
Speaking about his inspiration for the cover, Dialynas says that,  "I wanted to do a homage to the images I knew of from the series a cool looking Veritech in space and our lead characters front and center. I'm glad the guys at Titan and Harmony Gold agreed and chose this cover from the few layouts i drew up."
Dialynas actually got into the series thanks to a Greek newspaper giving away the series. "It was a rough ride cause trying to get your hands on these, they only had 1 episode per week per disc! Sometimes some of the discs didn;t work cause they where burnt from being in the sun too long hanging in the kiosk! So after seeing the first ten I was hooked and decided to hunt down and watch the rest and the movies."