News
Exclusive Preview of Astro City #43
We've got your first look at the origin of The Gentlemen!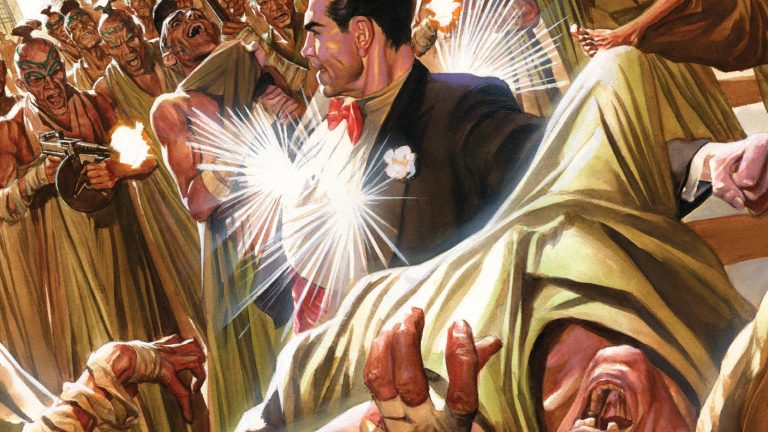 We got a chance to give you a sneak preview of the next issue of Astro City, and we jumped at the chance. Confession time: I read my first Astro Cityonly a few months ago, after a buy-one-get-one Comixology sale on DC trades had me hunting for something to even out my binge on the first three collections of Ostrander-Yale Suicide Squad. 
I can't believe I waited that long.
Astro Citystarted out as something between homage and pastiche, and almost immediately moved past that. Kurt Busiek, Brent Anderson, and Alex Ross build a world that is recognizable but fresh at the same time. It's a love letter to the entire history of the comic industry, using nostalgia and familiarity in a way that adds depth to the story without using it as shorthand to fill in the entire picture. Busiek is absolutely masterful in crafting the story, and Anderson's art manages to feel classic while at the same time working from a modern perspective with layouts and pacing. 
Bottom line: I've got a lot of reading to do, and so do you. Go read this preview!
Here's what they have to say about this issue:
ASTRO CITY #43 Written by KURT BUSIEK Art by BRENT ANDERSON Cover by ALEX ROSS At long last, it's the origin of the Gentleman! Lord Saampa and his Serpent Cult strike in the U.S.…but are they here to serve their scaly god, or to save a soul? And either way, can the Gentleman stop them? Plus: Another incarnation of Astro City's counterculture champions—this time, one you've seen before!
Astro City #43 is in comic shops on April 19th.
Check out the preview images here or in the gallery up top:
[gallery:0]