News
Eisner Award Winners Announced
Here are the big winners of this year's Eisner Awards!
Comics' top honors were handed out in San Diego on Friday night as part of San Diego Comic Con, giving you the chance to see just how wrong our predictions were! And while plenty of deserving creators were honored as part of the night, let's take a moment to recognize who the real winners were: everyone following John Barrowman's Twitter feed, as we were treated to his multiple costume changes through the night, all of which were magical.
The big winners of the night were Jason Aaron and Cliff Chiang. Aaron won both Eisners he was nominated for: Best Writer, for his work on 3/4 of the Marvel Universe and for his work with Jason Latour on Southern Bastards, which won for Best Continuing Series. Chiang took home the honor for Best Penciller and, with his co-creator Brian K. Vaughan, the award for Best New Series for Paper Girls.
In other completely unsurprising but still excellent choices, Ed Brubaker and Sean Phillips won Best Limited Series for The Fade Out. Canadian treasure Kate Beaton won Best Humor Publication for Step Aside, Pops but was forced by Canadian Parliament to return the award because of what they termed an "egregious spelling error on the trophy."
Jordie Bellaire won the first annual Jordie Bellaire Award For Being An Awesome Colorist While Also Coloring All Of The Comic Books Published in 2015, or its short title, Best Colorist. March Book Two, by Congressman John Lewis, Andrew Aydin, and Nate Powell only took home the one award it was nominated for (Best Reality Based Work), and was therefore jobbed out of several surprise wins I imagined it should have received, like the Boy, These Parallels Sure Are Uncomfortable Award or Best Letterer, which was won by Derf Backderf for Trashed.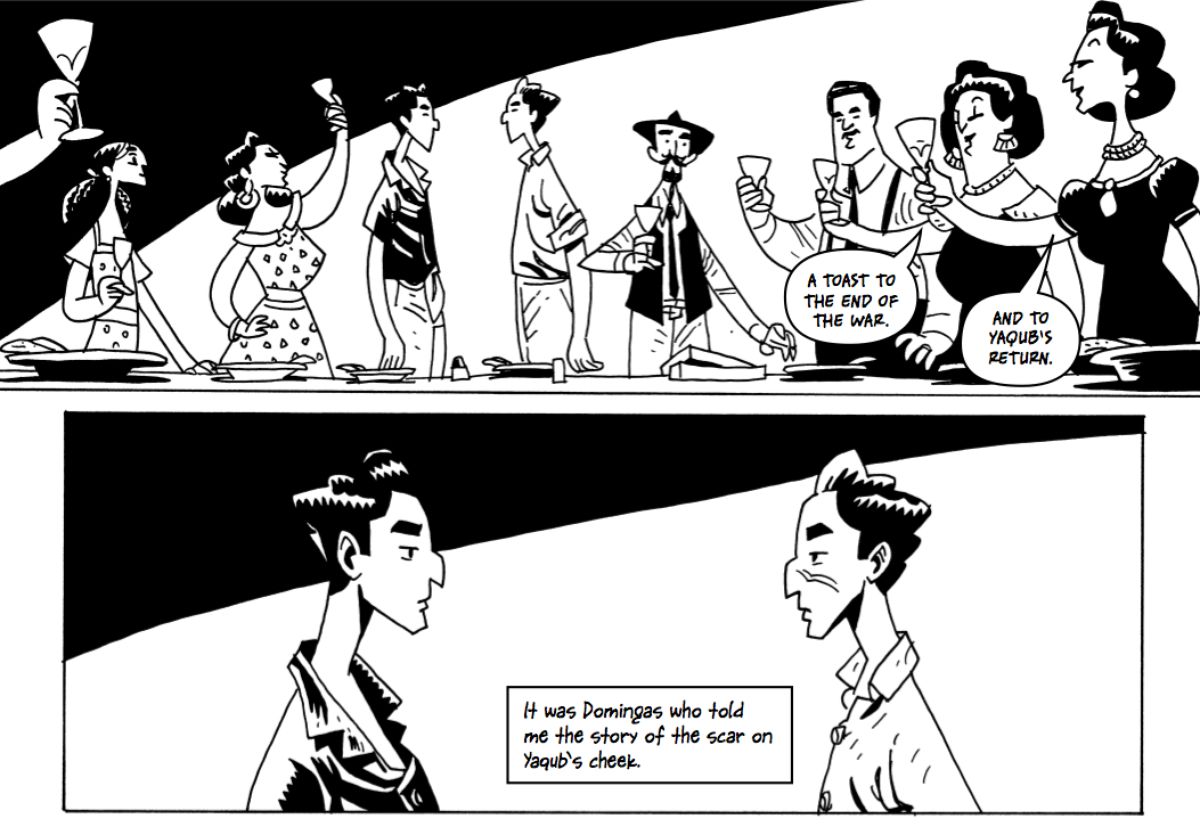 Paul Tobin and Colleen Coover won yet another Eisner for Bandette, the delightful all-ages crime/adventure comic that's been rolling in Eisners since pretty much its initial publication. Gabriel Ba and Fabio Moon's Two Brothers, the best comic from 2015 according to some web site, won Best Adaptation from Another Medium. Dustin Nguyen won Best Painter for the incredible Descender, and Asaf Hanuka's The Realist was honored forBest U.S. Edition of International Material Except Manga.
In the only controversy of the night, the excellent Master Keaton was robbed of the Best U.S. Edition of International Material Manga Only award by obvious Eisner-Bait Showa 1953-1989: A History of Japan, the comics award equivalent of some foofy period drama beating Raiders of the Lost Ark (it's actually not – Showa is great, but so is Master Keaton).
All things considered, I think I did a good enough job of hedging the original predictions that I can conclusively claim victory. For a full list of all the Eisner winners, check out their page here. And stay tuned to Den of Geek for more valuable predictions, like "Gary Johnson will throw the election to the House of Representatives" or "Severe weather! Ha! Maybe severly CALM weather."
Here's the complete list of winners…
Best Short Story: "Killing and Dying," by Adrian Tomine, in Optic Nerve #14 (Drawn & Quarterly)
Best Single Issue/One-Shot: Silver Surfer #11: "Never After," by Dan Slott and Michael Allred (Marvel)
Best Continuing Series: Southern Bastards, by Jason Aaron and Jason Latour (Image)
Best Limited Series: The Fade Out, by Ed Brubaker and Sean Phillips (Image)
Best New Series: Paper Girls, by Brian K. Vaughan and Cliff Chiang (Image)
Best Publication for Early Readers (up to age 8): Little Robot, by Ben Hatke (First Second)
Best Publication for Kids (ages 9-12): Over the Garden Wall, by Pat McHale, Amalia Levari, and Jim Campbell (BOOM! Studios/KaBOOM!)
Best Publication for Teens (ages 13-17): SuperMutant Magic Academy, by Jillian Tamaki (Drawn & Quarterly)
Best Humor Publication: Step Aside, Pops: A Hark! A Vagrant Collection, by Kate Beaton (Drawn & Quarterly)
Best Digital/Webcomic: Bandette, by Paul Tobin and Colleen Coover (Monkeybrain/comiXology)
Best Anthology:Drawn & Quarterly, Twenty-Five Years of Contemporary, Cartooning, Comics, and Graphic Novels,edited by Tom Devlin (Drawn & Quarterly)
Best Reality-Based Work: March: Book Two, by John Lewis, Andrew Aydin, and Nate Powell (Top Shelf/IDW)
Best Graphic Album—New: Ruins, by Peter Kuper (SelfMadeHero)
Best Graphic Album—Reprint: Nimona, by Noelle Stevenson (Harper Teen)
Best Adaptation from Another Medium: Two Brothers, by Fábio Moon and Gabriel Bá (Dark Horse)
Best U.S. Edition of International Material: The Realist, by Asaf Hanuka (BOOM! Studios/Archaia)
Best U.S. Edition of International Material—Asia: Showa, 1953–1989: A History of Japan, by Shigeru Mizuki (Drawn & Quarterly)
Best Archival Collection/Project—Strips: The Eternaut, by Héctor Germán Oesterheld and Francisco Solano Lòpez, edited by Gary Groth and Kristy Valenti (Fantagraphics)
Best Archival Collection/Project—Comic Books: Walt Kelly's Fairy Tales, edited by Craig Yoe (IDW)
Best Writer: Jason Aaron, Southern Bastards (Image), Men of Wrath (Marvel Icon), Doctor Strange, Star Wars, Thor (Marvel)
Best Writer/Artist: Bill Griffith, Invisible Ink: My Mother's Secret Love Affair with a Famous Cartoonist (Fantagraphics)
Best Penciller/Inker or Penciller/Inker Team: Cliff Chiang, Paper Girls (Image)
Best Painter/Multimedia Artist: Dustin Nguyen, Descender (Image)
Best Cover Artist: David Aja, Hawkeye, Karnak, Scarlet Witch (Marvel)
Best Coloring: Jordie Bellaire, The Autumnlands, Injection, Plutona, Pretty Deadly, The Surface, They're Not Like Us, Zero (Image);The X-Files (IDW); The Massive (Dark Horse); Magneto, Vision (Marvel)
Best Lettering: Derf Backderf, Trashed (Abrams)
Best Comics-Related Periodical/Journalism: Hogan's Alley, edited by Tom Heintjes (Hogan's Alley)
Best Comics-Related Book: Harvey Kurtzman: The Man Who Created Mad and Revolutionized Humor in America, by Bill Schelly (Fantagraphics)
Best Academic/Scholarly Work: The Blacker the Ink: Constructions of Black Identity in Comics and Sequential Art, edited by Frances Gateward and John Jennings (Rutgers)
Best Publication Design: The Sandman Gallery Edition, designed by Josh Beatman/Brainchild Studios (Graphitti Designs/DC)
---
Hall of Fame: Judges' Choices: Carl Burgos, Tove Jansson • Voters' Choices: Lynda Barry, Rube Goldberg, Matt Groening, Jacques Tardi
Russ Manning Promising Newcomer Award: Dan Mora
Bob Clampett Humanitarian Award: Matthew Inman
Bill Finger Award for Excellence in Comic Book Writing: Richard E. Hughes, Elliot S! Maggin
Will Eisner Spirit of Comics Retailer Award: Orbital Comics and Games, London, UK