News
Eagle Awards 2012 final nominees revealed
Voting on the final nominations for 2012 Eagle Awards opened at the start of March. CJ discusses the best of international comics talent...
Britain's Eagle Awards are one of the premier comics prize-givings within the comics industry, and around the world.
Unlike the American Eisner Awards, you can cast your vote.
The nominations round has closed and nominees are in. Voting opened on the Eagle Awards site at the start of March. The winners will be announced on Friday 25th May at the London MCM Expo.
There are 29 categories in this year's awards, covering everything from writing, art and publishers to webcomics, movies and TV.
That's obviously quite a lot, so we've picked out a few categories to examine. Let's have a skim through the nominees.
Art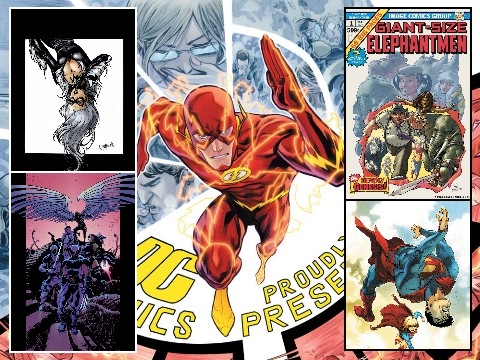 Immediately the First Newcomer Artist category stands out as very competitive. Mexican artist Axel Medellin Machain has been pencilling Elephantmen and 50 Girls 50 for Image. Irishman Declan Shalvey won an Eagle a few years ago for Hero Killers. Italian artist Emanuela Lupacchino is doing a great job on PAD's X-Factor at the moment.
Fellow Italian Francesco Francavilla has really come into his own lately on Black Panther, Detective Comics, Captain America and Bucky and distinctive cover work for Dynamite, Dark Horse and Image. Francavilla has my vote. Turkish Supergirl artist and Dynamo 5 co-creator Mahmud Asrar is a very close second.
The nomininees for Favourite 2011 Cover are: Daredevil #1, 2000AD Prog 1752, Batwoman #1, Detective Comics #880 and Aquaman #1. It's not easy to know whether to stare at or look away from Jock's Detective Comics cover.
Writing
The Favourite Writer category's starting entrant, Alan Moore, needs no introduction. Barrelling up behind with shield in hand is Captain America czar and Criminal co-creator Ed Brubaker. DC Comics Chief Creative Officer, Justice League and Aquaman scribe Geoff Johns is up next.
Scottish chaos magician and Batman Incorporated overseer Grant Morrison is the penultimate entrant, chased up by current prince of the universe, DCnU's Batman architect Scott Snyder. It's certainly a category dominated by the US and UK. I have a feeling Snyder will walk it, but this one's difficult to call.
Writer-artists
Writer-artists have their job cut out for them. For some of the nominees in Eagle's Favourite Writer/Artist category there might be slight controversy because of their involvement in this summer's planned Before Watchmen books. I'd advise ignoring what's not been published yet, and instead focus on their existing work.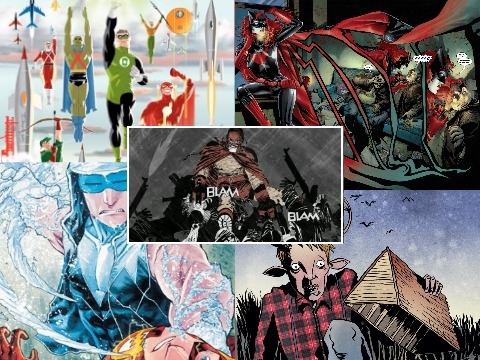 Go Canucks! With Darwyn Cooke, Francis Manapul and Jeff Lemire to contend with, Americans J.H. Williams III and the legendary Frank Miller better watch out. Williams and Cooke are my particular favourites, with his stunning run on Batwoman securing Williams' place as a true comic book heavyweight.
Favourite reading
Williams, Batwoman and people who have worked on the book are nominated across nine categories. Foremost among those is Favourite American Comicbook: Colour. Once again it's a strongly competitive field, as the other nominees are: Geoff Johns and Ivan Reis' Aquaman; Scott Snyder and Greg Capullo's Batman; Mark Waid, Marcos Martin and Paolo Rivera's Daredevil; and Mike Mignola and Duncan Fegredo's Hellboy.
Hopping over the pond, nominees for Favourite British Comicbook: Colour begin with 2000AD. Joining it from Rebellion is Judge Dredd Megazine. Clint and Doctor Who Magazine pad out those nominated, but the entrant who deserves to win is Print Media Productions' STRIP Magazine, an adventure-packed successor to Warrior.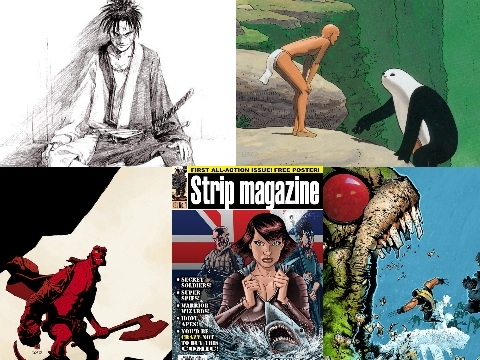 There are also Black and White categories for American and British titles. Nominees include Viz, Commando, and Image Skybound's hugely popular The Walking Dead. Favourite Manga and Favourite European Comicbook cover a large part of the rest of the comics globe.
Probably the most baffling category is Favourite New Comicbook, populated as it is by long-lived superheroes like Aquaman, Daredevil, and the X-Men. While it's obvious what the intent is it would have been interesting to see freshly minted characters rather than new takes on ones decades old. That's hardly the organisers' fault though.
Do we really find it that hard to dip our toes in new waters?
Comics in other media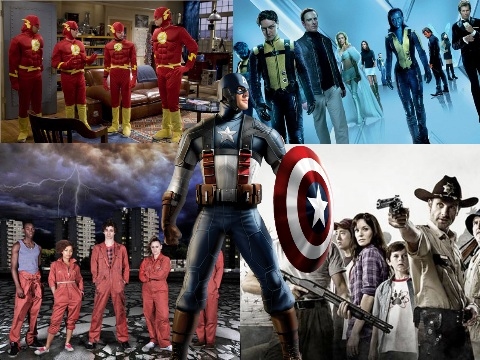 Webcomic, website, magazine and movie categories show comics isn't just a paper medium. Eagle's Favourite Comics-related Movie or TV show nominees are surprisingly TV-centric, with only Captain America and X-Men: First Class holding up film's end of the category. CBS's The Big Bang Theory, AMC's The Walking Dead and Channel 4's Misfits represent for telly.
Captain America leaps out of the list as the nominee that has the spirit of comics closest to its core. If Cap was to win it would be fitting tribute to the late Joe Simon. The Golden Age creator passed away in December.
Roll of Honour
The Eagle nominees list wraps up with its Roll of Honour. A balanced category, writer-artist Darwyn Cooke and artists Frank Quitely and Adam Hughes are competing for the gong with Marvel's Brian Michael Bendis and DC's Geoff Johns. Deciding this one on each creator's career is down to personal preference, but it's brilliant that we have the opportunity to choose!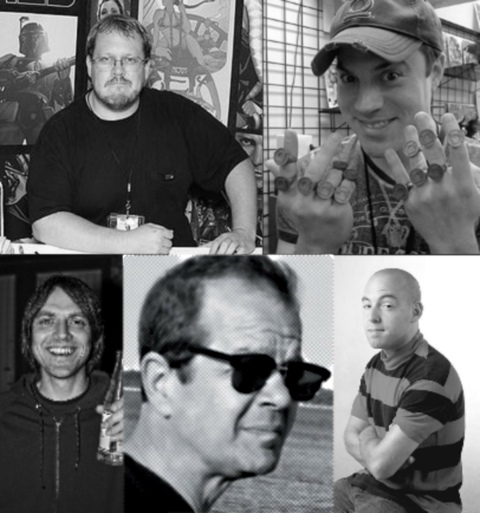 Although I'm critical of some of his editorial reasoning, Johns has done a lot over the last decade to make DC's Golden Age heritage viable against the modern Marvel media onslaught.
Hughes and Quitely are fantastically talented artsts, Cooke a great storyteller with a simple but mature style, and Bendis has his distinctive conversational appraoch – but Johns has my vote. DC may have dropped the ball with the Green Lantern movie but it wouldn't have happened without Johns' work on the character.
Voting
That was just a taster of the categories on offer in this years awards. What are your thoughts about the nominees list? Whatever your opinion, the Eagle 2012 voting survey closes on April 2nd so have your say now!
Read our article on the Eagle Awards New Visionaries competition here.
Follow Den Of Geek on Twitter right here. And be our Facebook chum here.