News
Doomsday Clock: Geoff Johns Reveals More Details
Superman will face off against Doctor Manhattan in the new DC event, Doomsday Clock. Check out a trailer for the new series!
One year on from the launch of DC's Rebirth initiative, which has fairly successfully cleaned up the detritus of the ill-advised New 52 relaunch of 2011, DC is getting ready to answer the big questions posed from the start. There was a ton of Watchmen imagery in that initial Rebirth special, and more sprinkled through the background of assorted ongoing DC Comics titles since then, with the implication being that Watchmen's Dr. Manhattan was the mysterious force responsible for the damaged, cynical tone of the New 52.
Which brings us to Doomsday Clock, the natural culmination of all of this. DC Entertainment CCO Geoff Johns has been absent from comics since last year's Rebirth special, but he's returning, along with artist Gary Frank, to answer some questions with Doomsday Clock this November. Johns and Frank are responsible for some of my favorite DC work of the last decade or so, having worked wonders on Superman with stories focusing on Brainiac and the Legion of Super-Heroes, so if anyone is going to take on a seemingly impossible task, I feel a little better knowing it's them.
DC has been releasing little trailers with Geoff Johns teasing fans with more details in the lead-up to the big panel at New York Comic Con this week. Here's the latest…
Here's the earlier trailer, as well…
"It's time. Last year, the DC Universe confronted the legacy of Watchmen in Rebirth the way Watchmen confronted the legacy of superhero comics three decades ago," explains writer Geoff Johns in a statement when the project was first announced back in May. "Thematically, and metaphorically, there was no better choice than to use Dr. Manhattan. If you're going to have a conflict between optimism and pessimism, a battle between the very forces of hope and despair, you need to have someone who personifies the cynicism that has leaked into our hearts and also has the ability to affect the entire DCU."
"Doomsday Clock is a story for fans who love the DC Universe and Watchmen and want to see what a master of this genre creates when he puts them together," says Gary Frank. "As for my artistic approach to the series, each panel is extremely detailed and I am constantly thinking through the position of every single element." 
DC also revealed Frank's covers for Doomsday Clock #1. Check 'em out…
The first is Frank's extraordinarily Gibbons-esque Watchmen-themed cover.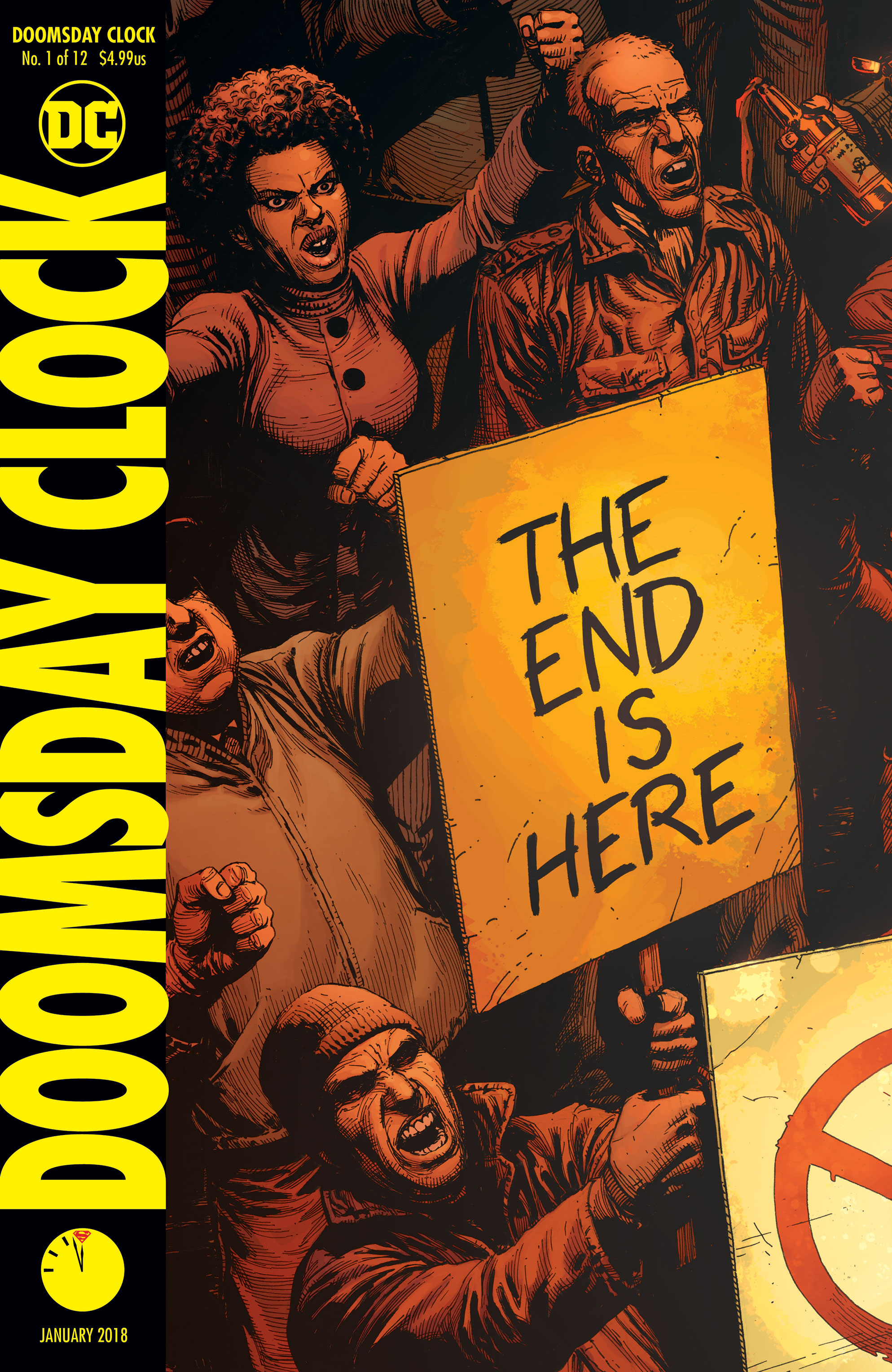 Then there's the Superman variant, which is a fine reminder that Gary Frank is probably the best Superman artist of the 21st Century, and nobody makes Supes' new costume look better.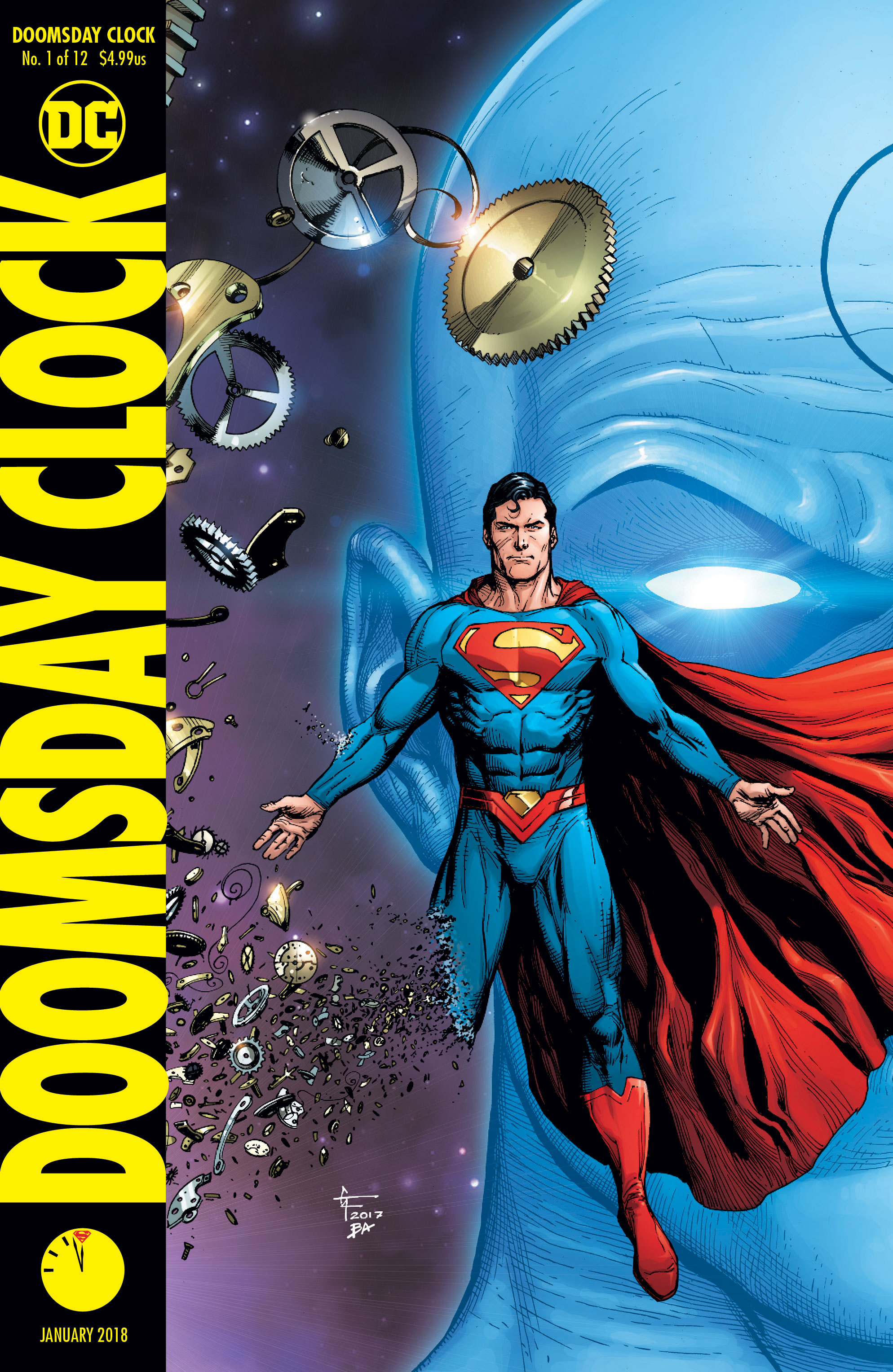 And finally there's this lenticular/Rorschach variant…
— Geoff Johns (@geoffjohns)
August 30, 2017
DC has gone back to the Watchmen well within recent memory with their Before Watchmen titles, none of which were particularly inspiring. Still, Johns is careful to point out that this isn't a Watchmen sequel. "It is something else," Mr. Johns said in an interview with Syfy Wire back in May. "It is Watchmen colliding with the DC Universe. It is the most personal and most epic, utterly mind-bending project I have ever worked on in my career."
Perhaps even more encouraging, this isn't going to be a typical superhero comic crossover event, and instead, Doomsday Clock will be entirely self contained. "We had no interest in doing a crossover with this," Johns told Syfy Wire. "There will be DC characters throughout this, but this focuses in on only a handful. There is a lot of focus on Superman, and Doctor Manhattan. Doctor Manhattan is a huge focus, and his reasons for being here, and doing what he does, ultimately have to do with Superman. And there are many, many more characters to be involved, but it is a bit early to discuss."
The focus on Superman is intriguing. Superman was a character who felt particularly directionless for much of the New 52 era (although that has recently been fixed), and of course Dr. Manhattan is the only super-powered being in the Watchmen universe. Johns and Frank will be exploring how these two characters affect each other. Superman, of course, is the epitome of the hope and optimism of the DC Universe while Dr. Manhattan is…not that.
Even the title, Doomsday Clock, has significance for both Superman and the broader Watchmen theme. The "doomsday clock" was a visual and thematic point throughout Watchmen, and, of course, the presence of the word "Doomsday" in that title should have significance for Superman fans, as that's the name of the monster who killed the Man of Steel.
 As someone who has been rather against the prospect of bringing Watchmen concepts into the DC Universe (so much so that I wrote an entire article, which turned out to be very wrong, explaining how those Watchmen references in Rebirth weren't meant to be taken literally), I have to confess that "The Button" which ran through the pages of Batman and The Flash and dealt directly with some of the fallout from both Flashpoint and the Rebirth special, was an excellent read. I've even warmed to elements of Flashpoint I previously had little time for. If Doomsday Clock is as careful with this tricky concept as DC has been with all of this so far, it might just work. 
We'll find out when Doomsday Clock is released on November 22nd.
Read and download the full Den of Geek Special Edition magazine here!