News
Doomsday Clock: Details Revealed for DC Universe Watchmen Event
A few more details about Doomsday Clock, the massive Justice League and Watchmen DC Comics story coming this fall.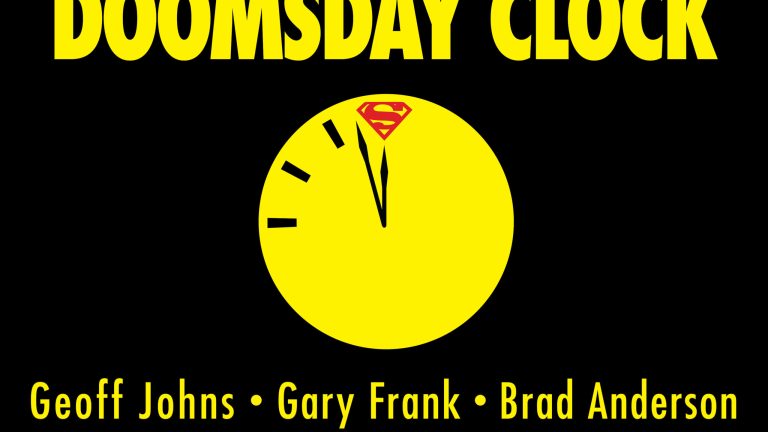 The story that has been building since 2016's DC Universe: Rebirth special is finally going to culminate this November, with the release of the first issue of Doomsday Clock by Geoff Johns, Dave Gibbons, and Brad Anderson. The 80-page Rebirth special kicked off an effort by DC to return a sense of hope and optimism to their publishing line, and it used the return of Wally West as a metaphor for everything that fans felt had been missing for the last five years or more. 
Rebirth was also notable for its controversial decision to bring Alan Moore and Dave Gibbons famed Watchmen into official DC Comics continuity with its final pages. Lurking in the background of DC Comics over the last year have been hints of this larger mystery, that some outside force interfered with the timeline for unknown purposes. A recent storyline all but revealed that Dr. Manhattan is the one meddling with the DCU, and at a panel at San Diego Comic-Con, Rebirth and Doomsday Clock writer Geoff Johns confirmed, once and for all, that Dr. Manhattan is involved.
Doomsday Clock is a 12-issue limited series, but it's not a crossover. Instead, it's entirely self-contained, with a heavy focus on Superman (who "is the story," Johns stresses). To keep it self contained, it's set one year in the future of the current DC Universe. "By the time issue 12 arrives, the rest of the DCU will catch up and be affected," Johns said.
You know what else was a 12-issue limited series? Watchmen. The Rebirth special alluded to Watchmen in a few pages, utilizing Dave Gibbons' famed nine-panel grid when it wanted to evoke that work. Johns says that Gary Frank is working with the nine-panel grid in Doomsday Clock, as well, and the few images shown at the panel (see below) illustrate a definite John Higgins influence on Brad Anderson's color work on the book.
You can see the mysterious panels from Doomsday Clock (art by Gary Frank, with colors by Brad Anderson) that were revealed at SDCC right here. Not pictured in the gallery was an image of the Justice League, apparently on Mars, with the words "Who Watches The Watchmen" above them.
Doomsday Clock sounds like an almost impossibly ambitious story, although Johns promises that "When you do something as big as Dr. Manhattan, it's not a cameo, it's not a gimmick… I don't want to have Dr. Manhattan show up for the end of Rebirth and then he's in two pages of a book later on and then it's kind of a wink and a nod. That's not what we're doing."
I've often been skeptical about involving Watchmen characters in the main DC Universe, but Johns makes some persuasive arguments. "There's so much great thematic and important stuff about what the DC Universe is, what these heroes mean to us, what the world faces on a daily basis, and why I think these heroes speak to me and why it speaks to you. That's what this book is about. It's a celebration of everything from Action Comics #1 in 1938 all the way to today. It leads the DC Universe into tomorrow with issue 12, literally tomorrow." 
(Note: I can only hope that his emphasis on "literally tomorrow" means that somehow, we're finally going to get a new Legion of Super-Heroes series out of all of this.)
While Doctor Manhattan's involvement has been little secret over the last few months, the latest reveal should stir fans up. Johns promises we'll get to see "the smartest man from one world, talking to the smartest man from another." Johns identifies Lex Luthor as the smartest man on the main DC Universe Earth. You can probably guess who the other one is. 
Doomsday Clock #1 arrives on Wednesday, November 22. Even that date is no accident. Johns revealed that the Wednesday before Thanksgiving was always an important one for him as a comic reader, evoking that feeling of going to the comic shop and knowing you have a long weekend ahead of you to enjoy your stories. The series will be monthly, with the exception of two skip months in March and August 2018. We'll bring you all the latest on Doomsday Clock as we get it.
Read and download the full Den of Geek SDCC Special Edition magazine here!