News
Doctor Star Meets His Empire in This Preview
Jeff Lemire & Max Fiumara take Doctor Star into deep space to resolve some daddy issues.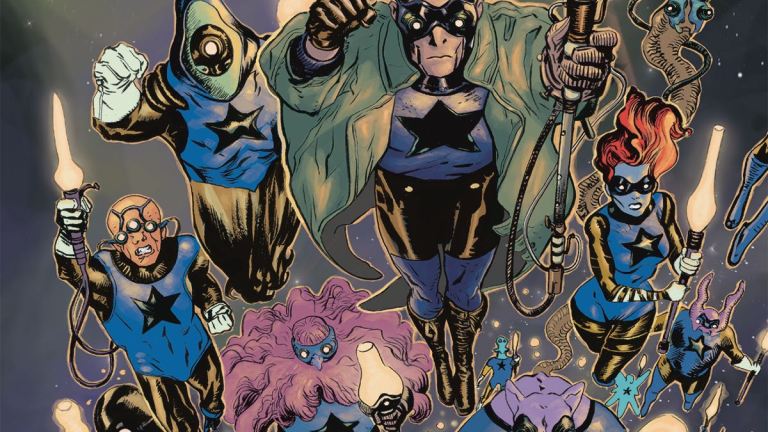 Rereading Black Hammerrecently was a trip because of how much time has passed since it first came out.
Granted, July of 2016 isn't that long ago, but with the news cycle time dilation effect that started in mid-2015 (I WONDER WHAT CAUSED IT), it feels like a decade has passed. That exhaustion only heightened the atmosphere of the first year's worth of Black Hammerstories. The world Jeff Lemire made his characters inhabit had peeks of grandiosity, but was exhausting in its mundanity. That's an odd thing to say about a 90+ year old woman trapped in a 9 year old superpowered girl's body who's friends with a gay martian, but it's true and fascinating to read.
The real work being done in the Black Hammer universe, what's going to turn this whole series from "excellent" to "masterpiece" is in the spinoffs. Sherlock Frankenstein and the Legion of Evilis just bonkers, an expansion of Black Hammerthat feels natural, while at the same time being packed to the gills with ridiculous odes to how wacky comics can get, both in narrative pieces (Cthu-Lou is inspired. His daughter Cthu-Louise is actual genius) and in presentation (David Rubin makes the book feel like a zany cartoon).
Doctor Star and the Kingdom of Lost Tomorrowsis a little lighter on the wackiness, but a little more meaningful. It's very much a Starmanpastiche (Doctor Star is named James Robinson, for FSM's sake), but it stops at pastiche, delivering a story that captures every bit of the earnestness and heart of Robinson and Tony Harris's DC classic while also building out the architecture of the greater universe that Black Hammerexists in.
Dark Horse sent along an exclusive preview of Doctor Star#3, and naturally we jumped at the chance to look at it. Here's what they have to say about the book.
Doctor Star & The Kingdom of Lost Tomorrows: From the World of Black Hammer #3

Jeff Lemire (W), Max Fiumara (A/Cover), Dave Stewart (C), and Dustin Nguyen (Variant cover)On the hunt for a cure for his sick son, astral crime fighter Doctor Star heads to the moon only to discover an intergalactic federation called the Star Sheriff Squadron looking for a leader to defend the galaxy!
The issue hits shops and digital platforms on May 2nd. Take a look at the preview and get excited!
[gallery:0]