News
Definitive History of the Marvel Universe Coming
Decades upon decades of Marvel storytelling will be condensed into six issues this summer.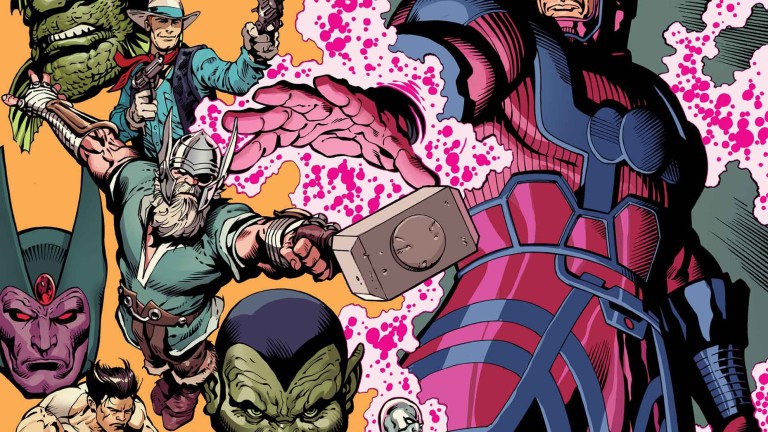 One of the things that separates Marvel and DC Comics is that Marvel holds together better in the long run when it comes to narrative coherence. DC reboots itself every now and then so they can start over and act like all the continuity before it no longer matters…until they start doing a big story about how everything matters. Marvel isn't completely innocent when it comes to this, but their examples are stuff like "changing reality so Spider-Man isn't married" or "changing reality so that the Morales family always existed in the main books."
In other words, the Marvel stories from the '60s are still canon to what's going on today, only we're supposed to imagine certain aspects differently due to the idea that all those events happened "roughly ten years ago" in continuity. Like, when Peter Parker got his spider powers, either George W. Bush was leaving office or Obama was coming into office. The sliding time scale is a hell of a thing.
Now the team of Mark Waid and Javier Rodriguez will make sense of it all this July with History of the Marvel Universe, a six-issue miniseries. Origins, comic events, and other such pieces of fictional history will be explained throughout the series, albeit with its own specific kind of narrative.
We can see an early look at several pages from the first issue down below. While we know it will hit in July, they haven't specified what day yet.
[gallery:0]
Here's the official synopsis:
"History of the Marvel Universe will reveal previously unknown secrets and shocking revelations, connecting all threads of the past and present from the Marvel Universe! From the Big Bang to the twilight of existence, this sweeping story covers every significant event and provides fresh looks at the origins of every fan's favorite Marvel stories!"
"We've seen Marvel histories and Marvel encyclopedias and Marvel handbooks, and I love that stuff. I absorb them like Galactus absorbs planets," Waid told Marvel. "This is not that. There's information here, but there's also a story. The Marvel Universe is a living thing, it is its own story, and we're trying to approach it with some degree of heart to find the heart in that story so it doesn't read like 120 pages of Wikipedia."
HISTORY OF THR MARVEL UNIVERSE #1 (of 6) Written by MARK WAIDArt by JAVIER RODRIGUEZCover by STEVE MCNIVEN
Gavin Jasper writes for Den of Geek and hopes they talk about the time Hulk recovered from a fight with Abomination and Wendigo by eating Hostess Fruit Pies. Read more of Gavin's articles here and follow him on Twitter @Gavin4L