News
Deathstroke vs Batman Details Revealed
Get ready for a massive Deathstroke vs. Batman story! It's the fight of the century!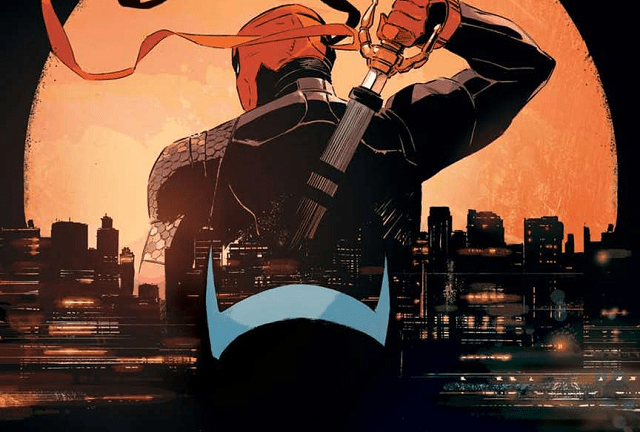 Spend any time at all perusing the comics coverage at Den of Geek and you're bound to stumble on something touting how Deathstroke is one of the best things DC Comics is publishing right now. The return and revival of the great Christopher Priest over the last few years has been a joy to behold, and Deathstroke has just been a consistently great, completely self-contained title for almost three years now.
But in April, they're going to give Slade Wilson a different kind of adversary, when he takes on Batman. The appropriately titled "Deathstroke vs. Batman" will be written by Priest with art by Carlos Pagulayan, and it's a six part story. So this should be quite a slugfest.
Interestingly enough, at one point Deathstroke was said to be the villain of the embattled solo The Batman movie starring Ben Affleck. The plan had been for Joe Manganiello to don Slade Wilson's eyepatch and bedevil the Dark Knight. It's not clear if that's still the case. However, we did get to meet Mr. Manganiello's Deathstroke in one of the Justice League movie's post-credits scenes, so that was pretty cool. Hopefully we get to see him face off against Affleck's Batman at some point. He's also due for a solo movie of his own (we have more details of that right here).
Until then, this comic story will have to do, and I suspect it will do the job nicely.
DC says that this story, which kicks off in April's Deathstroke #30, will be…
"the ultimate showdown between DC's fiercest rivals! When Batman discovers a mysterious package containing DNA test results proving that he is not Damian Wayne's biological father, the Dark Knight sets his sights on his son's true father—Deathstroke! But Damian Wayne can't really be Slade Wilson's son—can he? And who sent the package—and why? The ultimate custody battle ensues as the World's Greatest Detective and the World's Deadliest Assassin clash in this instant classic!"
We're in.
And part two in May's Deathstroke #31…
The war between Deathstroke and Batman escalates when the Dark Knight foils one of Deathstroke's assassination attempts! Meanwhile, a mysterious package brings Commissioner Gordon to Bruce Wayne's doorstep, and Adeline Kane—Slade Wilson's ex—sets her sights on Batman!  
Part three comes in Deathstroke #32 in June…
When a retired superhero gets caught in the crossfire between the World's Greatest Detective and the DCU's most deadly assassin, could an entire legacy be wiped out? Lines are crossed when Deathstroke and Batman's feud takes its darkest turn yet—and there's no going back!
And check out this awesome cover by Lee Weeks, one of the most underrated artists of his era.
The first part of "Deathstroke vs. Batman" hits on April 4.