News
Deathstroke Might Not Be Off The Table for Arrow
Are you hoping to see Deathstroke return to Arrow? Stephen Amell says it's still possible.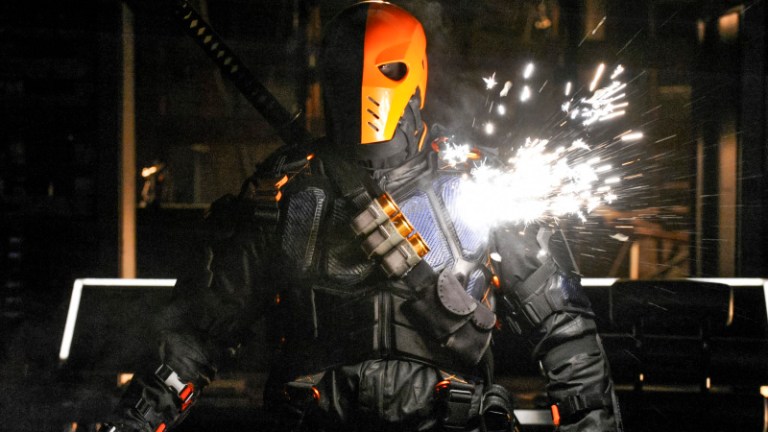 There's this weird ambiguity about DC Entertainment's film and TV divisions. Once upon a time, they were extraordinarily shy about having multiple, competing versions of their top tier characters on TV and in the movies. Smallville was one of the excuses for the long delayed fifth Superman movie (which eventually became Superman Returns), and plans to introduce a young Bruce Wayne on that show were quickly scrapped when the project that eventually became Batman Begins started marching towards Gotham City.
It was once said that you couldn't even mention the words "Metropolis" or "Gotham" on the CW shows. In advance of the Suicide Squad movie, Arrow began systematically distancing itself from characters and concepts associated with the Suicide Squad. They once had "big plans" for Harley Quinn, but those never materialized. They killed off Deadshot and they offed Amanda Waller rather unceremoniously, too. So where does this leave Deathstroke?
Take the Den of Geek 2016 Reader Survey for a Chance to Win a $100 Amazon Voucher Right Here!
Fans have wanted to see Manu Bennett back as Slade "Deathstroke" Wilson for some time, mostly since Arrow hasn't had a villain nearly as good since the show's second season. But back in February, Arrow executive producer Marc Guggenheim said in a friendly exchange on Tumblr that "The character of Slade Wilson is currently tied up in another DC project."
That other DC project would appear to be Ben Affleck's Batman solo movie. Mr. Affleck revealed some test footage of Deathstroke which would seem to indicate that Slade Wilson is, at the very least, going to cameo in the Justice League movie, but more likely will serve as a baddie in that Batman solo flick. It's also worth noting that DC Comics has been making sure to keep Deathstroke front and center in the comics, which often means they're prepping a character for stardom. 
But things seem to have changed. The Flash is about to kick off its third season, with Grant Gustin earning nearly universal acclaim as Barry Allen, but that won't stop Warner Bros. from delivering The Flash as a feature film that has nothing to do with the TV series and another actor (Ezra Miller) in the role of Barry Allen. And obviously, we're going to meet Superman in the first episode of Supergirl Season 2 on the CW.
So maybe Stephen Amell's recent comments at Salt Lake City Comic Con are worth paying attention to. The question of Deathstroke came up, and Mr. Amell replied (quotes via ComicBook) "That's not how that works…"Diane Nelson and Geoff Johns – the people at Warner Bros. on the feature side, the people at Warner Bros. on the television side – are all in the business of making the best products for fans…Just because there may or may not be a Deathstroke in the DC Extended Universe doesn't mean Manu Bennett can't exist on our show."
So there might be hope to see the TV version of Deathstroke after all!