News
Deathlok Gets New Ongoing Series from Marvel Comics
An all new version of Deathlok is coming to the pages of Marvel Comics in a series that spins out of Original Sins.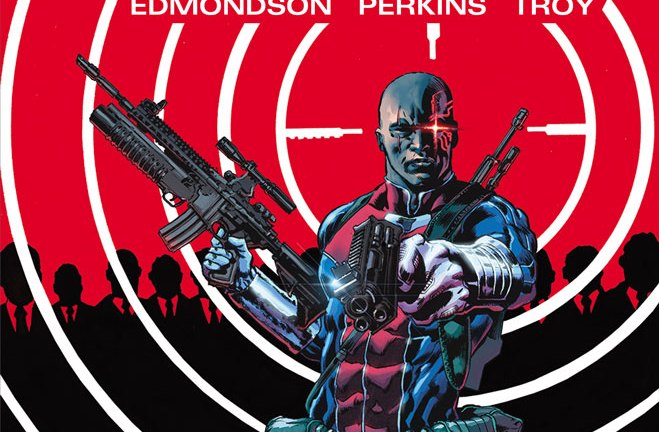 Certainly, Deathlok's profile has never been higher than it is right now. After his introduction on Marvel's Agents of SHIELD TV series (played by J. August Richards), it looks like Marvel is ready to give the ol' Demolisher another shot. But this time, it's with an entirely new version of the character.
While the Deathlok of Agents of SHIELD was based heavily on Dwayne McDuffie, Gregory Wright, and Jackson Guice's version of the character (rather than the post-apocalyptic/alternate timeline version of the Bronze Age), this one looks to forge a different path. Check out the official description of the new Deathlok, which doesn't necessarily discard the previous characters, but rather turns him into more of a "legacy" character than he's been in the past.  
Henry Hayes is a veteran, a single parent, a man who thought he'd left his war behind. But unbeknownst to him, he's been transformed without his knowledge into the perfect weapon of destruction: Deathlok! Operative, fighter, assassin and more – on the battlefield, he is whatever his handlers need him to be. Created by the mysterious Biotek corporation, Hayes is utilized as a deadly weapon rented out to the highest bidder, his memories erased at the close of every mission. As Henry slowly uncovers the truth behind the horrors that were visited upon him, he'll struggle with the knowledge that he's been transformed into a weapon of mass destruction – and expose the disturbing legacy of the many Deathloks that came before him.
"In the tradition of The Bourne Identity, Deathlok will offer a high-intensity thrill ride mixed with a voyage of discovery, as Henry is forced to peel back the onion-skin of his own existence to get to the truth—and to wrest back control of his life from his corporate overseers!," says Executive Editor Tom Brevoort. "Viewers familiar with the character concept from his appearances on Marvel's Agents of S.H.I.E.L.D. TV series ought to feel right at home getting in on the ground floor of this new series with an all new Deathlok." 
You can meet the new Deathlok in Original Sins #1, which hits comic shops today.