News
Deathblow Kills the DC Universe in The Wild Storm: Michael Cray #3
Cray takes on an alternate Flash in this exclusive first look at The Wild Storm: Michael Cray #3!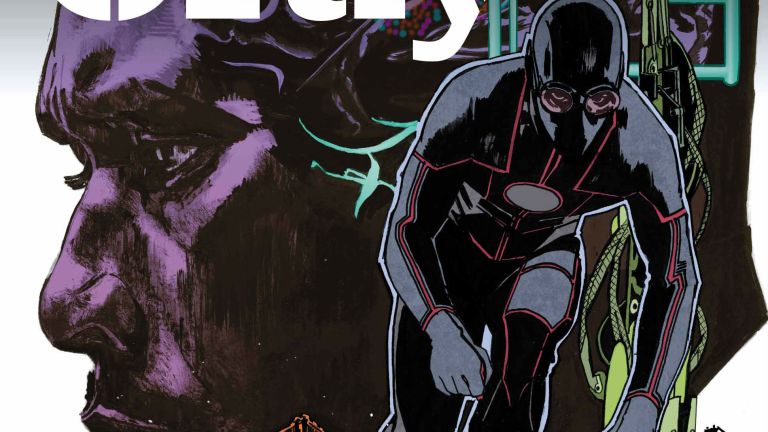 Michael Cray has been on quite the Justice League killing spree. 
The Wild Storm, Warren Ellis and Jon Davis Hunt's relaunch of the Wildstorm universe, spun out a solo book for Michael Cray a couple of months back. Cray, part of the new Wildstorm's tangled web of spy services and world-dominating, alien-headed NGOs, immediately set to work on the most pressing task at hand: killing alternate, terrible versions of Justice League members. 
It was always assumed that The Wild Stormwas taking place on an alternate Earth – setting the book apart from the most recent incarnation of the characters, which were firmly within the New 52. But it wasn't until the end of Michael Cray#1, when a green-hooded Oliver Queen was seen hunting homeless people, that it was confirmed to be an awful parallel world. 
In this exclusive preview of Michael Cray#3, Cray (the old Wildstorm's Deathblow) gets his next assignment: Barry Allen. Here's what DC has to say about the issue:
WILDSTORM: MICHAEL CRAY #3 Written by BRYAN HILL from a story by WARREN ELLIS Art by N. STEVEN HARRIS and DEXTER VINES Cover by DENYS COWAN and BILL SIENKIEWICZ • Variant cover by JOHN PAUL LEON Crime forensics expert Barry Allen has a dark secret—and a prototype suit that makes him the fastest man alive. Michael Cray wants to make him pay for his sins, but is he able to catch a man faster than justice? And what will happen when Barry Allen turns his psychosis on Cray at hyper-speed?
Take a look at Harris and Vines' extra creepy take on The Flash and his powers in these preview pages.
[gallery:0]