News
Death of Thor Coming From Marvel
March will see the final adventure of the Mighty Thor come to an end.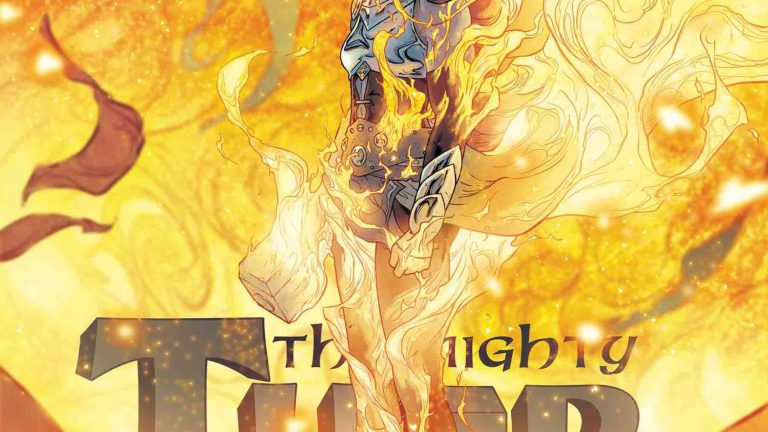 Years of Jason Aaron and Russell Dauterman's work with Thor and Jane Foster are coming to a head in March's The Mighty Thor#705.
The Mighty Thor #705 is the penultimate issue of the arc titled "The Death of the Mighty Thor." Jane Foster has since the beginning of Aaron's time writing Asgard been battling cancer. When she became Thor, every time she switched between her normal self and her Asgardian god form, she would neutralize her chemo treatments. 
Now, while all of Aaron's myriad storylines come to a head with all of Asgard battling Mangog (the collected hatred of billions of beings killed by Odin eons ago, and not a bizarre, ram-headed marital aid), it seems we're also going to see Jane's time wielding Mjolnir as a living person come to a close. 
Here's the official synopsis:
The world of Mighty Thor and Odinson has been turned upside down, literally and figuratively — the Mangog's attack on Asgardia has left the realm, and the gods who inhabit it, decimated. And the Mangog isn't done yet! While Odinson's responsibility is to protect his people, Mighty Thormust make a choice: fight Mangog by picking up Mjolnir – which guarantees that Jane Foster will perish – or watch the world fall.

There is no choice…

Prepare yourself as Jane Foster picks up Mjolnir one last time in MIGHTY THOR #705, and witness the death of a hero!
But wait, says series editor Wil Moss. "Jason Aaron and Russell Dauterman have been building to this issue for over three years…You may think you know where things are going, but I promise you do not." And with one issue to go in the arc after #705, it seems likely that there will be, if not a next chapter, at least a coda to Jane's story. 
The Marvel version of the Valkyrior are a group of women who ride winged horses and guide Asgard's honored dead to Valhalla, where they get trashed and hunt all day. In addition to Brunnhilde, The Valkyrie of comics and Thor: Ragnarokfame, Danielle Moonstar of New Mutants fame has also been a member of the Valkyrior. 
Check out the preview pages…
[gallery:6]
The Mighty Thor #705, by Jason Aaron and Russell Dauterman is on sale on March 21.