News
Death of the Inhumans Coming from Marvel
Marvel is killing off The Inhumans in July.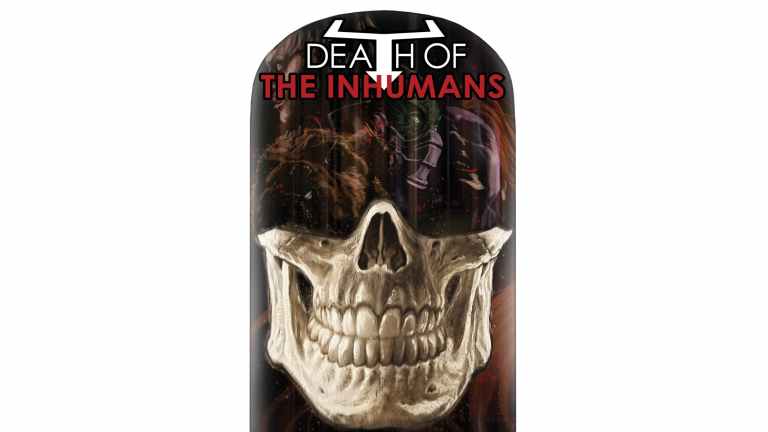 The Inhumans, the on-again-off-again go-to replacements for the X-Men in the Marvel television and comic book universes, have had a rocky couple of years, and it looks like it's not going to get any better for them soon. Storywise, at least. 
Coming in July from Marvel is Death of the Inhumans,a series written by Donny Cates (Doctor Strange and one of our best comics of 2017, God Country) with art from Ariel Olivetti (Cableand some more recent but nowhere near as magnificent as that Cable run stuff) and covers by Kaare Andrews (The Immortal Iron Fists).
All that was released is the cover below, but that potentially tells us a lot. Black Bolt is a skeleton, Medusa is in pain, Triton is there, Maximus is probably the mastermind, and Lockjaw is there and thus threatened. And if this turns into John Wickbut with a main character who can't speak (so…John Wick), I'ma be mad as hell.
The Inhumans were created in the pages of Stan Lee and Jack Kirby's Fantastic Fouras a race of weird, hierarchical superbeings who lived in a hidden city in the Himalayas. Since then, they've been revealed as the product of Kree genetic experimentation eons ago. Their home moved to the Blue Area of the Moon (the part with an atmosphere), then they launched into space after their leader, Black Bolt, was replaced by a Skrull (he got better). In space, they took over the damaged and faltering Kree empire, then led them to a pyrrhic victory in a war with the Shi'ar (in War of Kings, the middle story in Abnett and Lanning's Marvel cosmic epic). 
During Infinity(the crossover that looks like the source material for a big chunk of Avengers: Infinity War), Black Bolt dropped a Terrigen bomb on Earth, causing an explosion of Inhumans and releasing a cloud that was toxic to any mutants who breathed it in. The cloud was soundly defeated by the X-Men in Inhumans vs. X-Men,and with the substance that creates them destroyed, the Inhumans have been searching for meaning ever since. 
For more on the Inhumans, including a recap of Royalsonce all of it is up on Marvel Unlimited (spoilers through issue 7: it's extremely fine so far!) stick with Den of Geek!