News
Deadpool 2 Rob Liefeld Poster Evokes Deadpool's Comic Debut
Deadpool's creator, Rob Liefeld, has created a Deadpool 2 poster that pays homage to the character's debut in The New Mutants #98.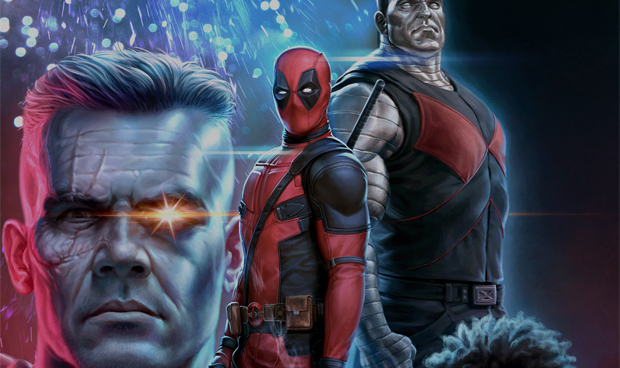 Deadpool 2 is just around the corner, set to showcase the highly-anticipated sequel to the 2016 Ryan Reynolds-starring surprise cinematic smash that changed the landscape of the comic book movie scene. Yet, while the character exists in the highest tier of superherodom, those who remember his earliest days from 1991 in the pages of The New Mutants and X-Force still find the idea surreal; something that likely influenced a new retro poster crafted by creator Rob Liefeld.
With the release of another fantastic fourth-wall-wrecking Deadpool 2 trailer, the media blitz now brings a special poster, which is now available to purchase for Fandango ticket buyers. The man who created Deadpool, Rob Liefeld – collaborating with Mike Capprotti – has created the poster, a stunning tribute to his original cover for Deadpool's first appearance in The New Mutants #98, dated February 1991 – a book that continues to skyrocket in value. Of course, out of necessity, some New Mutants members are removed, and Deadpool 2's Colossus subs for Gideon.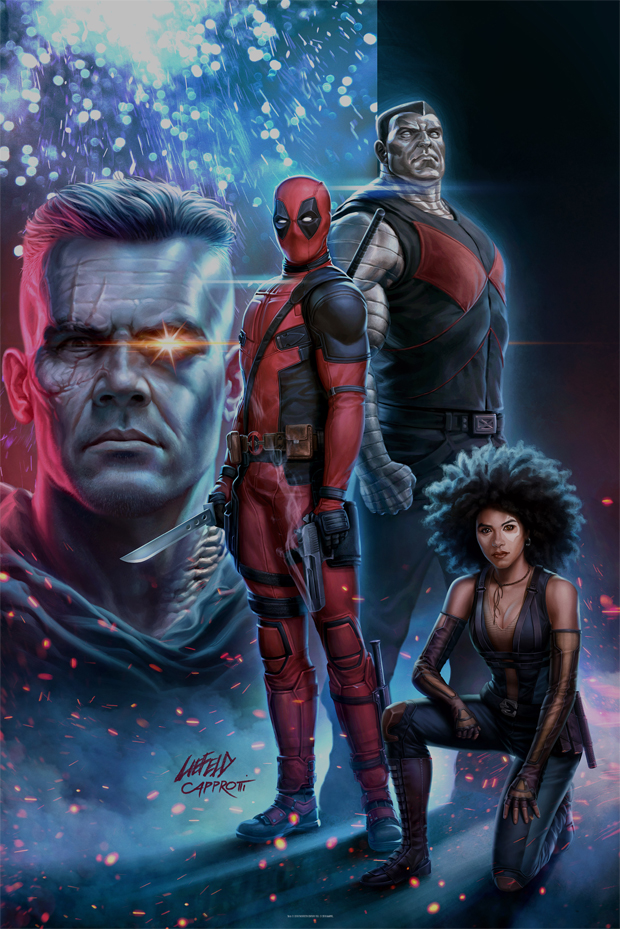 The original 1991 cover actually touted its debuting characters, with Deadpool, Cable (played by Josh Brolin in Deadpool 2) and Domino (played by Zazie Beetz in the film), and the mostly-forgotten villain, Gideon. Contextually, Issue #98 arrived at a time when the original run of The New Mutants series was heading for the finish line, ending with Issue #100, after which Liefeld would migrate the characters over to the newly-launched X-Force (Deadpool's second appearance would occur in Issue #2 of that series).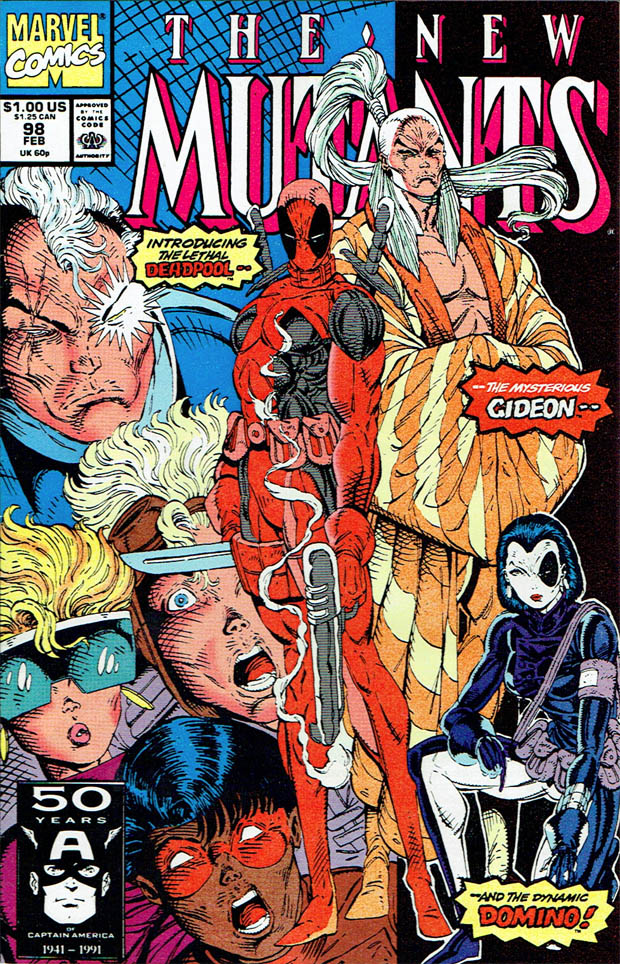 Interestingly, the Deadpool of Issue #98 was not quite the beloved and roguish Merc with a Mouth that people would come to love. Rather, he was somewhat of a generic villain, a skilled mercenary in service to a shadowy client, called "Mr. Tolliver" (more on him in this piece), continuing a series-wrapping time-travel-related storyline that had just introduced Cable back in Issue #87 (also an increasingly valuable book). Indeed, Deadpool, who actually did impress readers with all his early-1990s comic aesthetics and Liefeldian pouches, still seemed like a homicidal, Spider-Man-emulating, flavor of the month. Truly, no one could have possibly imagined the kind of staying power and character evolution that he'd eventually enjoy.
Creations like Deadpool and Cable would quickly propel Liefeld to stardom, and those of us who were around for it still remember him being interviewed by Spike Lee in the then-ubiquitous Levis 501 Button Fly Jeans ads (in which The New Mutants #98 can be seen). Not long after that, he would join some of the most prominent artists in the comic industry to create Image Comics, for which his Youngblood #1 served as the future The Walking Dead publisher's inaugural issue in 1992. /historylesson
Deadpool 2, which, apparently, is the proper title now, will make its arrival on May 18.