News
Deadpool 2: Deadpool Wants YOU to Join X-Force
To promote the upcoming Deadpool 2 Blu-ray and DVD, the Deadpool Core website will allow you to apply to X-Force. Your funeral.
On Tuesday Aug. 21, Deadpool 2 comes out on Blu-ray and DVD, adding to our very Josh Brolin-based month of comic book movie home releases. While the Blu-ray will come with the usual special extras, including the Super Duper Extended Cut (which includes a longer version of that bath house fight and the post-credits sequence), Fox has another special extra in mind.
Even though the big deal about Deadpool 2 is that it brings Cable into the mix, a chunk of the movie is dedicated to Deadpool putting together X-Force, essentially Wade Wilson's own X-Men, but with blackjack and hookers. He gets a team of powerhouses that include a guy who can disrupt electricity, a dude with acid spit, a woman with totally fake "luck powers," an incredibly handsome invisible man, an alien super warrior, and some guy named Peter.
That begs the question: who didn't make the cut? I mean, we know Dopinder didn't. But who else? The extended edition doesn't give us any answers, but now we know thanks to Fox we finally know: it was you. Damn.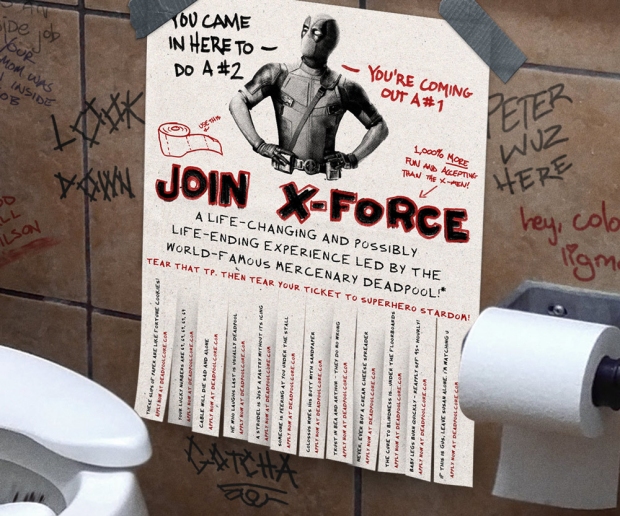 Starting on Thursday Aug. 16, Deadpool Core will have a special page where fans can fill out their own X-Force applications, including headshots. Once done, you're able to share them with your friends and on social media because people skip through commercials these days and we need some kind of new reminder that this movie is getting a home release.
In the meantime, here are some applications that Deadpool straight-up wasn't feeling that we have exclusively delivered to us by Wade with maximum effort.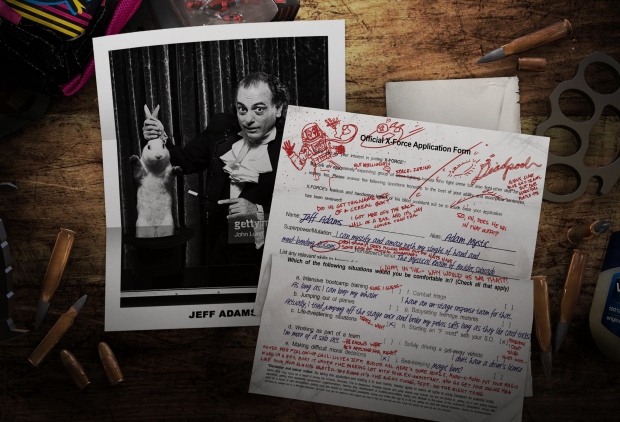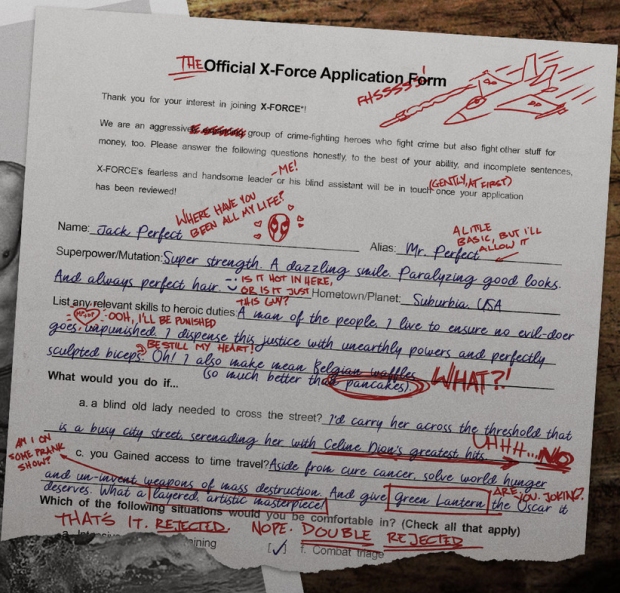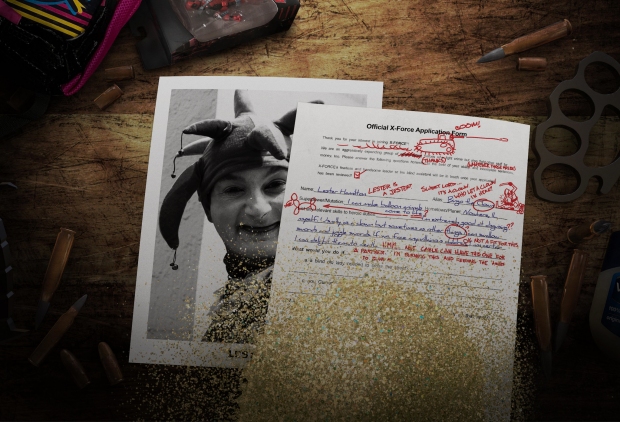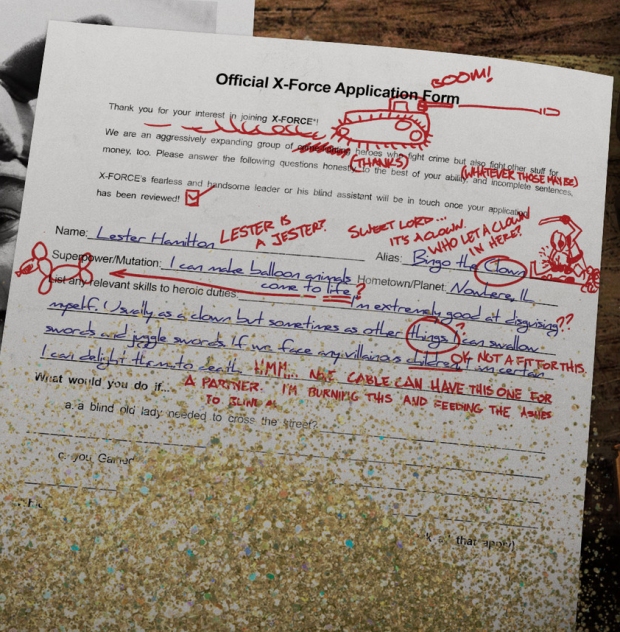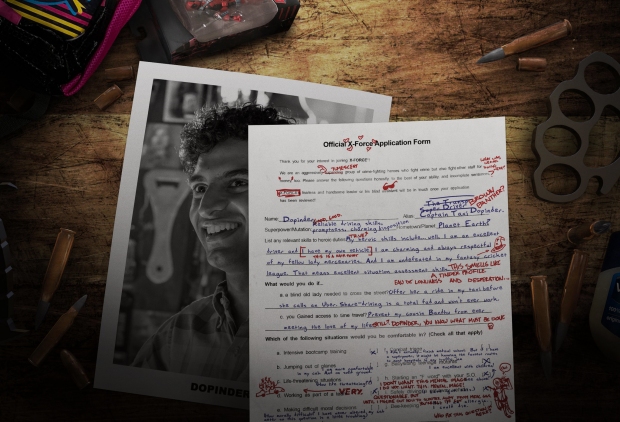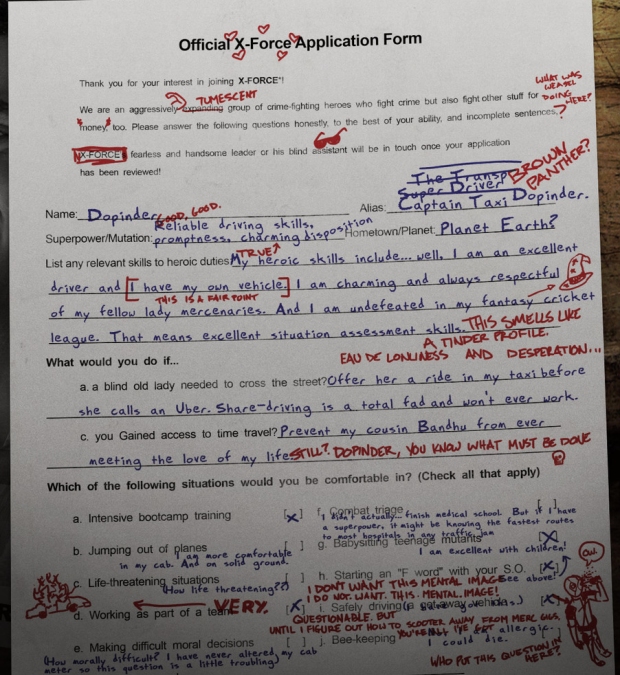 So while the Super Duper Cut is available for digital now, you'll have to wait until Tuesday for the Blu-ray. Said disc has all this stuff on it:
– Gag Reel- Deleted/Extended Scenes- Until Your Face Hurts: Alt Takes- Deadpool's Lips are Sealed: Secrets and Easter Eggs- The Most Important X-Force Member- Deadpool Family Values: Cast of Characters- David Leitch Not Lynch: Directing DP2- Roll with the Punches: Action and Stunts- The Deadpool Prison Experiment- Chess with Omega Red-  Swole and Sexy- "3-Minute Monologue"- Audio Commentary by Ryan Reynolds, David Leitch, Rhett Reese, and Paul Wernick (Theatrical Version ONly)- Deadpool's Fun Sack 2- Stills (28 Images)
That's more than 27 stills! The future is an awesome thing.
Gavin Jasper isn't applying because the life-expectancy seems questionable. But you can still follow Gavin on Twitter!