News
Deadly news for Hellboy
There's big news ahead for the land of Hellboy. CJ has the details here...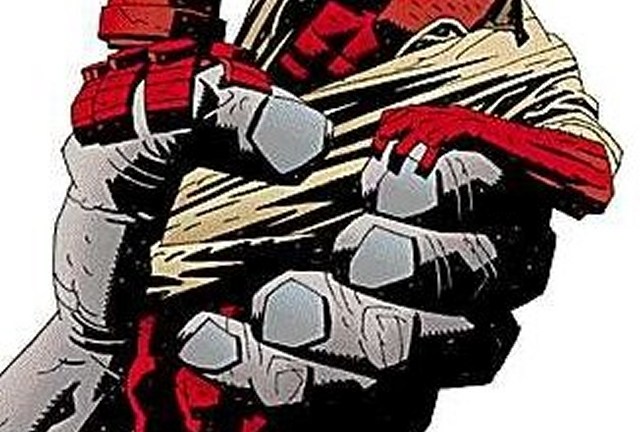 Please note: spoilers lie ahead.
After the deaths of several of the big two publishers' major characters in recent years, it's beginning to look as though comics' favourite paranormal investigator could also be not long for this world.
Hellboy is one of creator-owned comics' greatest success stories. A creation of distinctive writer-artist Mike Mignola, Hellboy began in 1993 as a four-page story by Mignola and John Byrne in a San Diego Comic-Con tie-in issue, and his adventures have continued to be published in subsequent miniseries. Two popular movies from horror auteur Guillermo Del Toro have helped the demonic do-gooder and his colleagues at the Bureau for Paranormal Research and Defense find a wider audience.
In a statement released to comics retailers on Wednesday through the primary industry distributor, Diamond, Hellboy's publisher, Dark Horse, announced that 10 August's issue of the current limited series would bring a close to the surly red demon's life.
With death in comic books often provoking scorn among readers and non-readers alike, is the news of one of Dark Horse's most well-known faces' demise something that can be taken at face value?
A grisly fate for the character in the final issue of Hellboy: The Fury was later confirmed on Thursday in an interview with Newsarama by Dark Horse's Senior Managing Editor, Scott Allie. From the start, however, he stressed the BPRD's sassy mascot wouldn't disappear completely.
"This isn't the last we've seen of Hellboy, but he is dead. It's not a trick," said Allie.
The character's warm reception has been all the more remarkable for making Lovecraftian horror tales a hit in a medium long dominated by the superhero genre. 
One of the defining features of Mignola's horror universe is the tongue-in-cheek, pulp attitude it takes to weird and eerie goings-on, and the Dark Horse editor teased that the nature of Hellboy comics would have something to do with the final outing. 
"There's a thing that Mike's often said, which is that when characters die in these books, they just get more interesting."
Even though he will be gone, the developing BPRD universe will continue with big plans for 2012. Allie defended Hellboy's expiration on its storytelling merits and the potential for the rest of the line.
"Doing what we've done… in The Fury is just one part of permanently changing and screwing up… [Hellboy's] world. And it's going to continue to happen at an increasing pace in the near future."
Recent years have been busy times for the comics' grim reaper. Marvel killed off Ultimate Spider-Man at the end of June and revealed the identity of his replacement less than two months later. The current Captain America, Bucky Barnes, died in the third issue of the ongoing Fear Itself crossover. Earlier this year, the House of Ideas also bade farewell to the Fantastic Four's Human Torch as part of the heavily publicised 3 storyline.
Rival publisher DC is no stranger to death either. Batman was killed in 2009 during the Final Crisis event, but the caped crusader came back the following year. The company's Blackest Night and Brightest Day crossovers focused heavily on the issue of characters returning from the dead between 2009 and 2011.
Smaller publishers tend not to have implemented the death tactic to date. If Hellboy's death is a sales success, more companies could follow the lead of Dark Horse and Mignola in saying goodbye to popular characters.
Follow Den Of Geek on Twitter right here. And be our Facebook chum here.