News
Deadly Class TV Pilot Released Early by Syfy
While the debut of Deadly Class won't arrive until mid-January, Syfy went ahead and released the pilot for you to watch – now!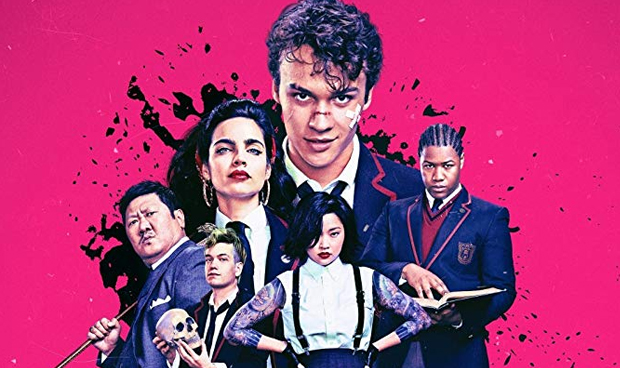 Deadly Class just issued some prerequisite material for its upcoming Syfy series launch, namely the pilot episode in its entirety!
That's right, you don't have to wait a single solitary second to catch exposition from the late-1980s-set series, which depicts the ruthless existence of teens in an eccentrically whimsical school for wizards… er, assassins. Indeed, the first episode of Deadly Class has been posted by Syfy, which is giving you the jump on the show's linear premiere, making it available to watch commercial-free from December 20 through the premiere date of January 16, 2019 at 10/9c. Here it is, embedded just below!
Why did Syfy do this, you might ask? Because some cable networks just want to watch the world burn. – Seriously, though, it's a pleasant holiday surprise that any discerning genre fan should embrace.
The series adapts the Deadly Class Image Comics graphic novel by writer Rick Remender and artist Wes Craig, utilizing its 1987 setting to showcase an off-the-wall tale of woe centered on homeless teen Marcus (Benjamin Wadsworth), who, by chance, gets to trade life on the streets for admission into Kings Dominion, an elite private academy where the next generation of killers are educated for criminal careers with the world's top crime families. However, Marcus will navigate hazards – mortal and social – in the proverbial shark tank of a school while wrestling with his own code of morality.
Joining Wadsworth in the Deadly Class cast are Benedict Wong, Lana Condor, María Gabriela de Faría, Luke Tennie, Liam James, and Michel Duval.
The series adaptation process was overseen by the showrunner triumvirate of comic author Remender, Miles Orion Feldsott (American Koko) and Mick Betancourt (USA's The Purge), all of whom are onboard as executive producers, joined in that capacity by Mike Larocca (Spy) and Marvel movie royalty in Joe Russo and Anthony Russo, the directorial visionaries behind the upcoming Avengers: Endgame, Avengers: Infinity War, Captain America: Civil War and Captain America: The Winter Soldier.
Joseph Baxter is a contributor for Den of Geek and Syfy Wire. You can find his work here. Follow him on Twitter @josbaxter.