News
DC's Secrets of Sinister House Spotlights Vampire Batman and Harley Quinn
Secrets of Sinister House pits Red Rain Batman against an actual Owlman for Batgirl's life...and Harley Quinn in a haunted clown motel.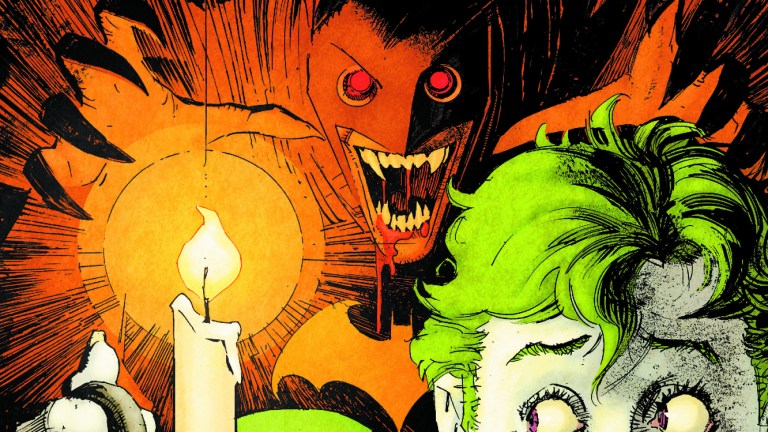 DC has been doing this holiday anthology thing for a few years now, and I'm stunned at how many of them have been pleasant surprises. In the past, fans might want to temper expectations for these, but that hasn't been the case lately, and with DC's horror anthology The Secrets of Sinister House arriving for the Halloween season, we should have some pleasant nightmares to look forward to.
Typically, books like this are space fillers, meant to ship something on a fifth week to keep retailers happy, and a way to clear out some stock stories and give new names a tryout. These seasonal anthologies from DC have been much higher quality than that – new folks are still getting their first shot, but their stories are generally pretty good, and the books are packed with great short stories from accomplished creators as well.
Take The Secrets of Sinister House. We've got a preview of two of the stories for you right here, and they're both really good. In the first, Rafael Albuquerque and Rafael Scavone take us to Earth-43, the universe of the vampiric Red Rain Batman, and we get to see what the Court of Owls looks like on a world overrun by vampires. That's cool as hell. I will admit to not giving a ton of thought to the nuance of Earth-43…ever, really…but that's the fun of a story like this: the creators have definitely put a lot of thought into it, and it's cool to see the concept extended the way they do. Also, Albuquerque can draw the living hell out of everything, so vampire Batman vs. a giant owl monster is every bit as entertaining as it sounds. And the creators smartly end the story like so many other quick horror stories do: with a joke that lands perfectly.
The other story we have a preview of is Paul Dini and Cian Tormey's tale of Harley Quinn and Zatanna spending a night at that clown motel outside Vegas. I will admit, there was a split second when I was reading this where I was disappointed that it wasn't Chris Sebela writing it, the man who crowdfunded expenses for a month at the real life clown motel. But then I realized it was Paul Dini writing Harley Quinn and Zatanna, and in no possible universe does that ever go wrong. And it didn't! Tormey's a new-ish name to the DC universe – his most recent work was on their last anthology over the summer – and he's shaping up to be a good fit. His art's very clean, with good figure work and composition ability. I really appreciate how he doesn't overdo it with anything. "Harley Quinn at a haunted clown motel" isn't a high concept that lends itself to subtlety, but the art here doesn't try and go overboard with the linework or inks or packing too much into a panel.
The rest of the anthology is as good. The John Layman-Jorge Fornes Deadman story is a particular highlight, but there aren't really any bad ones in the bunch. Here's what DC has to say about the issue:
SECRETS OF SINISTER HOUSE #1 written by PAUL DINI, RAFAEL ALBUQUERQUE, RAFAEL SCAVONE, BRYAN HILL, DAN WATTERS and othersart by RAFAEL ALBUQUERQUE, CIAN TORMEY, JORGE FORNES and otherscover by JOHN ROMITA JR. and BILL SIENKIEWICZWitness what hides within the Sinister House—the DCU's most horrific secrets and mysteries! Travel alongside Harley Quinn, John Constantine, Detective Chimp, Zatanna, the Atom and others as they face this macabre devastation firsthand! And in the bowels of this dark mansion…we return to the world of the legendary Red Rain to meet once again with the dreaded vampire Batman. Don't miss this year's DC Halloween special—because if you do, it'll haunt you!
And here are the preview pages!