News
DC Universe Meets Watchmen Event Begins in April
Batman and The Flash will team up to investigate why Watchmen are coming to the DCU in 2017. (sigh)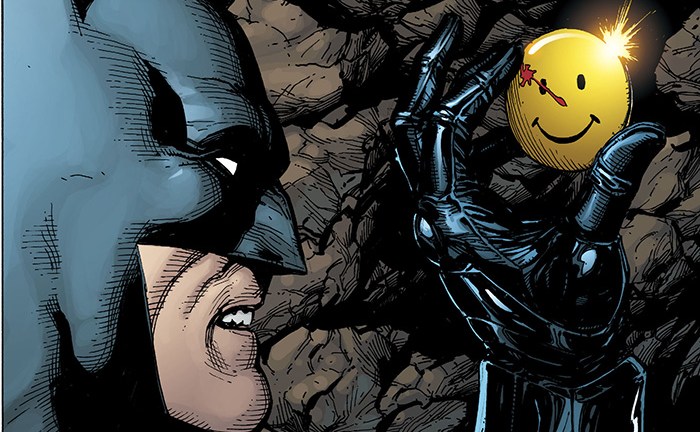 DC announced a crossover today that would answer one of the enduring mysteries from last year's Rebirthrelaunch: what the hell are they thinking what was the Comedian's button doing lodged in the Batcave?
Starting in April, Batmanand Flashwill cross over in issues 21 and 22 for "The Button." The story, which will ship with variant 3D lenticular covers of Batman and Flash holding up the Comedian's pin (but no news on what the alternate image will be), will have Barry Allen and Bruce Wayne teaming up to figure out the mystery first teased in the Rebirthone-shot. From DC's press release:
However, what begins as a simple investigation soon turns deadly when the secrets of the button prove irresistible to an unwelcome third party – and it's not who anyone suspects! This is a mystery woven throughout time, and the countdown starts here!
It's totally Ozymandias.
Anyway…
I will say this, though: it's really nice to have a crossover and not have to buy any additional issues because the two books are already on my pull list. And if anyone is going to be able to make this work for me, it's regular Batmanand Flashwriters Tom King and Josh Williamson, who are joined for this story by Jason Fabok (Justice League) on Batmanand Howard Porter (Justice League 3000) on Flash. A
ND not to brag or anything, but people trying to read Rebirthtea leaves are likely remembering our interview with King last month, where he told us he was going to be dealing with Saturn Girl's presence in Arkham "around issue 20."
So in conclusion, I've talked myself into it! "The Button" starts in April, but you can see Fabok's covers right here.