News
DC to Make Sense of Hawkman Continuity in Dark Nights Crossover
Dark Nights expands with a crossover and a major new push to make sense of Hawkman.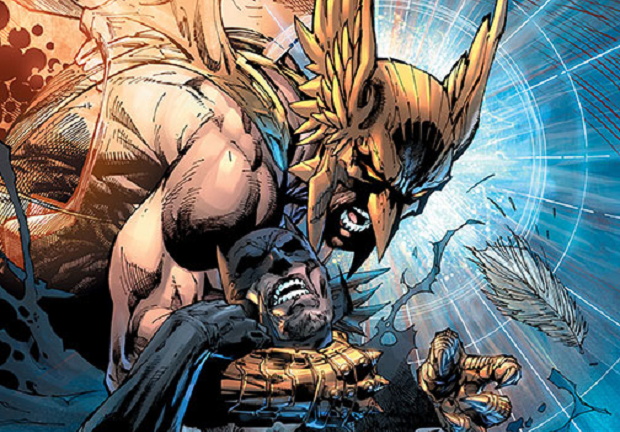 DC Comics announced over the weekend that Dark Nights, their summer crossover that answers the question "What if someone made a comic out of a Greg Capullo hype speech at a comic con panel," is expanding this fall with a crossover through the Justice League family of books, along with the return of Hawkman, whose presence looms large in the early issues of the crossover.
Starting in October, the Justice League will be battling with their Bat-analogues from the Dark Multiverse, as Flash takes on The Red Death in Flash#33, with all-time great Flash artist Howard Porter on pencils joining series regular writer Josh Williamson. Then, The Batman Who Laughs and the Murder Machine take on Cyborg in Bryan Hitch and Liam Sharp's Justice League#32. The Dawnbreaker faces off against Hal Jordan in Robert Venditti and Ethan Van Sciver's Hal Jordan and the Green Lantern Corps#32, and the League is captured and at the mercy of the dark Batmen in Hitch and Tyler Kirkham's Justice League#33.
Then, in December, Jeff Lemire (who has been on a blistering hot streak writing of late) takes on the toughest task in all of comics history: making sense out of Hawkman.
Hawkman: Found#1 has art from Hitch and Kevin Nowlan, so there are three big pluses right off the bat. It spins out of the main Dark Nightsstory, where Nth Metal (the mysterious metal that gave the Hawkfolks the power of flight and hitting things super hard with maces) plays a huge role, and the Hawkfolken are part of a struggle going back to the dawn of man, when the world was separated into four tribes: wolves, bears, birds, and Apokaliptian time-eating super weapons bats.
Hawkman and Hawkgirl are hinted at being the inspiration for both the Blackhawkks and the new, multiversal explorer incarnation of the Challengers of the Unknown. This is in addition to being alien cops from a planet of Hawk persons, and continually reincarnated Egyptian deities. 
Good luck, Jeff!
"Bats Out of Hell" starts with October's Flash #33 and ends in November's Justice League#33. Hawkman: Found, with a special cover by Jim Lee and Scott Williams, is out in December. For more information on Dark Nights, including periodic recaps of Scott Snyder working crazy weird magic on the entire history of the DCU, stick with Den of Geek!
Read and download the full Den of Geek Special Edition magazine here!