News
DC Stars Celebrate Batman's 80th Overseas with Troops
Stars from The CW DC shows The Flash and Black Lightning visited troops overseas in a USO event for Batman's 80th birthday.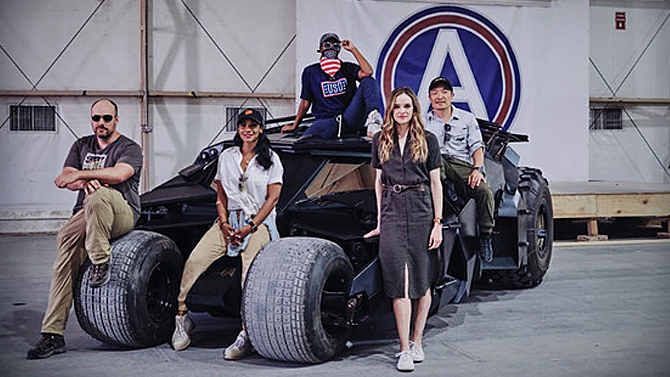 Batman recently turned 80, and DC celebrated the Dark Knight's big day overseas… in Kuwait, of all places, working with The United Service Organization (USO) to visit our troops during May's Military Appreciation Month for an excitingly geeky event that not only featured stars from The CW DC shows, but comic book legends like Jim Lee and Tom King, as well as the Batmobile.
While there was no one to blow out the Caped Crusader's candles, the official celebration of his birthday refers back to the DC Comics icon's first printed appearance in Detective Comics #27, dated May 1939, published in March. Thus, DC threw a party for a different breed of protectors, real life ones. As you can see in the video below, visits were paid to 12,000 active service members across five U.S. military bases Kuwait – Camp Buehring, Camp Arifjan, Ali Al Salem, Camp Patriot and Al Jaber – who were treated to a spectacular DC extravaganza, which included meet-and-greets with TV stars and some creative forces.
Indeed, troops were greeted by a lovely TV trio of Nafessa Williams (Anissa Pierce/Thunder on Black Lightning), Candice Patton (Iris West Allen on The Flash) and Danielle Panabaker (Caitlin Snow/Killer Frost on The Flash), who were joined by a comic book artist who put a spectacular spin on Batman, Jim Lee – whose groundbreaking work in the late-80s/early-90s with Marvel contributed to the mainstream popularization and eventual movie franchise status of the X-Men – and award-winning Batman writer Tom King. Additionally, service members were able sit inside a real-life version of the (military-vehicle-inspired) "Tumbler" Batmobile from the The Dark Knight Film Trilogy, and were treated to an exclusive preview of Epix's July 28-premiering Pennyworth TV series, which stars Jack Bannon as the British SAS agent would will eventually become Batman's butler/de factor father, Alfred.
As Lee, the legendary penciller and DC Chief Creative Officer and Publisher, expresses in a statement of the visit:
"It was an absolute honor to meet with brave service members that exemplify real life heroism." He adds, "These heroes inspire the world every day with their valor and commitment to freedom, the same courageous qualities that Batman has symbolized for eight decades. DC is extremely proud to have joined forces with the USO to deliver an unprecedented Batman experience to our troops."
As the USO, via Chief Operating Officer Alan Reyes, lauds of the partnership:
"The USO is honored to join forces with DC to bring this first-of-its-kind tour to service members in Kuwait. As we close out Military Appreciation Month, this tour will strive to share America's appreciation and support with our men and women in uniform. We are also excited to extend our partnership with DC beyond this tour by distributing Batman-themed USO2GO kits to service members across the globe."
This is definitely a worthy, heartfelt way to celebrate fandom, and DC and the USO won't be stopping there. Later this year, they will bring Batman to service members around the world with a themed USO2GO kit, which will feature comics, movies, TV shows, games and more. It certainly proves that – to twist the often-utilized quote from The Dark Knight – Batman is the hero that everyone deserves and needs right now.
Joseph Baxter is a contributor for Den of Geek and Syfy Wire. You can find his work here. Follow him on Twitter @josbaxter.