News
DC Introduces New Outsiders in Battle Against Brainiac
Batman and Black Lightning put a new team of Outsiders to work in this exclusive preview of Detective Comics #987.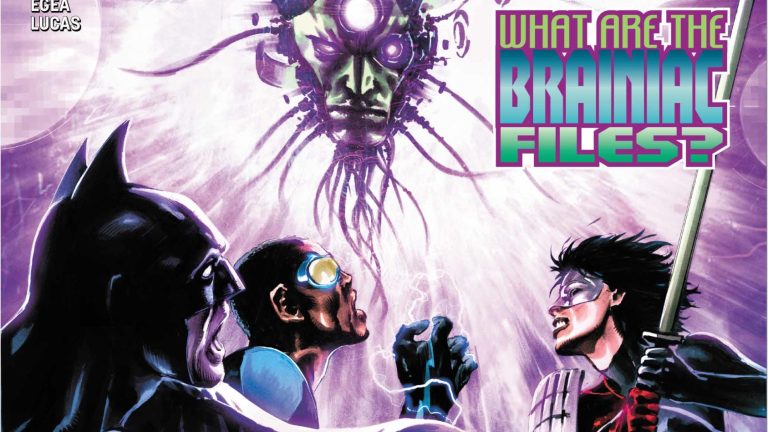 We've been over how bananas Justice League: No Justice was before, but we haven't really talked about its implications yet. That's a little weird, because it was potentially as big of a deal to the greater DCU as Legends.Legends was a confrontation between Glorious Godfrey and the heroes of Earth that led to the creation of a new Justice League, a new Flash book, an all-time classic comic in Suicide Squad, and the reintroduction of Captain Marvel and Wonder Woman.
Not to be outdone, Scott Snyder's mega-crossover-coda, which launched the Justice League and the Legion of Doom into space to team up with Brainiac to battle villains from beyond the source wall, has led to the creation of at least 4 Leagues, the reworkings of both Titans teams, a huge change in the Flash mythos, and a soft pilot for a new Outsiders team led by Black Lightning.
And here's the other odd parallel: almost everything that came out of both of these has been really good. Legends gave us the bwa-ha-ha League, Wally West, Ostrander-Yale Suicide Squad and George Perez's Wonder Woman. No Justice still has some books outstanding, but the Snyder/Jorge Jimenez/Jim Cheung Justice League has been amazing; Williamson's Flash remains excellent; the two Titans books are a lot of fun; and Bryan Hill's Detectiverun has been great so far. So of course when DC sent along a preview of the final issue in Hill's arc, we jumped at it.
Here's what they have to say about the book:
DETECTIVE COMICS #987 written by BRYAN HILLart by MIGUEL MENDONÇAcover by EDUARDO PANSICAvariant cover by MARK BROOKSThen, the pulse-pounding "On the Outside" storyline hurtles toward its cataclysmic conclusion! Batman has tasked Katana, Black Lightning, the Signal and Orphan (a.k.a. Cassandra Cain) with stopping a rogue operator using alien technology that can crack into any mind on Earth! What does this case have to do with the Brainiac Files seen in JUSTICE LEAGUE: NO JUSTICE #1? And how does Amanda Waller factor in? Guess you're "outside" of Batman's circle of trust…for now.
Take a look at the preview below, and stick with Den of Geek for more from Hill or Batman or Black Lightning or especially Orphan.