News
DC Comics Now Available on ComiXology Unlimited
DC Comics is finally coming to ComiXology's Unlimited subscription service. This may now be the best deal in comics!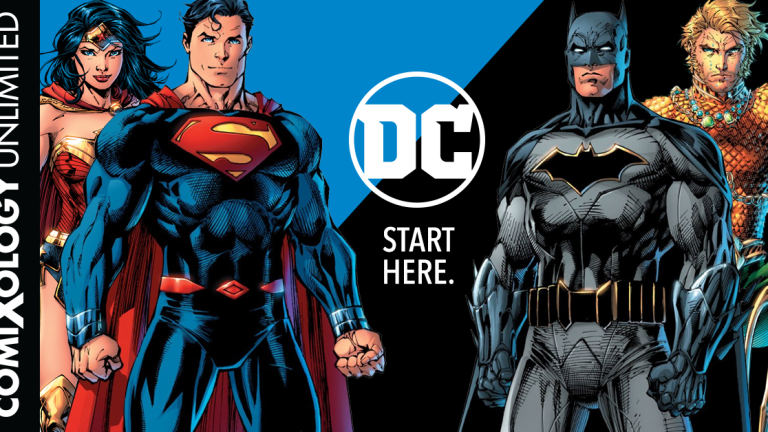 DC Comics is unleashing its superhero universe (as well as its Vertigo line) on ComiXology's Unlimited all-you-can-read subscription service, according to io9. Starting today, readers can access select graphic novels and single issues starring DC's most iconic characters, including Batman, Superman, and Wonder Woman. The service, which already includes books from Marvel, Image, Dark Horse, Valiant, Archie, and many other publishers, will set you back $6 a month.
This new acquisition from ComiXology comes at a time when DC is finally entering the digital subscription space with its own DC Universe service, which charges $7.99 a month for access to a selection from DC's comic book archive as well as a library of movies, TV shows, and animated series. The service is also home to original content, such as the Titans, Doom Patrol, and Young Justice shows. There's even a neat encyclopedia of the DC Universe for the uninitiated. You can access DC Universe on your TV, tablet, or smartphone. 
That said, this writer has found DC Universe's selection of comics a bit lacking, and the experience of reading the books on a screen doesn't quite feel as optimized as ComiXology's or even Marvel Unlimited, which offers up basically every book the House of Ideas has ever put out, including TONS of Dark Horse Star Wars series it acquired after 2012 as well as classic superhero runs from Stan Lee, Jack Kirby, Steve Ditko, and many more. DC Universe's library is pretty scarce in comparison.
The addition of DC Comics to ComiXology Unlimited perhaps means that the company is ready to open up its archive a bit more. If you're wondering what you can get for your $6, here are just some of the DC books being added to the service today:
DC
All-Star Superman
Animal Man (2011-2014)
Aquaman (2011-2016)
Arrow (2012-2013)
Batgirl (2016- )
Batman (2011-2016)
Batman (2016- )
Batwoman (2011-2015)
Batman: The Dark Knight Returns
Batman: The Long Halloween
Batman: White Knight
Cyborg (2016- )
The Flash (2016- )
Green Lanterns (2016-)
Harley Quinn (2016-)
Identity Crisis
Injustice: Gods Among Us (2013)
Injustice 2 (2017-)
The Mulitversity (2014)
New Super-Man (2016-)
Supergirl (2016-)
Teen Titans (2016-)
Wonder Woman (2016-)
Vertigo
100 Bullets
American Vampire
Astro City (2013- )
Books of Magick: Life During Wartime (2004-2005)
Clean Room (2015-2017)
Doom Patrol (1987-1995)
Ex-Machina
Fables
Hellblazer
Preacher
The Sandman
Scalped
Sweet Tooth
Transmetropolitan
V for Vendetta
Watchmen
Y: The Last Man