News
DC Cancels Problematic Shazam! Reprint
Shazam! The Monster Society of Evil was supposed to get a deluxe reissue from DC, but...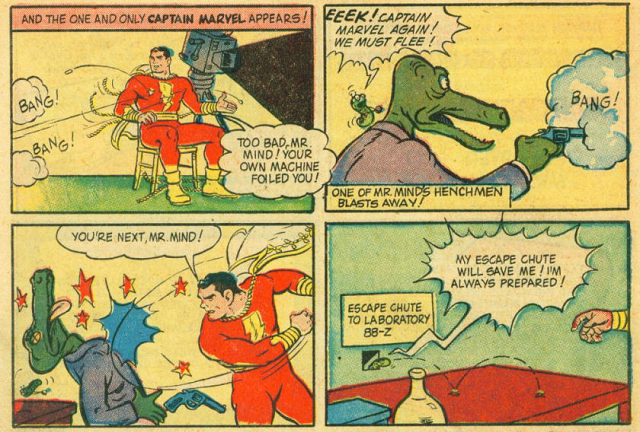 With the Shazam movie opening in April 2019, it's time for DC to dig into their back catalog and give fans the best of what the character has to offer. And let's face it, the Shazam Family was never better than during the glory days of the 1940s, when steered by the likes of Otto Binder, C.C. Beck, Pete Costanza, and others. There's a fairytale simplicity to many of those early stories, and a level of craftsmanship that wasn't always present in many of their peers. 
One story in particular, "The Monster Society of Evil" is a particular standout from the era. Serialized over two years (at a time when all superhero comics only contained multiple, self-contained stories), it told the story of Mr. Mind, the evil worm and his quest for world domination. It's often cited as a key Captain Marvel story, but it hasn't been officially reprinted in decades, making this particularly tough to track down. 
Here's the official info from DC's solicitations (first revealed by the good folks at 13th Dimension):
At first he was simply a disembodied voice on the radio, taunting Captain Marvel with his ever-more-fiendish schemes to conquer the world. Then, readers gasped as Mr. Mind was revealed—all two inches of him! Was this lowly creature really the epitome of evil he claimed to be? Fortunately, Billy Batson understood the folly of underestimating someone based on their size! As small as he was, Mr. Mind was big trouble—especially once he turned the menacing members of his Monster Society of Evil loose to wreak havoc!

This new title collects the entire 24-chapter serial from the Golden Age of Comics with new essays by Fawcett Comics expert P.C. Hamerlinck and film producer and comics historian Michael Uslan. Collects stories from CAPTAIN MARVEL ADVENTURES #22-46! 
Well, anyway, this was supposed to arrive in February 2019, and now DC has pulled the plug on the collection (via CBR). So why hasn't this seen the light of day? Well, a good chunk of that is almost certainly because of the use of offensive racial stereotypes that were unfortunately commonplace in comics of the era. You can find more specific details on why "The Monster Society of Evil" has been buried for so long here.
It makes sense that DC wouldn't want to spotlight a story with seriously problematic elements two months before its Shazam movie hits theaters. While "The Monster Society of Evil" is a key Shazam story, and a piece of comic book history, the issues surrounding this story are bound to bring the wrong kind of attention at exactly the wrong time. The unfortunate attitudes of previous decades hasn't stopped Warner Bros. and other studios from placing disclaimers on old animated cartoons that featured similarly unacceptable racist caricatures, but perhaps DC simply isn't ready to navigate those waters, and it's tough to blame them.  
DC has done an excellent job of making the back catalog of characters who are getting the TV or movie treatment readily available for fans. Hopefully they find other classic Shazam stories to reprint instead. I'm ready for a Shazam: The Golden Age tpb or omnibus, as those stories haven't been reprinted since the now defunct Archives editions.
Meanwhile, the Shazam movie opens on April 5, 2019, and we're due for a new comic series from Geoff Johns this fall.
Read the latest Den of Geek Special Edition Magazine Here!