News
Dark Nights: Metal – Evil Batman Revealed
Scott Snyder and Greg Capullo build out a new multiversal architecture in the new crossover.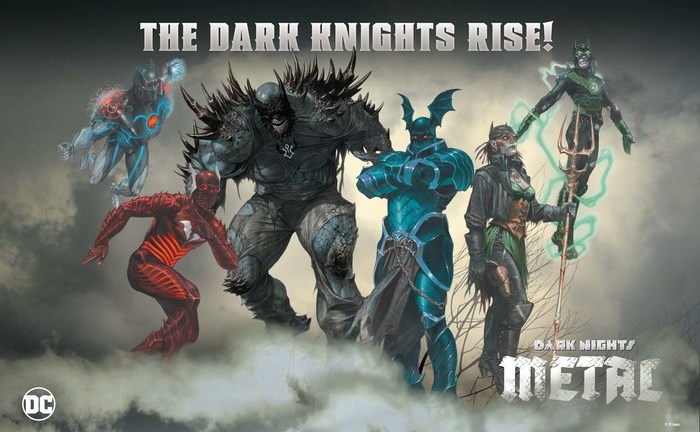 Scott Snyder has been writing Batman for the better part of six years, most of it with artist Greg Capullo giving his distinctive vision to Gotham. Now, with Dark Nights, Snyder and Capullo are picking up strands from their 51-issue run together, as well as story tidbits from Grant Morrison's run on Batman, the various Crises from throughout DC history, and hunks from the fragmented history of the Hawkpeople to build a new DC multiverse, 30 years after it was destroyed and 10 years after it began returning in jerks and starts.
Metalbegins with the Dark Multiverse, discovered by Batman and his allies in Dark Days: The Casting,invading the regular DCU. Dark Batman analogs of the members of the Justice League will attack their counterparts, and each Dark Batman analogue but one will have a one-shot origin story told by that Leaguer's regular creative team. Here's the lineup of one-shots:
BATMAN: THE RED DEATH #1 (on sale September 20)Written by Joshua WilliamsonArt by Carmine Di Giandomenico
BATMAN: THE MURDER MACHINE #1 (on sale September 27)Written by Frank TieriArt by Ricardo Federici
BATMAN: THE DAWNBREAKER #1 (on sale October 4)Written by Sam HumphriesArt by Ethan Van Sciver
BATMAN: THE DROWNED #1 (on sale October 18)Written by Dan AbnettArt by Philip Tan
BATMAN: THE MERCILESS #1 (on sale October 25)Written by Peter J. TomasiArt by Francis Manapul
All of these characters are crosses of their DCU counterpart with a dark Bruce Wayne – one experimenting with the Speed Force; one with Doomsday and Superman DNA; one with I guess swimming or something – and they are led by The Batman Who Laughs, a dark Batman/Joker cross who is apparently so terrifying that Batman himself has no interest in investigating this mystery.
As with Dark Days: The Forgeand The Casting, expect Metalto be jammed with easter eggs from DC continuity's past. In The Castingalone, there were on panel appearances by side characters from I, Vampire and ancient Hawkman comics, and one of the key macguffins was a piece of Hawkman lore that is being made more delightfully convoluted by the injection of a new multiversal aspect. And, if I may be allowed to irresponsibly speculate for a moment, don't be surprised to find out that the Hyper Adapter, the giant bat/history-eating machine that chased Bruce Wayne through time after Final Crisis and was the main god of the Miyagani tribe, turns out to have played a huge role in the creation of the Dark Multiverse. 
Dark Nights: Metal#1 is out in August. Here's the full checklist of books in the crossover event: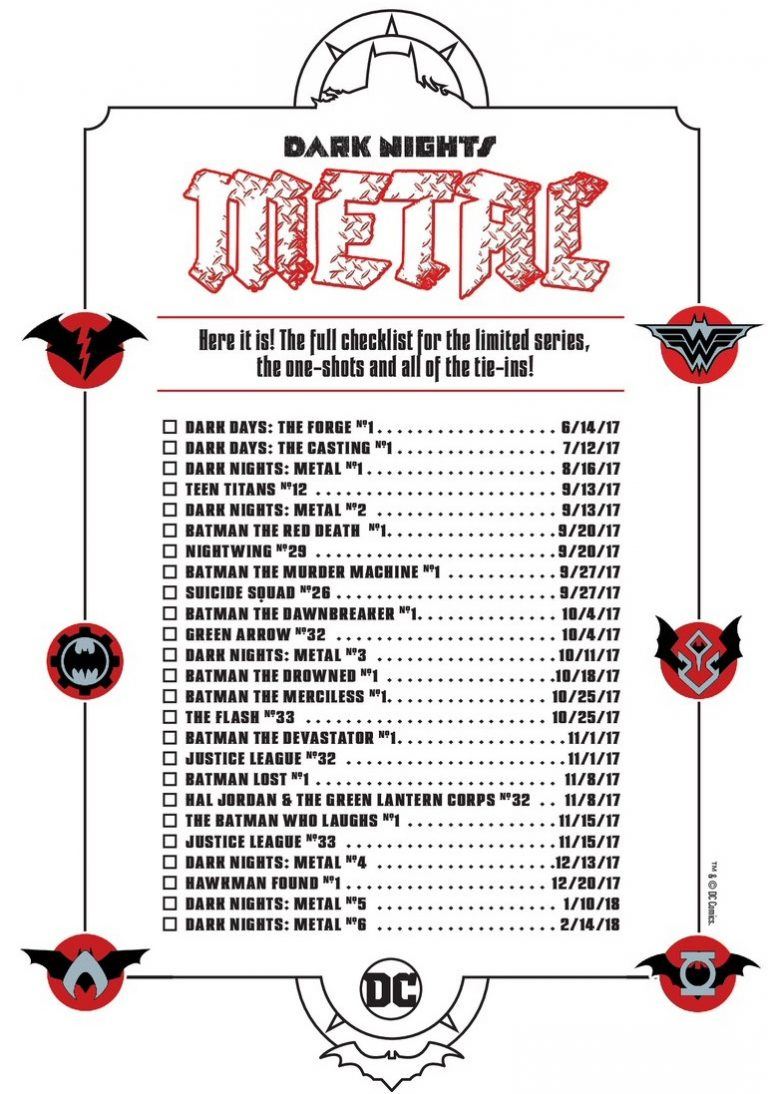 Additionally, Snyder announced earlier today that Duke Thomas, the not-Robin partner for Bruce introduced in his Batman, and fleshed out in We Are Robin and All-Star Batman, is getting his own codename and his own book, co-written by Tony Patrick, a graduate of DC and Snyder's Talent Workshop. Duke will be known as The Signal and will patrol Gotham by day using his Nth Metal-related powers to protect the city while Batman sleeps. Duke will also have a role in Metal.
No artist or release date has been announced for Batman: The Signal.
Read and download the full Den of Geek SDCC Special Edition magazine here!