News
Dark Knights Rising: The Wild Hunt Sends Detective Chimp to the Hall of Heroes
Metal crosses over with Multiversity in this week's DC Comics epic.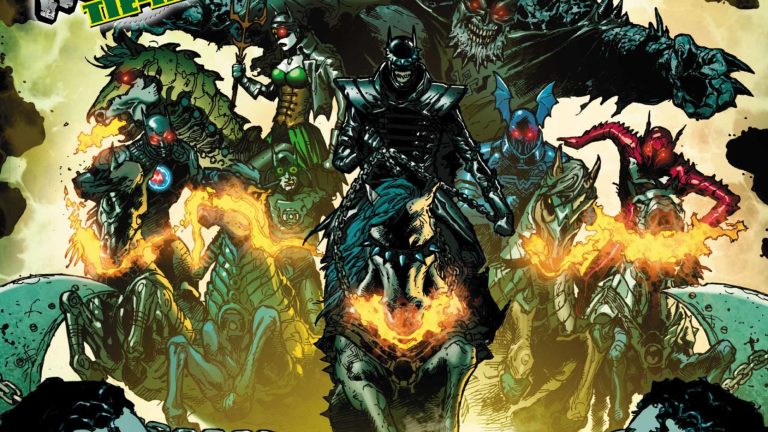 I don't want to overhype anything, but this preview of Dark Knights Rising: The Wild Hunt#1 starts with the origin of Detective Chimp, stops off at 52for a second, and ends with a pretty clear signal that this issue of the big DC event series is going to cross over with Multiversity.Thank god I keep two computers in the house, because I just chucked one across my living room.
52is the 2006 weekly comic written by Grant Morrison, Mark Waid, Geoff Johns, Greg Rucka and Keith Giffen. It wove together multiple story strands to build a new status quo for the DC universe after Infinite Crisis. That legendary crew of writers worked in every corner of DC mythology, from weird space stuff, to a soft relaunch of Infinity, Inc, to a Watchmen–esque gathering of all the super-geniuses in the DCU (and Egg Fu) on an island where they build weapons for Intergang.
Multiversityis Morrison's exploration of the newly returned DC multiverse using heroes from everywhere but Earth Prime. We've talked about it. A lot. It's real good.
Dark Knights: Metalis the current event series by the long-time Batmancreative duo of Scott Snyder and Greg Capullo. It's the comics reading equivalent of somebody juicing Capullo, then huffing the fumes when they try and boil down the juice. It's about the demon god of Gotham, Barbatos, trying to use Hawkman and his Nth Metal to open a portal to the positive multiverse to let the dark multiverse take over.
Here's what DC has to say about this issue:
DARK KNIGHTS RISING: THE WILD HUNT #1 Written by SCOTT SNYDER, JAMES TYNION IV and JOSHUA WILLIAMSON Art by DOUG MAHNKE, IVAN REIS and others Cover by DOUG MAHNKE Continued from the pages of the bestselling DARK NIGHTS: METAL! The Dark Knights ride through the farthest reaches of the Multiverse to track down the unlikeliest of teams: The Flash, Cyborg, Raven and Detective Chimp. The mission: keep these heroes from completing their desperate quest to save all of existence! Plus, Challengers' Mountain crackles with dark energy that will release an army of the world's worst nightmares into the streets of Gotham City! This one-shot also answers the question: Where are the Metal Men? And who is the latest addition to the team?
It's wild. Check it out.
[gallery:0]