News
Daredevil Villain Kingpin Won't Be in Marvel Movies, Says Vincent D'Onofrio
Vincent D'Onofrio doesn't think Marvel will let him appear as villain Kingpin in an MCU movie anytime soon.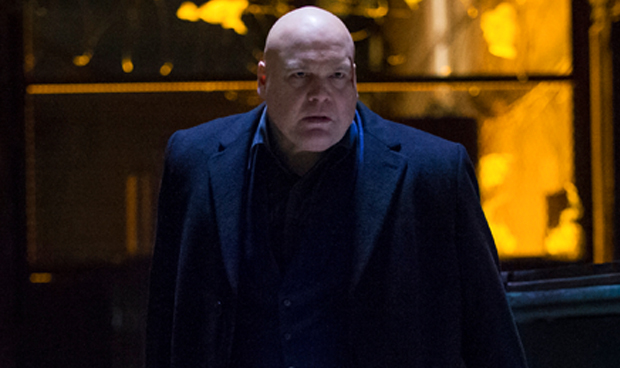 As the Marvel Cinematic Universe increases like inflation, it's widely acknowledged that the television performances of Vincent D'Onofrio as Wilson Fisk/The Kingpin on the two existing seasons of Netflix's Daredevil were the most poignant portrayals of a villain in the multimedia live-action continuity. While D'Onofrio's enthusiasm is well-documented, recent comments reveal that he's not too optimistic about the idea of his character transitioning into an MCU blockbuster movie anytime soon.
In an interview with Digital Spy, Vincent D'Onofrio reiterated his love of comic book roles, revealing that he reads Daredevil, Punisher and Captain America comics with his sons… even fielding occasional dalliances with DC Comics with Batman. However, he apparently feels that his fervor with this stuff won't be enough to get his powerful rendition of Wilson Fisk into a major MCU movie. While it would be amazing to see the Kingpin field, for example, a cameo appearance in this July's Spider-Man: Homecoming (Kingpin first appeared in the pages of The Amazing Spider-Man), Marvel Studios president Kevin Feige has apparently ruled out the idea. As D'Onofrio explains of his predicament:
"I would love to switch over to the movies, but I think it's pretty much been said it's not going to happen. Or at least not for a very, very long time. I think Kevin Feige explained that, and that's what makes the most sense, he said the film universe is too jam-packed. It's hard enough already, and if they keep bringing big characters in that they have to service in the writing, it's not gonna work. They're trying to figure out already how to individualize more and at the same time keep The Avengers going. It makes sense not to mix the TV stuff, there's just too many characters."
D'Onofrio bring up a valid point about the dangers of turning movie tentpoles into clown cars filled with too many signature characters who aren't servicing the film's primary plot. However, just as ABC's Agents of S.H.I.E.L.D. constantly adapts its long-running storylines in concert with developments occurring in movies (the Chitauri invasion of New York, the dissolution of S.H.I.E.L.D., the Sokovia Accords, etc.), the MCU-connected television series' on Netflix like Daredevil – while far removed from the larger issues – certainly operate under their auspices with occasional Easter Egg references that codify their place in the continuity. Thus, it's not entirely unfeasible to reverse that phenomenon with occasional television character cameos in the movies.
However, barring any subterfuge protecting a surprise film appearance, it doesn't look like D'Onofrio's Wilson Fisk/Kingpin will be seen again for quite some time. While the prison ploy between Fisk and Jon Bernthal's Frank Castle in Daredevil Season 2 renders it apropos that Kingpin would appear in spinoff series The Punisher later this year, nothing was confirmed. Thus, the surest scenario pins Fisk's return in Daredevil Season 3, which won't happen until at least 2018. Indeed, as this recent tweet below illustrates, D'Onofrio remains a true Marvel company man, musing about how he can't disclose the notable details due to a chip in his head.
— Vincent D'Onofrio (@vincentdonofrio)
January 14, 2017
While details about D'Onofrio's next reprisal of his powerfully pathos-packed Wilson Fisk are not yet available, you can currently see the actor as the Wizard in NBC's Emerald City and in the film reboot of classic motorcycle cop show CHIPS, which hits on March 24. However, the Netflix end of the MCU does have a solid date booked for Iron Fist, starring Finn Jones, which premieres on the streaming giant on March 17.