News
Cyber Force Returns, Which Means Transhumanism and Explosions Are Back!
The classic Image Revolution title gets a relaunch this March! Cyber Force returns!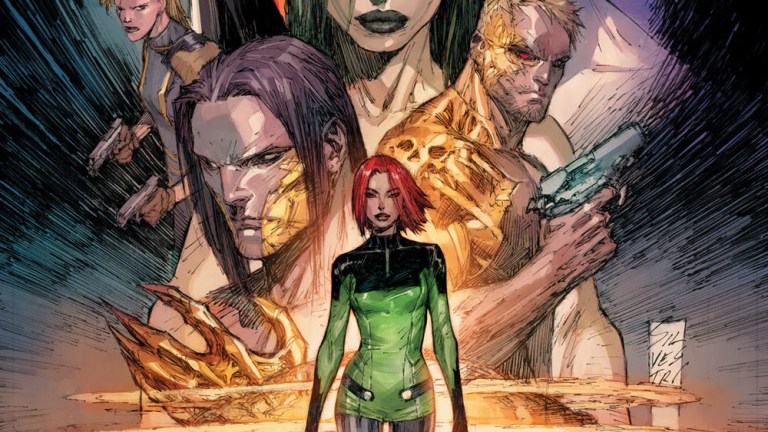 Cyber Force, the Image Revolution launch title started by superstar artist Marc Silvestri at the company's inception back in 1992, is getting a relaunch this spring. Matt Hawkins, who has been at least co-writing previous volumes since 2012, will be joined by writer Bryan Hill (Postal) and artist Atilio Rojo (Samaritan). The trio will dig deep in the "cyber" portion of Cyber Force.
"My first pitch to Matt was set in that universe," said Hill in a statement. "When Marc created it, concepts of transhumanism and its effect on society were just esoteric theory, but now we live in that reality. We're a species using technology to 'perfect' ourselves, but in what image? What happens when evolution stops being a natural process and becomes a mechanized one? What is the future of this new humanity?"
The book starts with Morgan Stryker as the victim of a terrorist attack. He's mortally wounded, but his employers go to extraordinary lengths to save his life. Those extraordinary lengths include, apparently, massive cybernetic enhancements. In earlier volumes, Stryker was an army colonel with three metal right arms, and while the cover doesn't seem to indicate he'll be getting those bonus appendages, it does look like there's a half metal future in the works for him. The first issue is due out from Image Comics and Top Cow Productions (Silvestri's publishing house within the Image umbrella) in March. 
"I've always loved CYBER FORCE," said Hawkins. "These heroes are more technologically based, and we're very close to transhumanism as it is! This story has a philosophical slant to it that is very appropriate to the changing times we're in." Hopefully that doesn't mean MECHA TRUMP. Based on previous runs with these characters, it's unlikely, but it's too soon to rule anything out.
For more on Cyber Force, cyber punk, cyber activism, but hopefully nothing on Cyber, stick with Den of Geek!