News
Constantine Season 2: New Petition to Bring Back Show
Hope for Constantine season 2 springs eternal. Here are the latest updates...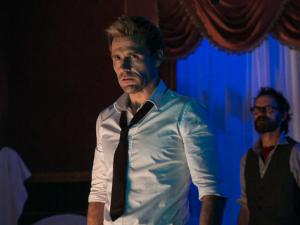 It's been an interesting couple of week for Constantine fans. The return of Matt Ryan as John Constantine on the Arrow season 4 episode "Haunted" (which also felt very much like a return to the character's earliest comic book days) definitely renewed interest in the character. Ratings for the episode were the highest since the Arrow season 4 premiere, so that's encouraging.
What's more, Former Constantine showrunner Daniel Cerone even briefly put the script for what would have been Constantine episode 14 online for fans to read. And now, there's the old standby: a Change.org petition. As of this writing, it has 20,000 signatures. Add your name if you'd like.
Daniel Cerone has yet to comment on the petition. He helped organize the fans when the show began to struggle, but he has also kept a pretty realistic world view about the whole thing. We'll let you know if anything develops.
Our original story from June follows…
Despite a vocal fan campaign to keep the show alive once NBC passed on a second season, we'll never get to see Constantine season 2. Showrunner Daniel Cerrone, who has kept fans abreast of developments over the last several months broke the final news on Twitter.
"The cast and writers of Constantine are being released from their contracts. The studio tried to find a new home for the show, for which we're forever grateful, but those efforts didn't pan out. I'm sorry, I wasn't provided any information on the attempts to sell the show elsewhere. All I can report is that the show is over." 
This is a huge bummer, of course. Constantine showed great promise in its first season, and it's difficult to imagine a more perfect John Constantine than Matthew Ryan. Far less deserving shows have been given a second season in recent years, and it often takes a little longer for a TV show to truly find its feet. If Arrow hadn't been given a second season after its fairly pedestrian first, it never would have grown into the fan-favorite it has since become, and never given birth to The Flash.
It's a shame that Constantine wasn't given that chance, but it at least sounds like Warner Bros. still has plans for John Constantine. "The good news is that Constantine will live on for years in many more forms. But our time as caretakers has ended." This may be a reference to Guillermo del Toro's long gestating Dark Universe film, which is said to include John Constantine.