News
Conan the Barbarian Heading to Marvel in 2019
Conan the Barbarian has wandered long enough, and returns to Marvel in January.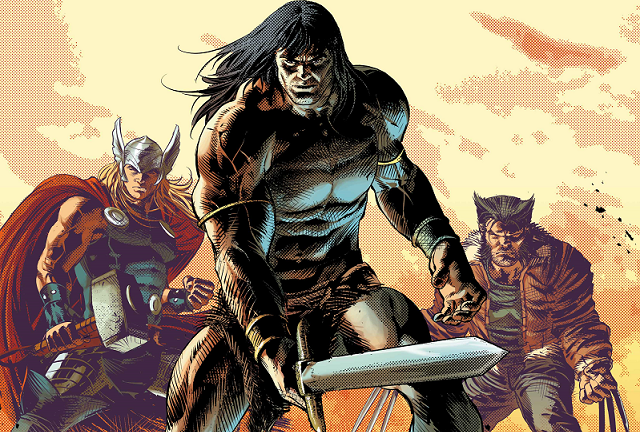 For over 20 years, Marvel was the home of all Conan the Barbarian comic series. The original Conan the Barbarian comic helped bring brilliant artist Barry Windsor-Smith to prominence in the industry. Marvel's line of adult-oriented black and white magazines followed, and the long-running Savage Sword of Conan was a staple of magazine racks and comic shelves too high for little kids to reach, and featured a level of gore and violence unlike their Comics Code Authority approved counterparts.
For the last few years, Conan has made his home at Dark Horse, who have stewarded the legacy well with plenty of high quality new material, as well as gorgeous reprints of the older Marvel stuff. Conan even crossed paths with DC's Wonder Woman recently, in a collaboration between those two publishers. But the wandering Cimmerian is returning to Marvel, beginning in January 2019. 
The first thing we're getting? A massive omnibus of his early comic stories! Here's the official word from Marvel:
Know, oh prince, that in the year 1970, CONAN THE BARBARIAN, sword in hand, slashed his way into four-color life. This January, ahead of Conan's triumphant return to Marvel Comics, Marvel is proud to announce the release of CONAN THE BARBARIAN: THE ORIGINAL MARVEL YEARS OMNIBUS. Fully remastered, this tome features Roy Thomas and Barry Windsor-Smith's ground-breaking adaptation of Robert E. Howard's iconic character. 

Collecting CONAN THE BARBARIAN #1-26 from 1970-1973—as well as material from 1971's SAVAGE TALES #1 and #4, CHAMBER OF DARKNESS #4, and CONAN CLASSIC #1-11—the CONAN THE BARBARIAN: THE ORIGINAL MARVEL YEARS omnibus presents each story in all its glory, from covers to letter pages, all painstakingly restored to match the beauty of the original editions.

Relive the early exploits of Conan across shining kingdoms of an age undreamed of, as he becomes thief, slayer and a legend.
"From Barry Windsor-Smith to John Buscema to Neal Adams, a legendary line-up of amazing artists brought Conan to life in the pages of Marvel comics," said C.B. Cebulski, editor-in-chief of Marvel in a statement. "It's a legacy we're now going to live up to with the talent we have lined up for the Cimmerian barbarian's homecoming in early 2019. We're excited!"
"We're thrilled to be working with Marvel and look forward to the new adventures in store for Conan," added Fredrik Malmberg, President of Conan Properties International. "As the most well-known and creative publisher in the industry, we think Marvel is a great fit for our stories."
Obviously, we're going to get a new Conan ongoing series, although there are no details of that just yet.
If we're lucky, they'll treat it like they did when Star Wars returned to them, where Marvel Unlimited subscribers suddenly found themselves with countless classic tales on the service.
In any event, we'll keep you updated on the details as Marvel announces them.