News
Comic Book Men's Ming Chen Takes On Us A NYCC Tour
We shopped around New York Comic Con with the Comic Book Men star.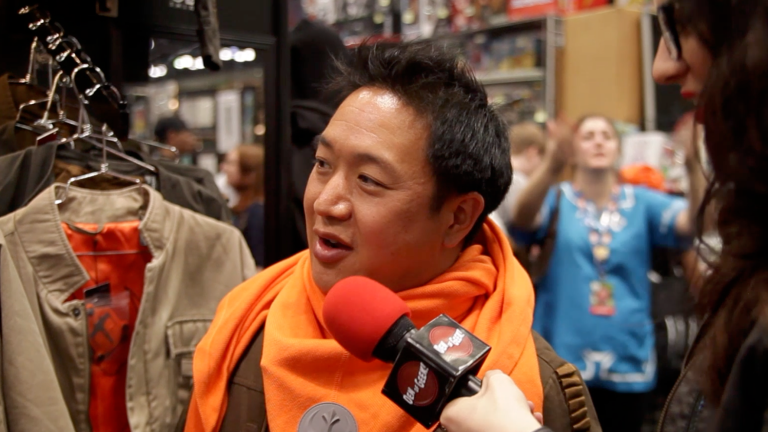 What's it like to go shopping at NYCC with Ming Chen of AMC's Comic Book Men?
First off, he's a pro "conner." He attends as many cons as possible and knows all the best vendors. Walking to these destinations takes some time. People know Chen and constantly stop him for pictures. "You know, I don't mind it means that they're watching the show and I'm thankful for that," he says.
First stop, Musterbrand, a pop culture designer label company. Chen was eyeing a Luke Skywalker Jacket from Empire Strikes Back, which looked pretty stylish on him. "I feel like I could survive Hoth in this." Chen brags. Well, maybe not Hoth but he could for sure take on Vader in that jacket.
Next up, we browsed the Kotobukiya booth. "They have some of the best statues out there. The bride from 'Kill Bill' is amazing," he says.
Last stop was his personal favorite, 'What's Your Passion Jewelry Inc' which holds the official license from Marvel to produce fine jewelry.
"Guys don't have a lot of jewelry options. I saw this jewelry they produce and I was like, "Holy crap!" Not only is this so me but it's classy; sterling silver, eighteen karat gold… it's a geek super bowl ring right here!"
Chen hung out at the booth and gave free autographs and free selfies to anyone that asks. From there we waved goodbye. "The Force is strong with us today," Chen beams.