News
Classic Justice League Headquarters Returns
DC is bringing the Justice League back to the Hall of Justice!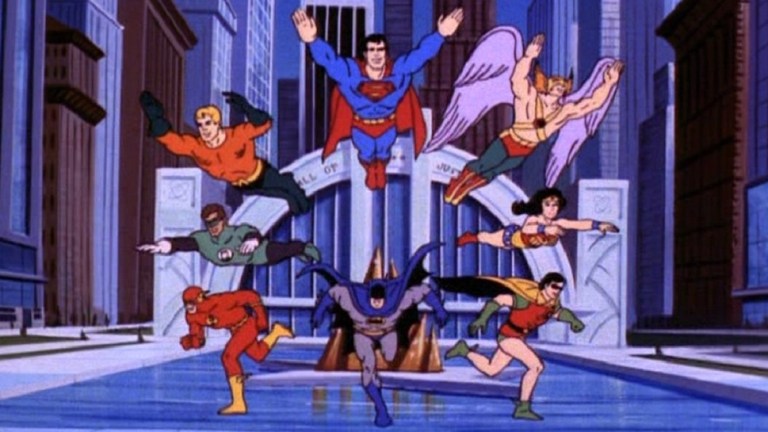 Saturday morning cartoon fans, rejoice! If you've been wondering why the Justice League has been spending all their time in something as pedestrian as a satellite, you're in luck. Super Friends devotees will be pleased to hear that the Justice League will once again call the Hall of Justice home when their new series kicks off with Justice League: No Justice this summer.
The plans (quite literally) for the Hall of Justice were revealed at the conclusion of the DC's Scott Snyder/Greg Capullo event, Dark Knights: Metal, which saw Batman, Superman, and Wonder Woman hint at the new direction for the team going forward. Bruce Wayne is seen with none other than the blueprints for the Hall of Justice, looking very much like it's familiar, cartoon series incarnation.
The Hall of Justice first appeared as Justice League HQ in the first episode of 1973's season of Super Friends. It didn't make its way to the comics until 2007. We've seen the Hall of Justice pop up here and there in other pop culture recently, notably in the 2016 CW Arrowverse crossover, which saw the team gather in an abandoned STAR Labs hangar that looked suspiciously like the old Hall of Justice.
The use of the Hall of Justice for the new Justice League series is right in line with the approach that Scott Snyder, Jim Cheung, and Jorge Jiménez are bringing to the book. The new JL lineup should be quite familiar to fans of the Justice League Unlimited animated series, with a core team of Superman, Batman, Wonder Woman, The Flash, the John Stewart Green Lantern, Hawkgirl, Martian Manhunter, and Cyborg. Having them hang around the Hall of Justice is a nice, familiar touch. Apparently we're going to see them take on a new version of the Legion of Doom, too, so the Saturday morning cartoon vibe will be strong with this one.
Justice League: No Justice arrives on May 9. It will be followed by the new Justice League ongoing series on June 6.