News
Childhood's End on Syfy News: Premiere Date, Teaser, and More
Syfy is bringing Arthur C. Clarke's Childhood's End to TV in 2015, we have all the details and the first teaser right here.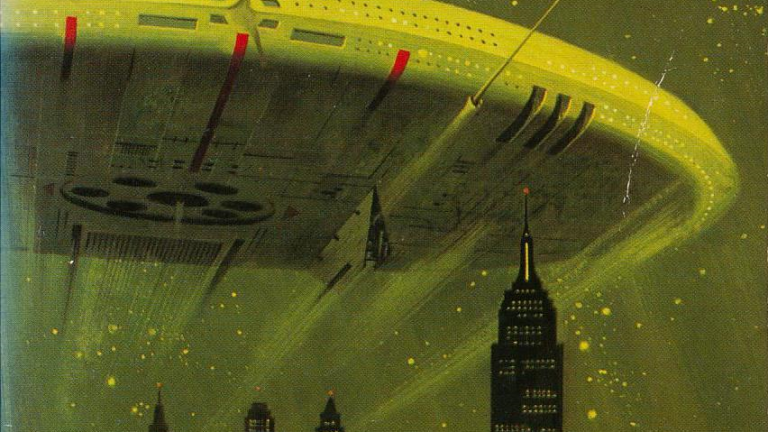 Arthur C. Clarke's Childhood's End is a terrific science fiction novel, and well worth a read. Syfy have rediscovered a commitment to putting actual scripted science fiction original programming on its airwaves. Now Syfy is adapting Childhood's End as a miniseries to air in 2015. Funny how these things work out, isn't it?
Childhood's End is a six hour miniseries that will premiere on December 14th from 8-10 pm. The following two episodes will air on the 15th and 16th in the same timeslot.
Now, Syfy has revealed the first teaser for their three part Childhood's End mini-series event. Of course, they did the smart thing and focused on Charles Dance, who provides the voice of Karellen. I would listen to Charles Dance read a thesaurus, really.
Childhood's End Cast
Charles Dance (Game of Thrones, Dracula Untold) will play Overlord ambassador, Karellen.
Julian McMahaon (Doctor Doom in the last iteration of the Fantastic Four movie franchise) is Rupert Boyce, an enigmatic American entrepreneur. 
Mike Vogel is Ricky Stormgren, the most influential human in the world, while Daisy Betts (Shutter) is Ellie, an arts graduate engaged to marry Ricky Stormgren.
Childhood's End also stars Ashley Zukerman as Jake Greggson (Manhattan), Osy Ikhile as Milo (Clap!) and Yael Stone as Peretta Jones (Orange is the New Black).
Childhood's End Story
Here's Syfy's official description of Childhood's End:
Childhood's End follows the peaceful invasion of Earth by the mysterious Overlords. Karellen (Dance), the ambassador for the Overlords, makes first contact with Earthling Ricky Stormgren. Karellen's comforting words and amazing technological gifts quickly win humanity's favor, beginning decades of apparent utopia at the cost of human identity and culture. However, his refusal to reveal his physical appearance and insistence on dealing only through Ricky have some people questioning whether his intentions are truly benevolent.
Childhood's End Crew
Akiva Goldsman (Lone Survivor, A Beautiful Mind, I Am Legend), Mike De Luca (Captain Philips, Moneyball, The Social Network), and Alissa Phillips (Moneyball, Mob City) are executive producers. Childhood's End will be adapted by Matthew Graham (creator of BBC's Life on Mars and Ashes to Ashes). 
The book also loosely inspired this killer Pink Floyd deep cut: