News
Charles Forsman Talks Oily Comics, Self-Publishing, and Comixology
Charles Forsman discusses The End of the Fucking World, Luv Sucker, Oily Comics, and working with Comixology in the age of Amazon.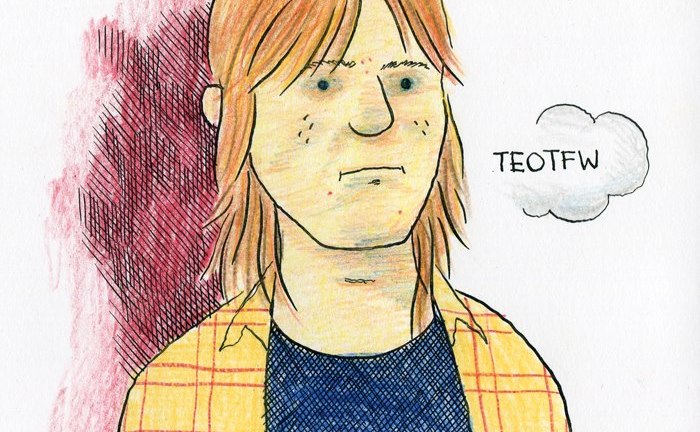 His are not the kind with the rippling muscles and the splash pages. Charles Forsman doesn't necessarily draw comic book heroes, preferring more down-to-earth subjects as he shines his magnifying glass on (among other things) those who endure the flagrant violations that are often visited upon the souls of the young by life.
Deep, honest, and charming, Forsman's ability as a storyteller is on display in works like The End of the Fucking World (TEOFTW), Luv Sucker, Celebrated Summer, and his Snake Oil anthology series, but he is also an important part of the (true) indie comic business community as the publisher of Oily Comics.
In this exclusive interview, Forsman talks about Alyssa's scarring journey in TEOFTW, the oncoming adaptation of the book, exploring genre storytelling with Luv Sucker, the inspiration for Daniel in Snake Oil #8, the future of Oily Comics, and his view – as a publisher – of the Amazon/ComiXology deal.
Den of Geek: When you start TEOTFW with 8 page minis, do you know where you want it to end or are you making it up as you go along?
Charles Forsman: In the beginning I was improvising. It is something I do a lot. It helps me get going on an idea and to keep my interest, I guess. I think I had a pretty good plan for the whole thing about 5 issues in.
Would Alyssa have ever fully severed her tie from James and what inspired those two characters in the first place?
I think Alyssa would move on from James' ghost as she became an adult. But James was her first love and it was a very intense relationship. I know when I was a teenager I felt my feelings, especially love, very strongly and the same goes for Alyssa. I think it will be a while for her to grieve James, though. It is never fun to experience such a loss.
I wasn't thinking of Terrence Malick's Badlands when I first began the story but many people pointed out the similarities and it is one of my favorite movies.
We are, I believe, the same age. When I look at a teenager with their problems I really can't recall the epic scope that they see when they approach those problems. You live in that world of teenage angst and high stakes with your work. How do you keep your head there and what makes the swirl of their drama so appealing to you?
Hmm. I don't know. It is probably as simple as the notion that pain can breed memory. I didn't have a horrible life as a teenager but I was certainly depressed and had some pain in my life at that time. I've spent a lot of time thinking back on that time in my life. I think I am just fascinated by it. It is such a visceral and confusing time. It has a lot to do with wanting to get that feeling back. At the same time, I would never want to go back to my teenaged brain.
What made you want to blend teenage struggles with a tale about vampires in Luv Sucker?
Well, I don't want to spoil where this story is going so I can't say much about this. But I like genre stories. Especially movies. I think it is me dipping my toe in that stuff a little bit.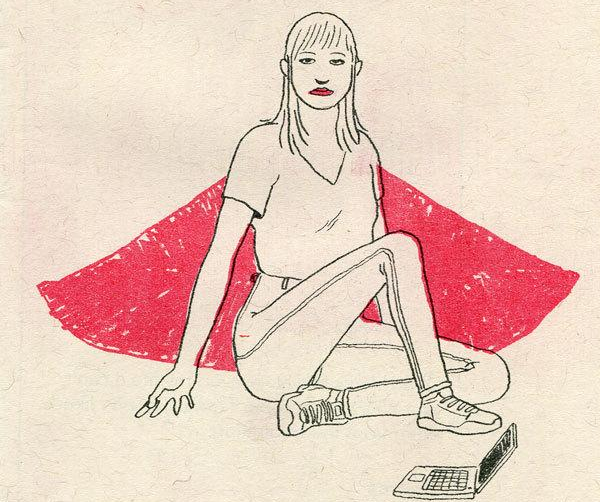 How did Oily Comics get started and how did your roster of cartoonists come together?
TEOTFW is what started Oily. I have been self-publishing since 2007 and Oily is just a progression of that. TEOTFW became a monthly thing and I got my own printer so it seemed natural to ask some of my peers to do similar comics that I would print and distribute. It has grown bigger than I planned and I have actually pulled back the reins a bit recently. I don't want Oily to become my primary focus any more than it has. I may change my mind about this in the future.
As for the cartoonists Oily prints, they are just artists I admire. I am lucky to be friends with most of them so it was easy to contact them. Some have come to me but mainly they are just folks that I admire.
I found Snake Oil #8 on Comixology, but aside from the Fantagraphics releases, you seem to be going it alone with your digital sales. Why does that model work for you versus teaming up with a Comixology, and as a publisher with a digital storefront, how do you feel about Amazon's acquisition of Comixology?
Well, I have two more Snake Oil issues popping up on Comixology soon. The Submit program over there can take a while. I wish it was more immediate but I do sell digitally by way of Gumroad as well. I like Comixology and I think they have a very captive audience which is good and bad. I hope that getting my books on there expose folks who just read Marvel/DC/Image to try something different.
I was wary of digital comics for a long time. Mainly when digital comics meant reading it on your computer. But ever since I bought a tablet, my mind was changed. I love reading comics digitally. And really, that is the only reason I do it. I don't make much money on digital comics. They just don't sell that well compared to actual books. But I think it'll change. It's just a slow road.
My other love besides comics and movies is technology. I listen to tech podcasts and read tech news everyday. So I am not unfamiliar with Amazon's practices. I'm not surprised that they bought Comixology. That is par for the course in business, especially for tech companies. Many build companies for the reason of being acquired.
I don't love Amazon. I do use their services but I also understand that some of their practices are frustrating. No one can afford to price books as they do which is bad for book stores. We all know this…getting back to the question. I like Comixology as it is. I think they have room to improve the experience though. And Amazon backing them up should help them do that. I am also pretty certain we won't see any huge changes in the way they do business. Amazon has acquired companies like Woot and Audible and those services remain very solitary, at least from my point of view.
Speaking of Snake Oil #8, does Daniel come from observing older sci-fi actors at comic conventions? That lifestyle where you are almost frozen in time, reliving and forced to relive a brief high point?
Yeah, I think that came later though. It started with me just thinking about Anthony Daniels and what that was like. Then I thought, what if he is kind of a huge dick to his wife and children. Not that the real guy is like that, but I could see how being in something so hugely popular like Star Wars would change a person, and not always for the better.
What can you tell me about the TEOTFW video series and is there a nervousness when you start talking to Jonathan Entwhistle, as someone who created this dark thing, that someone is going to want to smooth it out to make it palatable for a broader audience and if so, what allows you to trust Jonathan and go alone with his plan?
Yeah, well I can say that I have seen 10 minutes of the project and I am very pleased with what Jonathan has done so far. So I can say that he is certainly not afraid to keep this story dark. It was a long process for me to finally agree to go ahead with the optioning of the story. I liked Jonathan right away. He is about my age and I watched some of his short films which are available on Vimeo and I could tell he knew what he was doing and at the very least it would look very pretty. I hope the project sees the light of day. I'm really pleased with it so far. Plus it'll sell some books I hope. I need to keep paying my rent.
You can find out more about Oily Comics on their website. Luv Sucker #1 is available where fine comics are sold, on Gumroad, and on the Oily site. 
Like us on Facebook and follow us on Twitter for all news updates related to the world of geek. And Google+, if that's your thing!