News
Cave Carson Has A Cybernetic Eye #4 Exclusive First Look
We have preview pages for the next issue of the Young Animal hit!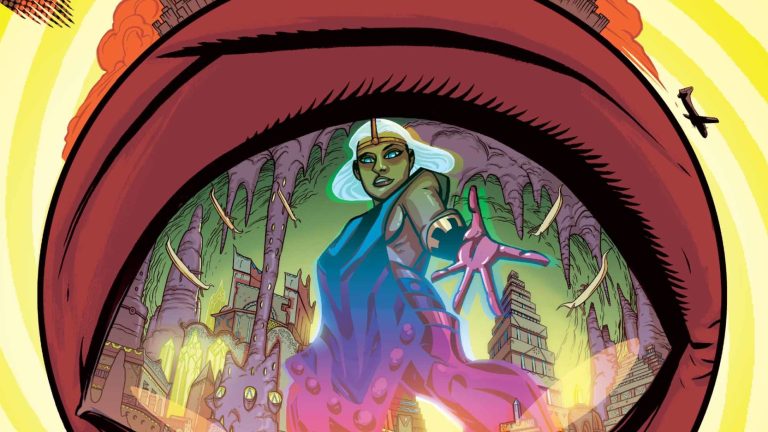 DC sent along an exclusive advance preview of next week's Cave Carson Has A Cybernetic Eye#4, the Young Animal comic written by Jon Rivera, with art from Michael Avon Oeming and Nick Filardi.
Here's the official synopsis courtesy of DC Comics:
Cave and his team find the underground city of Muldroog, and it's not what he expected. Plus, Cave has visions of his deceased wife, but are they hallucinations, or is there more to this than meets the cybernetic eye? Also features a Super Powers backup feature by Thomas Scioli (G.I. Joe vs. Transformers)!
We're obviously excited to have preview pages for Cave, as all new comics work from Oeming is always welcome (seriously, Thor Disassembledis one of the best comics I've ever read) and this has been arguably the best Young Animal comic to date. What we're NOT excited about is that none of these pages are Tom Scioli's backups, which have been incredible. Seriously: last issue, he retold Green Arrow's origin story in one page. It had everything you could want from a Green Arrow story: adultery, elder gods, trick arrows, getting blazed from Starro the Conqueror. Regardless, Cave Carson Has A Cybernetic Eyeis excellent comics.
Check it out.
[gallery:0]
CAVE CARSON HAS A CYBERNETIC EYE #4 
Written by JON RIVERA 
Art and cover by MICHAEL AVON OEMING 
Backup story and art by THOMAS SCIOLI 
Variant cover by ANDREW MACLEAN 
Retailers: This issue will ship with two covers. Please see the order form for details.