News
Captain Marvel Spinoff Character Star Gets Limited Marvel Comics Series
The popular and mysterious character will start her own adventures in a five-issue run in January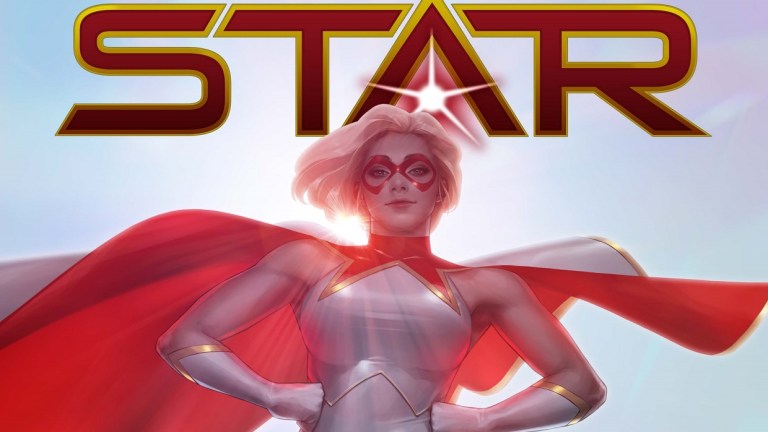 Star, a recent addition to the Captain Marvel comic series, will star in her own limited book series. Kelly Thompson, writer of the current Captain Marvel series and creator of Star's character, will write the five-issue series, which debuts in January.
Star first appeared in the pages of Captain Marvel back in July, in issue 8, "Falling Star," which focused on the fallout from the reveal of Carol Danvers's Kree heritage to the world. Not surprisingly, Star's name and costume piqued the curiosity of readers, who were eager to learn more about mysterious new character clad in Captain Marvel's colors.
Marvel announced the new series at the October 3 New York Comic Con Retailer Panel."The excitement surrounding Star has been really fun to watch," Kelly Thompson said. "And there's still a big surprise coming in Captain Marvel #11 later this month…and it's the kind of surprise that sort of DEMANDS a mini-series like this to explore the mysteries surrounding her and her importance and potential in the larger Marvel Universe."
read more: Captain Marvel Comics History and Origin Explained
"The whole Captain Marvel team loved the character from the beginning, but the fan and retailer response to her has been overwhelming. We're very grateful and excited to push her even higher in the spotlight," Editor Sarah Brunstad said. "We had such a great time developing her and waiting for her big moment, and I'm ecstatic that Carmen [Carnero] is staying with the character to do the covers for this miniseries."
Thompson's take on Princess Sparklefists is still early, but so far it has been a continuation of the back to back success of the Kelly Sue Decconick – Alpha Flight era – Margaret Stohl era runs, maintaining Carol's relationships like her snarkily antagonistic brother/sister bond with Tony Stark and her close friendship with Jessica Drew, while finding a place for her once again back on earth. 
Here's the description for the first issue of the series:
THE BREAKOUT CHARACTER GETS HER OWN DEATH-DEFYING SERIES!

Ambitious reporter Ripley Ryan was one of the victims caught up in Nuclear Man's apocalyptic schemes and later became the hero STAR, adored by everyone. But in truth she was Dr. Minerva's attempt at a Kree-human Super-Soldier. Desperate for the power and strength to control her own destiny, she tried to kill Captain Marvel — and failed. Ripley was left, defeated and powerless, in the Raft. But something strange has happened, and Star now finds herself more powerful than ever before. And no one in the Marvel Universe is prepared for what it means.
It's always good to see Captain Marvel's old nemesis Dr. Minerva back in the mix and causing trouble, though it sounds like she might be outmatched yet again. Fittingly, Ripley was introduced as a freelance reporter for Ms. Magazine. Not only would Carol Danvers approve, but back in the 1970s, she worked at fictional Woman magazine as a freelancer herself, in a tribute to Ms. Magazine.
It seems like this new series is a natural outgrowth of the work Thompson is doing on the main series, but one that will come with new surprises of its own. 
Keep up with the latest news, exclusive trailers, and other highlights from NYCC 2019 here.