News
Black Panther vs. Deadpool Coming From Marvel
T'challa has had to defend Wakanda from all kinds of threats, but perhaps Wade Wilson thinks too far outside the box for him to handle.
For the past few years, Deadpool has starred in various "versus" comics. A lot of the time, they're mostly team-ups with a couple moments of clashing involved. Whether or not he's getting top billing, he's been in titles with Spider-Man, Punisher, Thanos, Gambit, Hawkeye, Carnage, Old Man Logan, and X-Force. What's one more?
This October, we're getting Black Panther vs. Deadpool, a five-issue miniseries by Daniel Kibblesmith and Ricardo Lopez Ortiz. Sorry, Wade. You may get a ton of that rated-R box office money, but you don't get that "Wakanda Forever" box office money. You get second billing in this one.
So far we don't know much about the story other than Deadpool really needs to get his hands on some vibranium and the best idea he has is to straight-up steal some from Wakanda. It's Deadpool's unorthodox actions up against a king who seems to have an answer for every contingency. It's Marvel's Deathstroke vs. Marvel's Batman.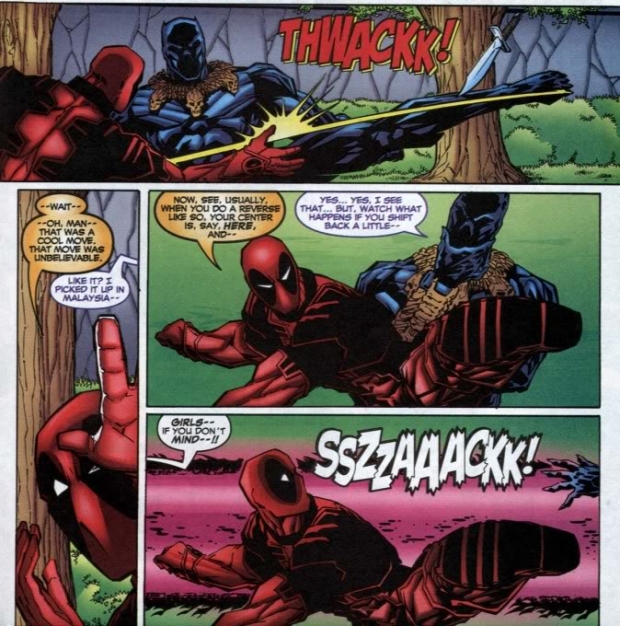 Black Panther and Deadpool haven't really interacted too much in prior years. Even their most well-known clash (a crossover from when Christopher Priest was writing both characters' comics) was during the time when Killmonger was under the Black Panther mantle. Otherwise, they crossed paths in Doomwar, where Black Panther decided to hire Deadpool as an unpredictable x-factor against Dr. Doom's machinations. There was also Civil War II, where they not only fought, but T'challa swore to one day kill Deadpool for potentially spoiling him on Game of Thrones.
Here's the official synopsis:
For a reason he'd rather not disclose (because, well, it makes him look bad!) Deadpool needs a piece of Vibranium…and the only way to get Vibranium is to go through the Black Panther himself! But Deadpool soon learns that his unconventional methods don't exactly work against the king of the most technologically advanced country on the planet…
"Featuring a brawl you can only get in comics (for now anyway), BLACK PANTHER VS. DEADPOOL is the best of both worlds, equal parts Black Panther/Wakanda and Deadpool/Crazytown," said Editor Wil Moss in a statement. "In bouncing these two characters off each other (and sometimes through each other), Daniel and Ricardo have found some really fascinating insights into what makes them tick as individuals."
Anyway, Black Panther vs. Deadpool #1 will be out on October 3.
Gavin Jasper wonders what the over-under is on, "Is this your king?" jokes for this comic. Follow Gavin on Twitter!