News
Black Panther Could Have Featured Kraven as the Villain
Black Panther director Ryan Coogler originally envisioned T'Challa going toe-to-toe with Spider-Man foe, Kraven.
Black Panther is being lauded with strong reviews, which includes our own (as of this writing, the movie sits at 98% on Rotten Tomatoes, for what that's worth to you), and the veneer from being a groundbreaking offering centered on a black superhero doesn't hurt, either. However, while the Marvel movie will see Chadwick Boseman's T'Challa/Black Panther tangle with a duo of villains in Michael B. Jordan's Killmonger and Andy Serkis' Ulysses Klaue, director Ryan Coogler reveals that he originally intended to nab an antagonist from the classic rogues gallery of Spider-Man: Kraven the Hunter!
During the initial conception for the Black Panther story, Coogler, who co-wrote the script with Joe Robert Cole, found himself in a situation akin to a kid in a candy store with all the Marvel intellectual property choices for the film's villain slot. While the aforementioned Klaue (known as sound-powered supervillain Klaw in Marvel Comics lore,) was the obvious choice, since he famously exploited the hero's home country, Wakanda, by pilfering its nigh-indestructible metallic resource of vibranium, Coogler saw better dramatic prospects with Spider-Man's safari-obsessed foe, Kraven the Hunter.
"I've always loved Kraven the Hunter in almost every iteration," Coogler explains to Yahoo UK. "So there was a moment – 'Can I grab Kraven?' – and they were 'Nah, you don't have Kraven.' He was one where I thought 'Oh, man.' But I don't even know if he would have worked in the movie we ended up with, this was the early days."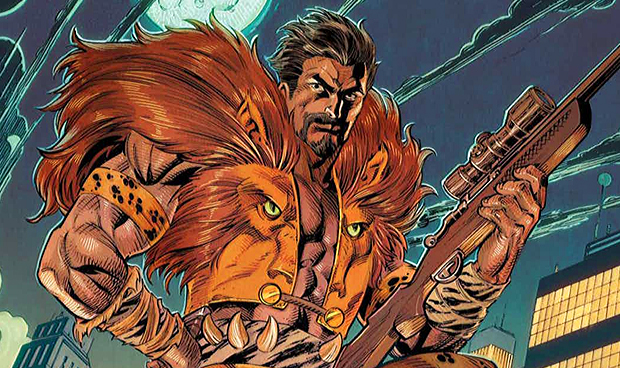 It was a reasonable attempt, since Kraven, who debuted in The Amazing Spider-Man #15 back in 1964, has always been an A-list antagonist to the Wall-Crawler, but has yet to manifest in live-action form in any of Spidey's six movies. Moreover, the addition of Kraven (a.k.a. Sergei Kravinoff,) would have been thematically appropriate, since the character – a Russian big game hunter obsessed with making a trophy of Spider-Man – has, indeed, tangled with Black Panther in the pages of the comics and would be well-suited for action in the film's setting of the fictional African nation of Wakanda. Plus, his usage in Black Panther wouldn't necessarily take him off the table for a future installment of the Spider-Man movies, now-headlined by Tom Holland. 
"Being a Marvel fan, you want to grab all the characters," Coogler said. "You realize there's contractual things. You don't have that character. There was a Christopher Priest run that was pretty heavy, there's a big scene where Panther's fighting Kraven."
While this was presumably early on in the Black Panther pre-production stage, and might even predate the public announcement of Marvel Studios' deal with Sony Pictures, which made 2017's Spider-Man: Homecoming a reality, it's possible that long-term plans for Kraven have been stowed away secretly, which could easily manifest in the 2019-scheduled Homecoming sequel, whose details have yet to be revealed.
Thus, while Black Panther could have done worse than to have Kraven as its movie villain, the character's intrinsic connection to Spider-Man – which continues to go unrealized in live-action form – were probably too strong to spend as a somewhat unconventional foe for T'Challa's origin-setting solo debut. Likewise, Kraven, who's also a founding member of the Spidey foe collective, The Sinister Six (which Sony has long-eyed for a spinoff film), is also the center of one of Spider-Man's darkest and most tragic storylines, in 1987's "Kraven's Last Hunt" run, which saw the foe commit suicide after he was satisfied that he fulfilled his purpose in finally defeating his web-spinning foe (of course, in true comic book fashion, he was later resurrected.). Indeed, a Spider-Man villain that profound deserves to debut in a proper Spider-Man movie.
Black Panther opens on February 16.