News
Black Panther and The Crew Coming From Marvel
Ta-Nehis Coates, Yona Harvey & Butch Guice bring the superteam back in a big way, with Black Panther taking top billing.
Marvel announced today their newest book to grow out of the smash hit Black Panther, and really the least 2017 can do is be the year Christopher Priest becomes a superstar because of the groundwork he laid 15 years ago.Black Panther & The Crew,from Ta-Nehisi Coates, Yona Harvey and Butch Guice spins out of the pages of Coates, Brian Stelfreeze and Laura Martin's enormously successful comic and pairs Harvey, an internationally renowned poet currently working on another Panther spinoff, Black Panther: World of Wakanda with Guice, who's been drawing good comics since I was in preschool so a very long time ago.
The book unites the new Crew (which I will try not to type in all caps out of excitement: T'Challa, Luke Cage, Misty KNIGHT, MANIFOLD, AND STORM dammit) to investigate the death of a Harlem activist in police custody. These are, however, insanely powerful and extremely well-known characters: T'Challa is a king who turned Galactus into the Lifebringer; Cage led the Avengers for nearly a decade; Storm is the most important mutant on the planet when she's not in the mansion in Marvel's cartoon version of hell; and Manifold is a multiversal emergency travel network who most recently opened a portal to Wakanda's afterlife to help T'Challa get his sister back.
So they're all in disguise for this book, and you know what that means: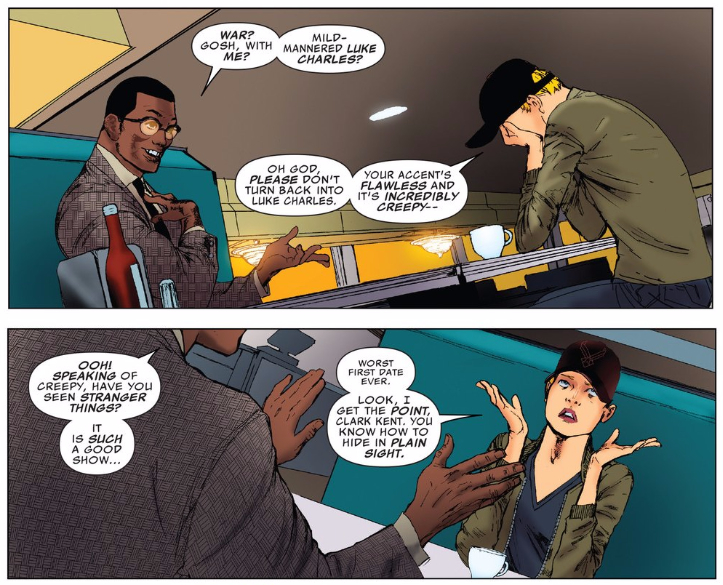 MORE LUKE CHARLES! I hope he watches Sneaky Petebefore he gets to Harlem.
The original Crewwas about gentrification and crime in a rapidly changing Brooklyn. It starred a con man, a White Tiger, the grandson of Isaiah Bradley (the test subject for Captain America's super soldier serum), and James Rhodes. It's unfinished but excellent, and available on Marvel Unlimited. Coates' Black Panther,which reintroduced The Crew in its current form in issue 7,has one trade in print and is published monthly. Ultimates 2 (where the above panels are from) also has one trade in print and is published monthly. All of these are excellent reading choices and will be discussed at greater length here on Den of Geek, so stick around!