News
Black Lightning: Cold Dead Hands is Revitalizing Jefferson Pierce
Tony Isabella's return to Black Lightning continues!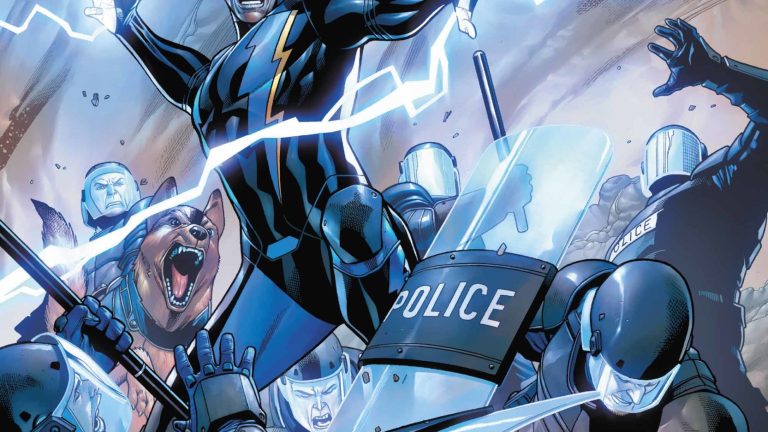 DC is giving Black Lightning a bit of a push ahead of his show premiering on the CW early next year. That push is coming in the form of a new miniseries resetting the character, who has been basically missing since the New 52 relaunch six years ago, and what they've started is pretty fun.
The first issue of Black Lightning: Cold DeadHandswas a great showcase for the character, and a breath of fresh air from original creator Tony Isabella. His Jefferson Pierce felt natural and comfortable, and the issue dropped us in a world that, despite being DC Universe Cleveland (and thus, largely unexplored), felt immediately rich and familiar. And why isn't Clayton Henry more famous? Every book he pencils is fun, with great action and solid character work. This was no exception. 
DC sent over an exclusive first look at the next issue of the miniseries, out on December 6. Here's what they have to say about it.
BLACK LIGHTNING: COLD, DEAD HANDS #2 Written by TONY ISABELLA Art and cover by CLAYTON HENRY Wrongly accused of killing a gang of armed robbers, Black Lightning must stay ahead of the police while fighting to remove a deadly arsenal of high-tech weapons from the streets of Cleveland…and while facing civilians who are no longer certain he's one of the good guys. As teacher Jefferson Pierce, he must also try to keep drug dealers away from his students. Meanwhile, Detective Colavito investigates mystery man Tobias Whale. Beware: news in this city breaks without pity.
Take a look at these preview pages. Once you get over the masthead change, you'll probably like what you see.